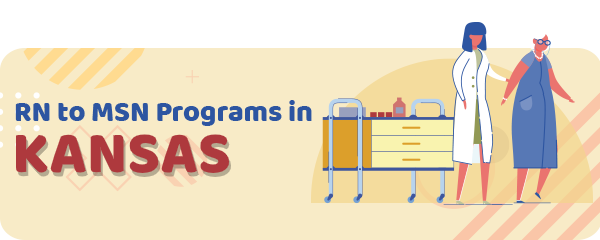 Registered nurses, who are ready to improve their knowledge and job opportunities, keep reading for more information on the RN to MSN program in Kansas.
Higher education level means a higher salary as well.
One of the steps you can take is to finish the Master's degree in Nursing (MSN) in Kansas.
RN to MSN Admissions Requirements in Kansas
The schools can set their requirements for different programs.
But, registered nurses in Kansas seeking a Master's degree in Nursing will have to meet a few requirements.
Only students who have earned ADN or BSN on accredited universities can be admitted to MSN programs in Kansas.
Students have to hold an active, unencumbered registered professional nurse license provided in the state of Kansas.
Next, students are required to submit a personal statement on professional goals and two letters of recommendation.
Lastly, students need to have a minimum cumulative GPA in undergraduate studies of 3.0.
Only those who meet all the requirements can be admitted to RN to MSN programs in the state of Kansas.
RN to MSN Courses
In Kansas, there are different types of RN to MSN programs.
The simplest pathways are for RNs who hold a BSN.
Those students can simply complete the MSN portion of the program.
Luckily, many programs offer you to achieve BSN and MSN as well.
You should know that after you finish the general nursing education courses, you can choose specialized track such as Adult Clinical Nurse Specialist, Family Nurse Practitioner, etc.
Online RN to MSN Programs
Online education is becoming quite popular because of the flexibility and lower costs.
Also, working nurses find it much simpler to complete the graduate-level course while working.
Kansas has several online RN to MSN programs.
However, these consist of online classes, but there are also some clinical requirements that you can fulfill in your local area.
That way you will have a comprehensive approach to your studies.
The Costs
How much you will pay for an RN to MSN program in Kansas depends on several factors.
Before you decide on the program, make sure to research about additional costs for books and learning materials, nursing instruments, etc.
For example, if you choose MidAmerica Nazarene University, you will have to pay the tuition of $476 per credit hour for traditional learning.
Schools in Kansas
Let's see what colleges and universities in Kansas have some kind of the RN to MSN program.
First, you are looking lowest tuition rate and high educational standard, you should definitely consider Grantham university.
On the other hand, MidAmerica Nazarene University is great for those looking to complete both BSN and MSN in only 36 months.
Lastly, Wichita State University has two options – full-time and part-time status for its students, and two educational tracks Nursing Education or Nursing Leadership and Administration.
| School Name | Address |
| --- | --- |
| Grantham University | 16025 W 113th St, Lenexa, KS 66219 |
| MidAmerica Nazarene University | 2030 East College Way, Olathe, KS 66062-1899 |
| Wichita State University | 1845 Fairmount, Box 41, Wichita, KS 67260-0041 |
Salary
Salary depends on location, facility, experience, skills, and certificates…
A median yearly salary of Registered Nurse, Level 2 in Kansas is $71980.
Annual Salary Range:
Annual Salary by Location:
| Location | Avg. Annual Salary |
| --- | --- |
| Wichita | $73,040 |
| Overland Park | $74,230 |
| Kansas City | $74,460 |
| Topeka | $70,910 |
| Olathe | $74,030 |
| Lawrence | $72,050 |
| Shawnee | $74,230 |
| Salina | $72,280 |
| Manhattan | $70,150 |
| Hutchinson | $72,280 |
RN to MSN Programs by State
---