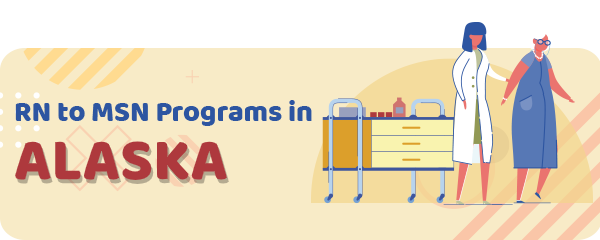 If you are a registered nurse (RN) and you want to improve your knowledge and skill and start a new path in your career, then you can complete a Master's degree in Nursing (MSN).
An MSN degree will improve your job opportunities and your salary as well.
Keep reading to find out more about RN to MSN programs in Alaska.
RN to MSN Admissions Requirements in Alaska
Registered nurses in Alaska who wants to start an MSN program have to meet several criteria.
The minimum GPA on all undergraduate courses required for MSN programs in Alaska is 3.0.
Only nurses who completed the BSN program accredited from an ACEN or CCNE are eligible to start the MSN program.
Additionally, students are required to have CPR certification, satisfactory health status, and up-to-date immunizations.
Also, to be admitted students are required to have a minimum of one year of half-time clinical experience working as an RN and have a valid professional nurse license in Alaska.
Upon application, students have to submit a resume that proves the clinical experience, and three recommendation letters.
Only those who meet all the requirements can be admitted to RN to MSN programs in Alaska.
RN to MSN Courses
There are different models of RN to MSN programs.
Your previous education determines the most suitable program for you.
For example, if you have a BSN, you can continue your education by completing only the MSN portion of the program.
Otherwise, you can choose the program that allows you to earn BSN and then MSN.
After you complete the general nursing education courses, you can choose the specialization track.
Therefore, you can specialize as a Family Nurse Practitioner, Adult Clinical Nurse Specialist, etc.
Online RN to MSN Programs
The modern education includes online programs.
For many students, online programs are the best option because of their convenience and lower costs.
Working nurses often choose online education, because they can make it fit their working schedule.
However, you will have to complete clinical hours requirements, even if you choose online classes.
Fortunately, many programs allow students to complete clinical hours in their local area.
The Costs
The program fees vary across the state and depend on several factors.
Before you apply for the program, you should check whether the tuition cover expenses for books and other materials.
For example, in-state resident students at the University of Alaska Anchorage, have to $444 per credit hour.
Schools in Alaska
There are several colleges and universities in Alaska that offer nursing education programs.
For example, the University of Alaska Anchorage has an RN to MSN program, that you can complete in six to eight trimesters, as a part-time student.
| School Name | Address |
| --- | --- |
| University of Alaska Anchorage | 3211 Providence Drive, Anchorage, AK 99508 |
Salary
An annual average salary of a registered nurse, level 2 in Alaska is $85020.
This figure is average because the salary depends on factors such as education, employer, city, experience, etc.
Annual Salary Range:
Annual Salary by Location:
| Location | Avg. Annual Salary |
| --- | --- |
| Anchorage | $84,430 |
| Juneau | $83,600 |
| Fairbanks | $84,280 |
| Sitka | $82,470 |
| Ketchikan | $82,470 |
| Kenai | $83,290 |
| Kodiak | $83,290 |
| Bethel | $83,290 |
| Wasilla | $83,290 |
| Barrow | $83,140 |
RN to MSN Programs by State
---