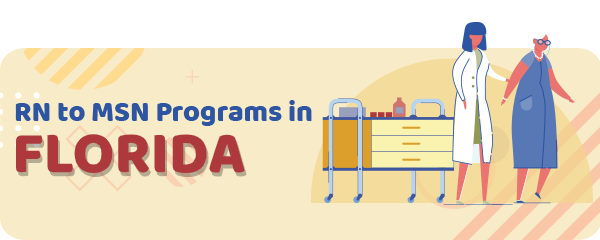 If you are a registered nurse (RN) preparing to take the next step in your career, keep reading to find out more about educational pathways.
You can complete an MSN degree and improve knowledge, job opportunities, and salary.
Florida has a great RN to MSN programs, but you have to make the right choice.
RN to MSN Admissions Requirements in Florida
To start your RN to MSN program in Florida, you have to satisfy several criteria.
Only if you have graduated on BSN or ADN program that has been accredited by ACEN or CCNE, you can start RN to MSN program in Florida.
You will have to have a minimum GPA of 3.0 on undergraduate coursework and have a valid, unencumbered registered professional nurse license in the state.
Also, you will have to pass a criminal and drug background check and immunization verification.
RN to MSN Courses
There are different RN to MSN program models in Georgia.
Your previous education will determine which path is for you.
For example, if you have a BSN, all you have to do is to finish the MSN portion of the program.
If not, you can choose RN to MSN programs that don't require you to have BSN.
After the general nursing education courses are done, you will have to choose the specialization track.
Therefore, you can become a Family Nurse Practitioner, Adult Clinical Nurse Specialist, etc.
Online RN to MSN Programs
In the recent past, online education has been developing and more and more students prefer it over traditional education.
The reasons behind it are convenience and lower costs.
For example, working nurses often choose online classes because they don't have to relocate or quit the job to finish school.
However, even if you choose an online program, you will have to finish a certain number of clinical hours.
Most programs allow their students to complete clinical requirements in their local area.
The Costs
The costs depend on the program, location, and the number of things the tuition covers.
Some programs include the costs for books and material in their tuition, while others don't.
For example, if you choose a program at Nova Southeastern University, you will have to pay around $665 per credit hour.
Schools in Florida
There are a couple of schools in Florida with appropriate RN to MSN programs.
For example, Florida National University has a curriculum that meets the educational requirements under the MSN program for Nurse Educator, Nurse Leadership/Management, and Family Nurse Practitioner.
If you want an online education, you can choose Jacksonville University.
It has an online, CCNE accredited program that matches the needs of working nurses.
| School Name | Address |
| --- | --- |
| Florida National University | 4425 W. Jose Regueiro (20th) Ave, Hialeah, FL 33012 |
| Jacksonville University | 2800 University Blvd N, Jacksonville, FL 32211 |
Salary
Salary is based on several factors, including location, education level, professional experience, location, employer, etc.
An average yearly salary of a registered nurse, level 2 in Florida is $72050.
Annual Salary Range:
Annual Salary by Location:
| Location | Avg. Annual Salary |
| --- | --- |
| Jacksonville | $71,580 |
| Miami | $73,840 |
| Tampa | $72,270 |
| St. Petersburg | $72,210 |
| Hialeah | $73,270 |
| Orlando | $72,150 |
| Fort Lauderdale | $73,650 |
| Tallahassee | $68,790 |
| Hollywood | $73,650 |
| Pembroke Pines | $73,180 |
RN to MSN Programs by State
---