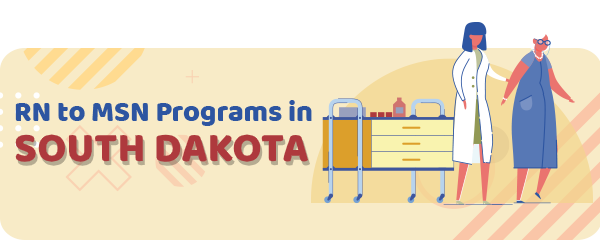 Investing in education is always a good idea, especially for registered nurses in South Dakota.
RNs who want to improve their knowledge and career options can complete a Master's of Science in Nursing (MSN).
Obtaining an MSN degree will also increase the salary and offer a specialization track for RNs. 
In South Dakota, RNs who want to complete MSN programs can choose South Dakota State University in Brookings.
Keep reading for more information on RN to MSN programs in South Dakota, including costs, online programs, requirements, and salary. 
RN to MSN Admissions Requirements in South Dakota
To be admitted to the MSN program in South Dakota, students need to fulfill certain requirements. 
Those include holding a valid, unencumbered registered nurse license in South Dakota.
Only students who have a cumulative GPA of at least 3.0 on undergraduate courses can be admitted to the MSN program in South Dakota.
Also, students need to provide a resume with proof of clinical experience and/or letter of recommendation. 
Upon application, students need to submit personal assay and show proof that they have completed undergraduate statistics course in the last five years.
RN to MSN Courses
There are two educational MSN educational tracks at South Dakota State University.
One is for nurses who hold BSN degrees, and they only have to complete the MSN part of the program.
The other track is for ADN-prepared nurses, who have to complete BSN and MSN courses. 
After a student completes general education courses, he or she can choose a specialization track.
At South Dakota State University (SDSU), students can choose Clinical Nurse Leader, Nurse Educator, Nurse Administration, or Family Nurse Practitioner specialization.
Some of the courses at SDSU are Foundations of Advanced Nursing, Pathophysiology and Pharmacotherapeutics across the Lifespan (two courses), Research in Nursing & Healthcare, Health Policy, Legislation, Economics, and Ethics. 
The program duration depends on the school policy and students' commitment.
For example, National Americal University accepts students every quarter, and the length is around 15 months.
On the other hand, SDSU has three semesters and starts in the fall.
Online RN to MSN Programs
Online education has a lot of benefits, including flexibility and lower costs. 
Nurses who work full or part-time choose online education usually because they have to relocate to finish the program.
However, online students also have to complete clinical hour requirements.
Most of the schools allow their students to complete clinical hours in the local area.
You can complete a CCNE-accredited online program for BSN-prepared nurses on SDSU. 
The online program has specialization tracks the same as campus programs, but some tracks may require students' attendance at the campus.
The Costs
The tuition for RN to MSN program depends on the school and specialization program.
For example, an MSN course tuition at SDSU is between $561 and $860 per credit hour.
The tuition doesn't include expenses for books and other review materials.
Schools in South Dakota
South Dakota State University is the first choice for students across the state.
It has a high-quality nursing program, established in 1979, that meets the needs of current nursing practice and implements modern teaching techniques.
| School Name | Address |
| --- | --- |
| South Dakota State University | Brookings, SD 57007, (605) 688-4114 |
Salary
An average annual salary of registered nurse level 2 in South Dakota is $65,040.
Obtaining higher degrees in every profession means a significant salary increase and more job options across the states. 
Annual Salary Range:
Annual Salary by Location:
| Location | Avg. Annual Salary |
| --- | --- |
| Sioux Falls | $66,590 |
| Rapid City | $65,950 |
| Aberdeen | $61,930 |
| Watertown | $65,450 |
| Brookings | $65,450 |
| Mitchell | $65,450 |
| Pierre | $63,070 |
| Yankton | $63,990 |
| Huron | $63,690 |
| Vermillion | $62,522 |
RN to MSN Programs by State
---