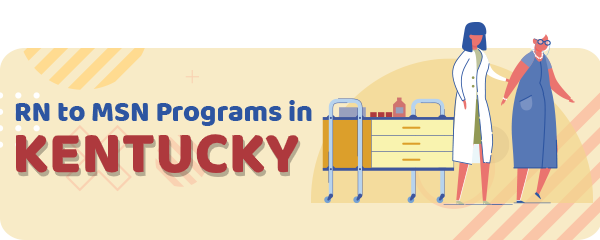 The next step in career for registered nurses (RNs) is completing a Master's degree in Nursing (MSN).
RNs with MSN have a higher salary and better job opportunities.
Keep reading to find out more about RN to MSN programs in Kentucky.
RN to MSN Admissions Requirements in Kentucky
There are several criteria that students need to satisfy to be admitted to RN to MSN programs in the state of Kentucky.
Only if you have completed ADN or BSN program on accredited university and hold an active, valid professional nurse license in Kentucky, you can be admitted to the RN to MSN program.
You will have to submit a personal goal statement essay, official transcripts form undergraduates studies, and two recommendation letters.
Popular Programs
Only students who meet all the requirements can be admitted to the RN to MSN program of their choice in Kentucky.
RN to MSN Courses
There are different RN to MSN program models in Kentucky.
For example, nurses who have BSN can finish only the MSN portion of the program.
Other nurses can pick some of the programs that allow them to achieve BSN and MSN degree as well.
After you complete the general nursing education courses of the program, you can choose a specialization.
Therefore, you can continue your career as a Family Nurse Practitioner, Adult Clinical Nurse Specialist, or else.
Online RN to MSN Programs
Online education is much more convenient for some students and has lower fees.
That is why it is often the first choice for working nurses.
Online programs can be completed from anywhere in the state, but you will have to complete the clinical hours as well.
Luckily, many online programs allow their students to complete the clinical hours in their local communities.
The Costs
The fees for programs vary across the state and depend on several factors.
Before you decide on your program, make sure to check whether the tuition covers expenses for books and other necessary materials.
For example, if you choose a program at Spalding University, expect to pay around $860 per credit hour.
Schools in Kentucky
Let's have a brief overview of schools in Kentucky that have RN to MSN programs.
For example, Frontier Nursing University is the largest non-profit universities in the state.
If you are interested in an online program you can choose the Kentucky Christian University
Spalding University has a great curriculum and is accredited by the SACSCOC.
Western Kentucky University has multiple nursing degree options, including a Master of Science in Nursing degree and two post-Master of Science in Nursing.
| School Name | Address |
| --- | --- |
| Frontier Nursing University | 195 School Street, Hyden, KY 41749 |
| Kentucky Christian University | 100 Academic Parkway, Grayson, KY 41143 |
| Spalding University | 901 South Fourth Street, Louisville, KY 40203 |
| Western Kentucky University | 1906 College Heights Boulevard, Bowling Green, KY 42101 |
Salary
Salary is calculated using several factors such as experience, education, employer, city, etc.
An average annual salary of registered nurse level 2 in Kentucky is $71370.
Annual Salary Range:
Annual Salary by Location:
| Location | Avg. Annual Salary |
| --- | --- |
| Lexington-Fayette | $71,420 |
| Louisville | $71,520 |
| Owensboro | $71,230 |
| Bowling Green | $68,370 |
| Covington | $74,170 |
| Hopkinsville | $68,260 |
| Frankfort | $69,290 |
| Henderson | $71,690 |
| Richmond | $70,700 |
| Jeffersonville | $70,820 |
RN to MSN Programs by State
---