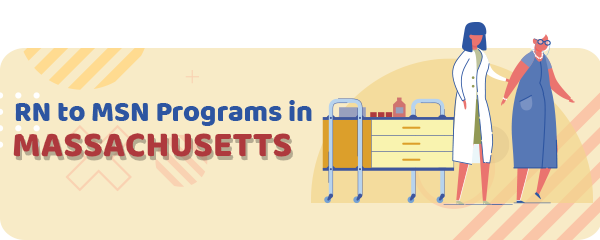 Are you a registered nurse (RN) who has been working in the field for quite a while, but is now ready to take the next step?
You can surely change job functions and start earning a higher salary while still staying in the field.
One of the things that you can do to make such a change is to complete a Master's degree in Nursing (MSN).
What Are the RN to MSN Admissions Requirements in Massachusetts?
If you are a registered nurse who wants to earn a Master's degree in Nursing in Massachusetts, you would have to meet the following admissions requirements:
You have earned an ADN or BSN from an accredited university
You have to hold an active, unencumbered registered professional nurse license in the state of Massachusetts
You have a minimum cumulative GPA of 3.0
You have provided a professional letter of recommendation and a current resume
You have at least a year of full-time work as an RN.
If you meet all the requirements listed above, then you can apply to an RN to MSN program in Massachusetts.
Types of RN to MSN Courses
As you might already know, there are different kinds of RN to MSN programs.
For example, if you hold a BSN, you can simply complete the MSN portion.
However, there are also programs that allow you to earn a BSN, as well as an MSN.
By the way, once your general education courses are completed, you will, most likely, have an opportunity to choose a more specialized track.
You can become an Adult Clinical Nurse Specialist, a Family Nurse Practitioner, and so on.
Online RN to MSN Programs in Massachusetts
Nowadays, a lot of people go for online education.
It is more convenient and, in a lot of cases, a more affordable option.
Moreover, you will have the chance to finish your graduate-level courses while still being employed, and that's a huge 'pro', right?
In the state of Massachusetts, there is an online RN to MSN programs available.
However, do bear in mind that you would still have a clinical requirement (even if you are completing your education online).
The great news is that usually the requirement can be fulfilled in your local area.
Tuition & Cost
Of course, the cost of an RN to MSN program in Massachusetts will depend on a wide range of factors.
The tuition at Curry College, for example, is around $972 per credit.
Make sure to find out if your school of choice has the additional expenses (like course materials and books) included in the program cost.
Schools
Here are the colleges and universities throughout the state of Massachusetts that offer an RN to MSN program.
American International College
The innovative online program enables you to earn your degree in as little as 24 months.
Boston College
The program allows current RNs without bachelor's degrees to maximize both their experience and the credits they earned from previous nursing programs.
Elms College
The program is fully accredited by the CCNE.
MCPHS University
The part-time program is offered completely online (aside from a total of 4 on-campus meetings).
MGH Institute of Health Professions
You have the option of a full- or part-time study.
Simmons College
Earn your Master of Science in Nursing in just 3 years.
University of Massachusetts Medical School
The university if the commonwealth's first and only public academic health sciences center.
Worcester State University
The university offers three routes of entry – Traditional, Bridge Program, and RN-to-MS Fast Track.
| School Name | Address |
| --- | --- |
| American International College | 1000 State Street, Springfield, MA 01109 |
| Boston College | 140 Commonwealth Avenue, Chestnut Hill, MA 02467 |
| Elms College | 291 Springfield Street, Chicopee, MA 01013-2839 |
| MCPHS University | 179 Longwood Avenue, Boston, MA 02115 |
| MGH Institute of Health Professions | 36 First Avenue, Charlestown Navy Yard, Boston, MA 02129-4557 |
| Simmons College | 300 The Fenway, Boston, MA 02115 |
| University of Massachusetts Medical School | 55 Lake Avenue North (F1-853), Worcester, MA 01655-0115 |
| Worcester State University | 486 Chandler Street, Worcester, MA 01602 |
Salary
Your salary would depend on a lot of factors: your education level, the employer, the city…
On average, a Registered Nurse, Level 2 in Massachusetts earns $82520 per year.
Annual Salary Range:
Annual Salary by Location:
| Location | Avg. Annual Salary |
| --- | --- |
| Boston | $85,610 |
| Worcester | $79,870 |
| Springfield | $79,260 |
| Lowell | $82,670 |
| Cambridge | $85,610 |
| Brockton | $82,140 |
| New Bedford | $79,940 |
| Fall River | $79,940 |
| Lynn | $85,610 |
| Quincy | $85,610 |
RN to MSN Programs by State
---