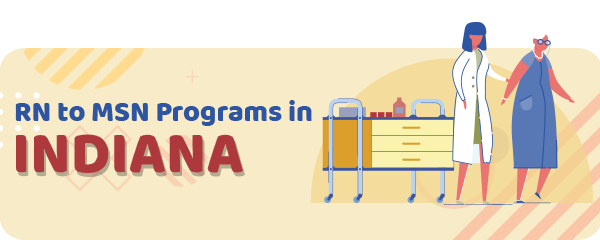 Registered nurses who want to increase their education, salary, and skills can complete the MSN program.
It is the next step in the career, which you will never regret taking.
Keep reading to learn more about the RN to MSN programs in the state of Iowa.
RN to MSN Admissions Requirements in Indiana
The requirements for RN to MSN programs vary across Indiana.
However, you will have to meet the general requirements to be admitted to the program of your choice.
You must have an ADN or BSN degree obtained from the officially accredited university and hold an active, unencumbered registered professional nurse license in Indiana.
Popular Programs
Only if you have at least two years of full-time clinical practice as an RN, you can be considered for the MSN program in Indiana.
Lastly, you have to meet the GPA minimum requirements for undergraduate coursework of 3.0.
If you satisfy all criteria, you can start the MSN program of your choice in Indiana.
RN to MSN Courses
There are different educational RN to MSN routes.
The simplest one is for registered nurses who hold a BNS, as they can simply finish the MSN portion of the program.
Next, there are also programs that allow you to achieve both BSN and MSN degrees.
However, you should be prepared to pick the specialization track, after you complete the general education courses.
For example, you can choose the adult clinical nurse specialization, family nurse practitioner track, or others.
Online RN to MSN Programs
Nowadays plenty of students decide to engage in online courses.
Online education is convenient for working nurses and often comes with lower tuition.
However, you should keep in mind that clinical practice hours are also required for online programs.
But, most of the schools allow you to take the clinical hours in your local area.
The Costs
The costs are different across Indiana and include different things.
Some schools will charge you for the learning materials as part of tuition, while others consider those expenses as additional.
For example, Western Governors University – Indiana, charges around $3250 per six-month term.
Schools in Indiana
The state of Indiana has numerous colleges and universities that offer some kind of RN to MSN program.
Let's have a brief overview of the best schools for RN to MSN pathway in Indiana.
Ball State University has online classes and three specializations available for the nursing students.
The Indiana University – Purdue University in Indianapolis is a dynamic and well-known university across the country.
Indiana Wesleyan University allows the students to choose between Nursing Administration and Nursing Education as their majors.
The University of Saint Francis in Indiana has both traditional MSN programs for nurses who have BSN, and transition RN to MSN programs who RNs with associate-level nursing degrees
The University of Southern Indiana has five specialty areas available for its nursing students.
Nurses who have an associate degree or diploma in nursing can choose the Valparaiso University
Western Governors University in Indiana has an online bridge RN to MSN program.
| School Name | Address |
| --- | --- |
| Ball State University | 2000 W University Avenue, Muncie, IN 47306 |
| Indiana University - Purdue University - Indianapolis | 420 University Blvd, Indianapolis, IN 46202 |
| Indiana Wesleyan University | 4201 South Washington Street, Marion, IN 46953 |
| University of Saint Francis - Indiana | 2701 Spring St, Fort Wayne, IN 46808 |
| University of Southern Indiana | 8600 University Boulevard, Evansville, IN 47712 |
| Valparaiso University | 1700 Chapel Dr, Valparaiso, IN 46383 |
| Western Governors University-Indiana | 10 W. Market Street #1020, Indianapolis, IN 46204 |
Salary
Salary depends on several factors such as experience, education pathway, certificates, etc.
An average yearly salary of a registered nurse, level 2 in Indiana is $74100.
Annual Salary Range:
Annual Salary by Location:
| Location | Avg. Annual Salary |
| --- | --- |
| Indianapolis | $74,090 |
| Fort Wayne | $70,760 |
| Evansville | $71,690 |
| South Bend | $70,900 |
| Gary | $75,540 |
| Hammond | $75,540 |
| Bloomington | $69,860 |
| Muncie | $69,960 |
| Anderson | $70,230 |
| Terre Haute | $69,630 |
RN to MSN Programs by State
---