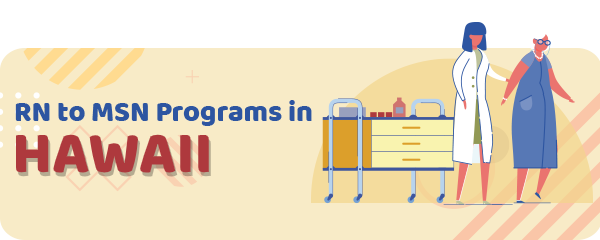 Registered nurses (RNs) in Hawaii who are ready to take the next step in a career can complete a Master's degree in Nursing (MSN).
Obtaining an MSN will help you to earn a higher salary, change job roles, and learn more and improve your skills.
There are things to complete before you engage in RN to MSN programs in Hawaii.
RN to MSN Admissions Requirements in Hawaii
States can have slightly different requirements when it comes to admission to the RN to MSN programs.
In Hawaii, there are a few things you need to fulfill to be admitted to the program.
First of all, you have to submit a statement of purpose.
Next, you will have to have an active, unencumbered registered professional nurse license provided in the state of Hawaii
You have to provide two recommendation letters and to submit all official transcripts for the colleges you have attended.
Only if you meet all requirements, you can apply to the program of your choice in Hawaii.
RN to MSN Courses
There are different educational RN to MSN pathways in all states, including Hawaii.
For example, nurses who hold a Bachelor of Science in Nursing (BSN) degree can simply start and complete the MSN portion of the program.
But, some programs offer a route to MSN through BSN.
When you finish the general education courses, you will have a chance to narrow your education further and choose a specialization.
For example, you can choose Adult Clinical Nurse specialization, Family Nurse Practitioner, and plenty of other specializations.
Online RN to MSN Programs
Online programs are getting more and more popular, because of their convenience and price.
Online education is more flexible and more affordable for many students.
Nurses who are fully-employed often choose online classes, because they don't want to quit their jobs and relocate for the graduate-level courses.
Hawaii has lots of online RN to MSN programs available for their students.
But, students are required to complete the minimum clinical requirements.
Usually, you can finish it in your local area.
The Costs
The costs of RN to MSN programs in Hawaii depend on several factors.
Before you choose your school, make sure to check the list of things the tuition cover and what additional expenses you will have during your studies for books, instruments, etc.
For example, full-time graduate students at Hawaii Pacific University have to pay $18000.
Schools in Hawaii
Let's see some of the best schools with RN to MSN programs in Hawaii.
For example, if you are a registered nurse and you choose Master studies at Hawaii Pacific University, you can specialize in the Family Nurse Practitioner after one year.
Students who prefer online programs can take the program at the University of Hawaii at Manoa.
There are online classes and obligatory clinical classes that students can finish in their local areas.
| School Name | Address |
| --- | --- |
| Hawaii Pacific University | 1 Aloha Tower Drive, Honolulu, HI 96813 |
| University of Hawaii at Manoa | 2528 McCarthy Mall, Webster Hall, Honolulu, HI 96822 |
Salary
Salary is based on several factors such as location, education, facility, experience, etc.
An average yearly salary of registered nurse Level 2 in Hawaii is $79580.
Annual Salary Range:
Annual Salary by Location:
| Location | Avg. Annual Salary |
| --- | --- |
| Honolulu | $79,080 |
| Hilo | $78,550 |
| Kailua | $79,080 |
| Kaneohe | $79,080 |
| Waipahu | $79,040 |
| Pearl City | $79,080 |
| Waimanalo | $79,080 |
| Mililani Town | $78,930 |
| Kahului | $78,550 |
| Kihei | $78,550 |
RN to MSN Programs by State
---