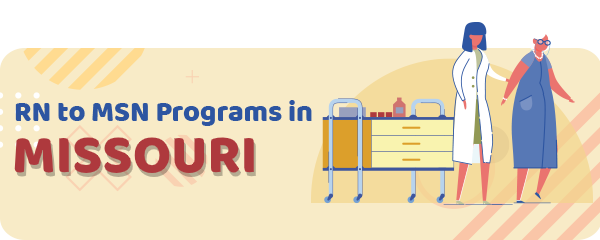 If you are a registered nurse (RN) in the state of Missouri, and you want to take the next step in your career, it is time to start a Master's degree in Nursing (MSN).
It will improve your career opportunities and your salary.
There are a few things to have in mind before you start an RN to MSN program in Missouri.
RN to MSN Admissions Requirements in Missouri
Students have to meet several criteria to be admitted to the RN to MSN programs in Missouri.
The essential criteria include having a minimum cumulative GPA of 3.25 and holding an ADN and BSN from an accredited university.
Students need to hold a valid professional nursing license in the state of Missouri and a current CPR certification.
Upon application, students need to provide a personal goal statement.
RN to MSN Courses
Nurses have several educational routes that can take based on their previous education.
The simplest route is for nurses who have BSN because they can finish only the MSN portion of the program.
Other nurses can choose programs that allow them to earn both BSN and MSN.
After you complete the general education part of the program, you can choose the specialization track.
Therefore, you can continue the career as an adult clinical nurse specialist, a family nurse practitioner, or something else.
Online RN to MSN Programs
Online classes are very convenient for lots of students because they are more flexible and more affordable.
Working nurses often choose this type of education as well.
The state of Missouri also has several online RN to MSN programs you can take.
However, keep in mind that you will have to complete the clinical requirement even if you take the online program.
Most of the schools allow their students to finish the clinical requirement in their local communities.
The Costs
The program fees differ across Missouri and depend on several factors.
You can check whether the tuition covers the costs for books or not.
For example, if you choose the University of Missouri, you will have to pay the tuition of $19825.
Schools in Missouri
Let's see what schools in Missouri that has an RN to MSN programs.
Central Methodist University has an excellent nursing program, accredited by the CCNE.
Graceland University has an RN to BSN to MSN combined program
Missouri Western State University has two great MSN specialization tracks – Health Care Leadership and Nurse Educator.
Research College of Nursing is always a good choice, and it a fully-accredited institution.
| School Name | Address |
| --- | --- |
| Central Methodist University | 411 Central Methodist Square, Fayette, MO 65248-1198 |
| Graceland University | 1 University Place, Lamoni, MO 50140 |
| Missouri Western State University | 4525 Downs Drive, Saint Joseph, MO 64507 |
| Research College of Nursing | 2525 East Meyer Boulevard, Kansas City, MO 64132 |
Salary
Salary depends on several factors, including location, education level, experience, etc.
An average annual salary of a registered nurse, level 2 in Missouri is $72280.
Annual Salary Range:
Annual Salary by Location:
| Location | Avg. Annual Salary |
| --- | --- |
| Kansas City | $74,460 |
| St. Louis | $74,680 |
| Springfield | $73,220 |
| Independence | $74,380 |
| Columbia | $73,870 |
| St. Joseph | $73,750 |
| Lee's Summit | $74,170 |
| St. Charles | $74,270 |
| St. Peters | $74,110 |
| Florissant | $74,560 |
RN to MSN Programs by State
---