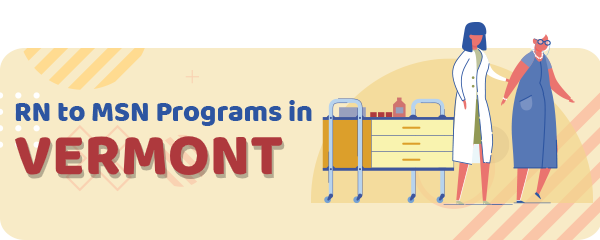 Taking a step further in education for registered nurses means obtaining a Master's of Science in Nursing (MSN) degree.
For ambitious nurses in Vermont, there is one school with an appropriate MSN program.
The University in Vermont in Burlington offers a great MSN program and it has several specialization tracks.
In general, a higher degree such as MSN improves career opportunities and salary.
RN to MSN Admissions Requirements in Vermont
To be admitted to the MSN program in Vermont, nurses have to meet several admission requirements.
Those include holding a valid, unencumbered registered nurse license in Vermont and having a minimum cumulative GPA of 3.0 on all undergraduate courses.
Aspiring MSN students need to have clinical experience and to provide a proof of it upon application.
Also, students need to submit a resume, personal statement and GRE scores to be admitted to the University of Vermont.
Only students who have completed prerequisite courses in statistics and physical assessment are considered for the program.
RN to MSN Courses
RNs in Vermont have two options for their MSN degree, and the choice depends on their previous education.
There are MSN programs at the University of Vermont suitable for nurses who hold an Associate's degree or have a Bachelor's degree in some other discipline other than nursing.
The specialization available is a Clinical Nurse Leader.
Next, ADN nurses can enroll in an accelerated Accelerated Master of Science in Nursing program which allows them to earn BSN and MSN degrees in six years.
The curriculum at the University of Vermont includes courses such as Biostatistics and Epidemiology, Health Care Ethics, Policy & Politics, Advanced Pathophysiology, Advanced Pharmacology for the Clinical Nurse Leader, etc.
How much time it will take you to complete the MSN program depends on the school and student's commitment.
The duration of the MSN Clinical Nurse Leader program is three and a half years and includes six semesters and two summer sessions.
Online Programs
Working nurses often decide to complete an online program because it is more convenient for them.
Online courses are flexible and allow the student to study at their own pace.
All online options around the country include clinical hour requirements, that can be completed on campus or in the student's local area.
The Costs
Tuitions and fees are subject to change, and before you apply for the program, you should check the latest update on program costs.
For example, currently, in-state students at the University of Vermont have to pay under $700 per credit hour.
For out-of-state residents, the price is $1.700.
The tuition doesn't include fees, learning materials, and all other necessary student expenses.
Schools in Vermont
Currently, RN to MSN programs in the state of Vermont are only available at the university level.
Programs are created for working nurses looking to advance their skills and knowledge.
Also, nurses can choose whether to enroll in a part-time program or a full-time program.
After a student completes the general education courses, he or she can choose specialization track and narrow their area of expertise.
For example, nurses in Vermont can choose to specialize in Adult/Gerontology, Nurse Administrator, Nurse Consultant, Nurse Educator, etc.
| School Name | Address |
| --- | --- |
| University of Vermont | 194 South Prospect Street Burlington, VT 05401-3596 |
Salary
A registered nurse level 2 in Vermont earn a median annual salary of $73.170.
However, salary is based on factors such as education level, specialization, location, experience, additional certificates, healthcare facility, etc.
Annual Salary Range:
Annual Salary by Location:
| Location | Avg. Annual Salary |
| --- | --- |
| Burlington | $74,820 |
| Essex | $74,820 |
| Rutland | $75,490 |
| Colchester | $74,820 |
| South Burlington | $74,820 |
| Bennington | $76,870 |
| Brattleboro | $77,020 |
| Hartford | $77,880 |
| Milton | $74,770 |
| Barre | $74,130 |
RN to MSN Programs by State
---