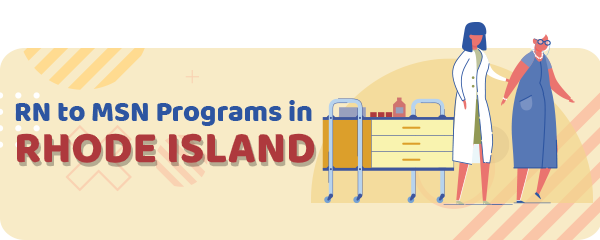 Obtaining a higher degree in the nursing field will result in better job positions and increased salary. 
Registered nurses in Rhode Island can complete a Master's of Science in Nursing (MSN) and have two programs across the state.
For example, RNs with BSN degrees can apply for campus BSN to MSN program at Rhode Island College in Providence.
The second option is the University of Rhode Island, located in Kingston.
RN to MSN Admissions Requirements in Rhode Island
If you want to start an MSN program in Rhode Island, you will have to meet certain requirements.
The requirements can change, but the primary requirements for both of the mentioned schools include having a BSN degree and completing prerequisite statistic courses.
Aspiring students must have a valid, unencumbered registered nurse license in Rhode Island and a minimum GPA on the prerequisite course of 3.0.
Upon application, aspiring students need to submit a resume with a
proof of clinical experience, letter(s) of recommendation, and personal goal statement.
To be admitted to Rhode Island College and the University of Rhode Island, students need to submit scores from the GRE – Graduate Record Exam or MAT – Miller Analogies Test.
Only students who have completed these tests in the last five years can apply.
RN to MSN Courses
Both schools in Rhode Island that have MSN programs have options for full-time and part-time students who hold a BSN degree.
Students who don't have a BSN degree have to pass an individual evaluation to be admitted for the MSN program at the University of Rhode Island.
After completing foundation nursing courses, students can choose the specialization track.
In Rhode Island, there are several specialization tracks available for the nursing students.
Those are Nursing Education, Family Nurse Practitioner, Clinical Nurse Specialist, Acute Care Nurse Practitioner, etc. 
The curriculum can include courses such as Advanced Nursing Research, Advanced Pharmacology, Genetics & Genomics in Health Care, Advanced Health Assessment, Health Care Systems and
Advanced Pathophysiology.
The length of the program will be determined by the student status – full-time and part-time. 
Also, the specialization track affects the duration.
For example, the Acute Care Nurse Practitioner program at Rhode Island College includes four semesters and one summer session for full-time students.
Tha part-time options include one or two courses per semester, and a full-time option consists of three courses. 
Most of the students need from two and a half to five years to complete the program.
Online RN to MSN Programs
In Rhode Island, nurses have two options for traditional on-campus education.
Those who prefer online education can pick one of the nationally accredited online programs outside their home state.
Even though the majority of educational courses are conducted online, students are required to complete as a set of clinical hours.
Luckily, the majority of schools allow the students to complete it in their local area.
The Costs
The tuition depends on the program and school you choose. 
For example, if you choose a program at the University of Rhode Island, you will have to pay around $11.796 per year if you are in-state students.
The tuition for the MSN program at Rhode Island college is $399 per credit hour.
The tuition doesn't cover courses for testing fees and additional expenses for books and review materials.
Schools in Rhode Island
In Rhode Island, there are two schools with appropriate MSN programs.
Those are Rhode Island College and the University of Rhode Island. 
| School Name | Address |
| --- | --- |
| The University of Rhode Island | 45 Upper College Rd, Kingston, RI 02881, +1 401-874-1000 |
| Rhode Island College | 600 Mount Pleasant Avenue Providence, RI 02908, (401) 456-8000 |
Salary
The average salary of registered nurses, level 2 in Rhode Island is $80.080 per year.
However, bear in mind that salary depends on factors such as experience and employer.
Check the table for more information.
Annual Salary Range:
Annual Salary by Location:
| Location | Avg. Annual Salary |
| --- | --- |
| Providence | $80,460 |
| Warwick | $80,460 |
| Cranston | $80,460 |
| Pawtucket | $80,451 |
| East Providence | $80,476 |
| Woonsocket | $80,390 |
| Coventry | $80,310 |
| North Providence | $80,460 |
| Cumberland | $80,460 |
| West Warwick | $80,460 |
RN to MSN Programs by State
---