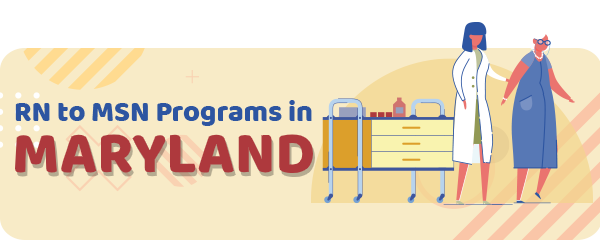 Registered nurses (RNs) who want to take the next step in their education and career can complete the Master's degree in Nursing (MSN).
If you obtain an MSN, you will improve your job opportunities and salary.
Keep reading to find out more about RN to MSN programs in Maryland.
RN to MSN Admissions Requirements in Maryland
There is a set of essential requirements each student needs to meet to be admitted to the RN to MSN program in Maryland.
Those are having a minimum GPA of 3.0 on all undergraduate coursework and holding a valid, professional nursing license in Maryland.
Also, only students who have completed the ADN or BSN program on officially approved universities will be considered for program admission.
Students also need to submit a personal essay, resume, and official transcripts from the previous school upon application.
RN to MSN Courses
There are several RN to MSN educational pathways students can take in Maryland.
For example, nurses who hold BSN have the simplest track, because they can only complete the MSN portion of the program.
Other nurses can pick the program which allows them to obtain both BSN and MSN degrees.
After the general education courses are done, students can choose the specialization track.
Therefore, you can continue your career as a family nurse practitioner, adult nurse clinical specialist, or something else.
Online RN to MSN Programs
In the recent past, online programs have developed as a primary choice for working nurses.
They are more convenient and often, more affordable than traditional ones.
However, even if you choose the online program, you will have to attend a clinical practice course.
Most of the schools allow the students to fulfill the clinical requirements in their local communities.
The Costs
The program fees are different across the state and depend on several factors.
Before you decide which program to take, find out whether the books and other materials are included in the price.
For example, if you decide to complete a program at Johns Hopkins University, expect to pay around $69947 per year for full-time study.
Schools in Maryland
Let's see which schools in Maryland have appropriate RN to MSN programs you can complete.
For example, Stevenson University has a high reputation because of its excellent RN to MSN online program.
The University of Maryland offers three specializations for the nursing students: Community/Public Health Nursing, Health Services Leadership, and Management, Nursing Informatics.
Washington Adventist University has an RN to MSN program, which is suitable for RNs with associate degrees who want to obtain an MSN degree.
| School Name | Address |
| --- | --- |
| Stevenson University | 100 Campus Circle, Owings Mills, MD 21117-7804 |
| University of Maryland | 655 W Lombard St, Baltimore, MD 21201 |
| Washington Adventist University | 7600 Flower Ave., Takoma Park, MD 20912 |
Salary
Salary depends on a wide range of factors, such as working facility, city, experience, and education level.
An average yearly salary of registered nurse level 2 in Maryland is $78200.
Annual Salary Range:
Annual Salary by Location:
| Location | Avg. Annual Salary |
| --- | --- |
| Baltimore | $77,970 |
| Frederick | $81,170 |
| Gaithersburg | $83,710 |
| Bowie | $83,760 |
| Rockville | $83,840 |
| Hagerstown | $76,820 |
| Annapolis | $80,160 |
| College Park | $83,940 |
| Salisbury | $80,690 |
| Cumberland | $69,600 |
RN to MSN Programs by State
---