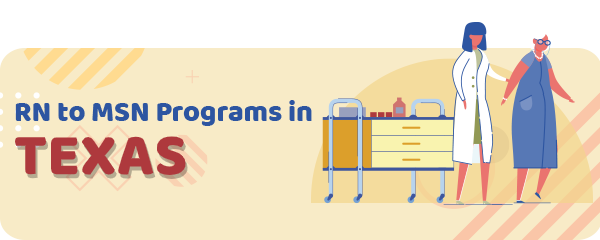 If you are a registered nurse in the state of Texas, you have plenty of options to improve your skills and earn a higher degree.
One of the options is to complete a Master's of Science in Nursing (MSN).
In Texas, students have several program options, part-time and full-time, and online and on-campus courses.
Keep reading to find all relevant information on the RN to MSN program across Texas.
RN to MSN Admissions Requirements in Texas
Aspiring MSN students need to meet several admission requirements.
Those include having an unencumbered RN license and a minimum GPA of 3.0 on all undergraduate courses.
Upon application, students need to submit a resume with proof of clinical experience, personal statement, professional recommendation letters.
Additionally, some schools require the Graduate Record Exam score.
RN to MSN Courses
In Texas, registered nurses have to RN to MSN programs.
One is suitable for RNs who hold an ADN degree, and the program allows them to earn BSN and MSN simultaneously.
The second type is for BSN-prepared nurses, who can complete the MSN part of the program.
Also, students can choose the specialization track after they complete general nursing education courses.
The most common specialization at Texas schools is Clinical Nurse Leader, Nurse Educator, Nurse Administration, Gerontology, etc.
The curriculums can different, but most commonly, students need to complete courses such as Advanced Pathophysiology, Healthcare Policy, Law and Ethics, Advanced Health Assessment, etc.
Students status and commitment, as well as the school, determine the length of an RN to MSN program.
For example, students can complete an online program at Lamar University in 36 months.
Those who choose part-time studies will often need more time to obtain an MSN degree.
Online Programs
Online education is getting more popular across the country because online programs are flexible and cost less than traditional ones.
Working nurses often choose online courses because in that case, they don't need to relocate and quit their jobs.
Online programs have clinical hours requirement as well, but those can be completed in a local healthcare facility or on campus.
For example, Lamar University in Beaumont has an online RN to MSN program, suitable for nurses with ADN degree.
It also has two specialization tracks – Nurse Administration and Nurse Educator.
The Costs
The tuitions vary across the state and you should be prepared to pay for the program tuition, fees, and learning materials.
For example, if you choose the RN to MSN program at Texas A&M University, expect to pay around $375 per credit hour, if you are Texas resident.
Tuition can change over time, so make sure to check the latest information on costs before you apply for the program.
Schools in Texas
There are plenty of options for RN to MSN program in the state of Texas.
For example, students at Lamar University are getting necessary knowledge apart in nursing administration, strategic management in the nursing field, and the latest trends in nursing education.
Next, Texas A&M University in Corpus Christi has a comprehensive RN to MSN program suitable for both ADN and BSN nurses.
West Texas A&M University has a hybrid MSN program and students can specialize as Family Nurse Practitioners.
The on-campus program at the University of the Incarnate Word has an accelerated option.
The University of Texas in Austin has a variety of specialization tracks for its students such as Adult/Gerontology, Family Nurse Practitioner, Primary Care Pediatric Nurse Practitioner, Psych/Mental Health Nurse Practitioner, and Clinical Nurse Leader.
| School Name | Address |
| --- | --- |
| Lamar University | Joanne Gay Dishman School of Nursing 4400 MLK Blvd., PO Box 10009 Beaumont, TX 77710 |
| Texas A&M University-Corpus Christi | 6300 Ocean Drive Corpus Christi, TX 78412 (361) 825-2649 |
| University of Texas at Austin | School of Nursing 1710 Red River St Austin, TX 78701 |
| University of the Incarnate Word | Ila Faye Miller School of Nursing and Health Professions 4301 Broadway St San Antonio, TX 78209, (210) 829-3982 |
| West Texas A&M University | Department of Nursing 2501 4th Ave Canyon, TX 79016 |
Salary
The salary of a registered nurse is different across the state and depends on several factors such as education, experience, specialization, etc.
An average annual salary of registered nurse level 2 in Texas is $74.610.
Annual Salary Range:
Annual Salary by Location:
| Location | Avg. Annual Salary |
| --- | --- |
| Houston | $77,880 |
| Dallas | $75,250 |
| San Antonio | $73,880 |
| Austin | $74,730 |
| El Paso | $66,460 |
| Fort Worth | $74,040 |
| Arlington | $73,920 |
| Corpus Christi | $70,470 |
| Plano | $74,920 |
| Garland | $75,090 |
RN to MSN Programs by State
---