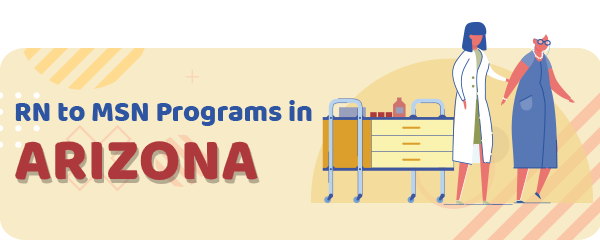 The next step toward a dream career for registered nurses (RNs) is the Master's degree in Nursing (MSN).
Obtaining an MSN will ensure better job opportunities and higher salaries.
To find out more about RN to MSN programs in Arizona, keep reading.
RN to MSN Admissions Requirements in Arizona
To start an RN to MSN program in Arizona, you have to meet several criteria.
Only if you have a minimum GPA of 3.00 on all undergraduate studies and have graduated on ACEN or CCNE approved BSN program, you can be admitted.
Students need to complete prerequisite courses and meet the minimum grades and hold an active, unencumbered registered professional nurse license in the state of Arizona.
Additionally, students need to submit a comprehensive goal statement and three recommendation letters.
Only those who satisfy all criteria can start an RN to MSN program in Arizona.
RN to MSN Courses
Your previous education will determine your eligibility for the several RN to MSN course models.
For example, if you have a BSN, you can complete only the MSN portion of the program.
Otherwise, you can choose one of the programs that allow you to obtain a BSN and MSN degree.
Students can choose a specialization track after they complete the general education courses.
For example, you can pick specialization in adult-gerontology; become a family nurse practitioner, etc.
Online RN to MSN Programs
Online education is getting more popular because it is convenient and more affordable than traditional.
Working nurses often choose online programs, because they don't have to quit the job and relocate to obtain an MSN degree.
However, even if you choose the online program, you will still have to complete the clinical practice course.
Most of the programs allow the students to complete the clinical course in their local area.
The Costs
Costs vary across the state and depend on several factors.
Before you choose your program, check the list of things covered by program fees, for example, search for books and other necessary items.
For illustration, students at the University of Arizona, have to pay around $825 per credit for the online program.
Schools in Arizona
Let's see what colleges and universities in Arizona have appropriate RN to MSN programs.
For example, Grand Canyon University offers an excellent bridge program for the nurse students – Master of Science in Nursing with an Emphasis in Nursing Leadership in Health Care Systems.
Northern Arizona University has the selection of advanced practice nursing roles.
| School Name | Address |
| --- | --- |
| Grand Canyon University | 3300 West Camelback Road, Phoenix, AZ 85017 |
| Northern Arizona University | 202 East Pine Knoll Drive, PO Box 15035, Flagstaff, AZ 86011 |
Salary
Salary depends on your education level, the years of your professional experience, the city where you work, etc.
On average, a level 2 registered nurse in Arizona makes an annual salary of $74990.
Annual Salary Range:
Annual Salary by Location:
| Location | Avg. Annual Salary |
| --- | --- |
| Phoenix | $75,150 |
| Tucson | $71,260 |
| Mesa | $73,720 |
| Glendale | $75,150 |
| Scottsdale | $73,720 |
| Chandler | $73,720 |
| Tempe | $73,720 |
| Gilbert | $73,720 |
| Peoria | $75,000 |
| Yuma | $77,740 |
RN to MSN Programs by State
---