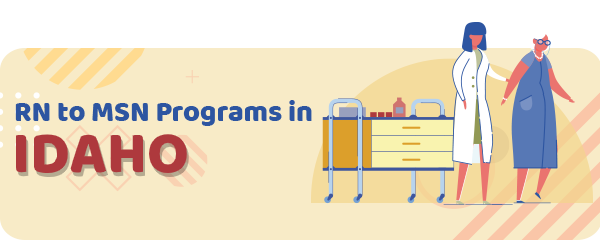 If you are a registered nurse (RN) in Idaho, and you are considering taking the next step in your education toward an MSN degree – go for it!
There are several educational pathways you can take to achieve that, and those depend on your previous education.
Obtaining an MSN degree will improve your job opportunities and your salary.
Keep reading for more information on RN to MSN programs in the state of Idaho.
RN to MSN Admissions Requirements in Idaho
There are a few admission requirements you have to meet, to start the MSN program in Idaho.
Only students who have completed an ADN or BSN at an officially accredited university can apply for MSN programs.
Active, unencumbered registered professional nurse license in the state of Idaho is obligatory, as well as a minimum GPA of 3.0 on undergraduate coursework.
Lastly, students have to submit a personal goal statement as part of the criteria.
Only students who meet all criteria can be admitted to the RN to MSN program in Idaho.
RN to MSN Courses
There are several RN to MSN program models.
Your previous education determines the one you can take.
Therefore, RNs with BSN can finish only the MSN portion of the program.
For other nurses, there are accelerated programs that include BSN education or transition RN to MSN programs.
After you finish the general education courses, you will be expected to pick the specialization program of your choice.
For example, you can specialize in Adult care or become a Family nurse practitioner.
Online RN to MSN Programs
Online education is getting more popular because it is a convenient way to upgrade your education without relocation and high costs.
Online programs are more affordable and flexible, and that is why more working nurses choose these online courses.
But, even if you choose an online program, you will have to complete certain hours of clinical practice.
Luckily, many schools allow their students to take clinical hours in their local area.
The Costs
How much you will pay for the program depends on the program model and other factors.
As mentioned before, online courses are more affordable than traditional ones.
Also, tuition for some programs includes the costs for review materials, while other programs consider those expenses as additional.
For example, if you choose to start a program at Idaho State University as a full-time student, you will have to pay around $4251 per semester.
Schools in Idaho
There are several colleges and universities in Idaho that have some kind of RN  to MSN programs.
For example, Northwest Nazarene University has an excellent online Master of Science in Nursing which is conducted online.
The program highlights Leadership and Education in the nursing field.
| School Name | Address |
| --- | --- |
| Northwest Nazarene University | 623 S. University Boulevard, Nampa, ID 83686 |
Salary
Salary is based on several factors such as education, certificates, employer, city, etc.
Annual Salary Range:
Annual Salary by Location:
| Location | Avg. Annual Salary |
| --- | --- |
| Boise | $71,960 |
| Nampa | $71,200 |
| Pocatello | $65,910 |
| Idaho Falls | $68,950 |
| Meridian | $71,890 |
| Coeur d'Alene | $74,630 |
| Twin Falls | $65,680 |
| Lewiston | $74,880 |
| Caldwell | $71,130 |
| Moscow | $74,630 |
RN to MSN Programs by State
---