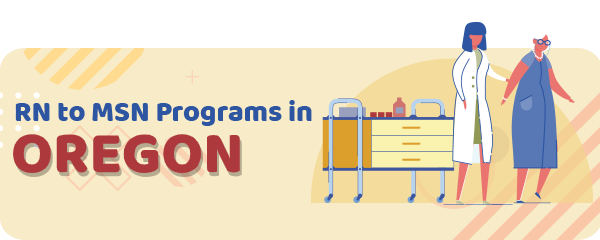 In Oregon, schools have a hybrid style for nurses transitioning from RN to MSN degree.
The concept of hybrid style is to remain flexible and keep the small-size classes.
Additionally, programs focus on web-learning and monthly in-person meetings. 
Currently, there is only one college with this type of program, but if you are interested in getting an MSN degree, you can enroll in an online remote program.
Aspiring MSN students can also specialize in fields such as oncology, perinatal nursing, etc.
RN to MSN Admissions Requirements in Oregon
Nurses who want to enroll in the MSN program in Oregon have to meet the requirements such as having a valid and unencumbered registered nurse license. 
Popular Programs
Additionally, students need to have a cumulative GPA on all undergraduate courses at least 3.0.
Nurses considering applying to an MSN program in Oregon will likely encounter the following admissions requirements:
Also, students need to submit a resume and proof of clinical experience, personal goal statement, and letter of recommendation. 
Only students who have completed undergraduate statistics courses with a minimum grade B in the last three years can be admitted to the MSN program in Oregon.
RN to MSN Courses
There are several educational pathways for RNs who want to complete an MSN degree. 
Nurses who have BSN degree can only complete MSN part of the program, while a nurse with ADN can choose a program which will allow them to upgrade to BSN and obtain MSN degree simultaneously. 
Additionally, there are accelerated programs for students who have a Bachelor's degree in fields other than nursing.
All MSN programs have specialization tracks after general education courses.
Oregon Health & Science University, for example, has Pediatric Nurse Practitioner, Family Nurse Practitioner, Psychiatric Mental Health Nurse Practitioner, Nurse Anesthesia, Nurse-Midwifery, Health Systems & Organizational Leadership, Nursing Education and Adult-Gerontology Nurse Practitioner specializations.
The University of Portland admits nurses with BSN, and have a hybrid program conducted both online and on-campus.
The curriculum includes courses such as Nursing Science for Advanced Practice, Pathophysiology, and Pharmacology: Illness Trajectory & Symptom Control, Policy & Politics for the Nurse Leader, etc.
The length of the program depends on the student's status and program.
For example, MSN Family Nurse Practitioner at Oregon Healht&Science University has a full-time program that lasts two-years. 
The majority of programs start in the fall.
Online RN to MSN Programs
Nurses who are looking for flexible courses and self-paced learning can enroll in online MSN programs.
These are offered as both full-time and part-time, and also include clinical hours requirements. 
Schools offer their student to complete clinical hour requirements on campus, or in their local area.
The Costs
How much you will have to pay for MSN education depends on the school and chosen program.
For example, the MSN program at Oregon Health & Science University costs around $572 and $725 per credit hour. 
The graduate-level nursing program at the University of the program is somewhere between $746 and $1.271 per semester. 
The tuition can change over the year, and you should check the latest information for the program of your choice.
Schools in Oregon
There are two schools with MSN programs available for Oregon students.
Those are Northwest Christian University, conducted online, and Oregon Health & Science University.
Both programs have great curriculums and offer excellent specialization tracks for nursing students.
| School Name | Address |
| --- | --- |
| Northwest Christian University | 828 E. 11th Ave. Eugene, OR 97401, (541) 343-1641 |
| Oregon Health & Science University | 3455 SW US Veterans Hospital Rd. Portland, OR 97239, (503) 494-8311 |
Salary
The average salary of registered nurse level 2 in Oregon is $75.680 per year.
The salary is different across the state and depends on factors such as experience and employer. 
Annual Salary Range:
Annual Salary by Location:
| Location | Avg. Annual Salary |
| --- | --- |
| Portland | $79,420 |
| Eugene | $74,480 |
| Salem | $76,660 |
| Gresham | $79,310 |
| Beaverton | $79,420 |
| Hillsboro | $79,160 |
| Medford | $71,190 |
| Springfield | $73,930 |
| Bend | $73,440 |
| Corvallis | $74,896 |
RN to MSN Programs by State
---