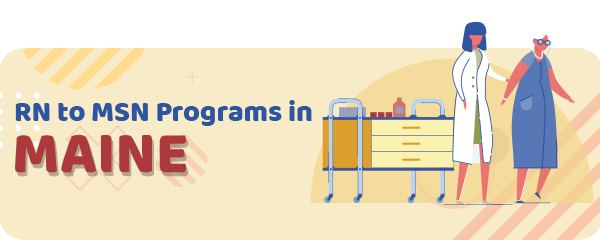 If you are a registered nurse (RN), and you want to take the next step in the career, you can complete a Master's degree in Nursing (MSN).
Completing the MSN course will improve your job opportunities and your salary.
Keep reading to find out more about RN to MSN programs in the state of Maine.
RN to MSN Admissions Requirements in Maine
To be admitted to an RN to MSN program in Maine, you will have to satisfy several criteria.
Only students who have completed ADN or BSN on accredited universities and have a minimum GPA of 3.0 on the undergraduate coursework can be admitted to RN to MSN program in Maine.
Students need to hold a valid professional nursing license in Maine and provide two letters of recommendation, as well as a resume.
Some schools require MAT or GRE.
If you meet all the requirements, you will be admitted to the RN to MSN program of your choice.
RN to MSN Courses
There are several RN to MSN educational pathways.
Some are more complex than others, but it depends on your previous education.
For example, a nurse who has BSN can finish only the MSN part of the program.
Other nurses can pick the program that allows them to obtain BSN and MSN.
After you complete the general nursing education courses, you can choose your nursing specialization track.
So, you can continue your career as a family nurse practitioner, adult nurse clinical specialist, or something else.
Online RN to MSN Programs
Online education is convenient for so many reasons and usually costs less than traditional.
That is why working nurses often choose online classes because they don't have to quit their jobs and relocate to finish school.
However, even if you choose an online RN to MSN program, you will have to finish the clinical hours course.
Luckily, schools allow students to complete this requirement in their local communities.
The Costs
Program fees are different across the state and based on a wide range of factors.
The tuition sometimes covers all expenses, including books and materials, and sometimes doesn't.
For example, if you choose St. Joseph's College, you will have to pay around $606 per credit.
Schools in Maine
Let's have a brief overview of colleges and universities in Maine that have RN to MSN programs.
Saint Joseph's College of Maine offers an accelerated option for students who want to continue with the MSN program at this college.
The University of Maine has a full-time program and a part-time program, so you can finish it in two or four years.
The University of Southern Maine has five specialization tracks for nurses, such as Family Nurse Practitioner, Nurse Educator, etc.
| School Name | Address |
| --- | --- |
| Saint Joseph's College of Maine | 278 Whites Bridge Road, Standish, ME 04084 |
| University of Maine | 5724 Dunn Hall, University of Maine, Orono, ME 04469-5724 |
| University of Southern Maine | 96 Falmouth St, Portland, ME 04103 |
Salary
A salary of a registered nurse, level 2 in Maine is $73120 per year.
Salary depends on factors such as city, years of experience, employer, education, etc.
Annual Salary Range:
Annual Salary by Location:
| Location | Avg. Annual Salary |
| --- | --- |
| Portland | $75,900 |
| Lewiston | $75,140 |
| Bangor | $69,310 |
| South Portland | $75,900 |
| Auburn | $75,140 |
| Brunswick | $75,240 |
| Biddeford | $75,540 |
| Sanford | $76,740 |
| Augusta | $71,850 |
| Scarborough | $75,900 |
Regional Salary in Maine
| Region | Employed | Avg. Annual Salary | Avg. Hourly Pay | Top 10% Annual Salary | Bottom 10% Annual Salary |
| --- | --- | --- | --- | --- | --- |
| Bangor, ME | 200 | $115,910 | $55.73 | $137,160 | $99,840 |
| Lewiston-Auburn, ME | 160 | $126,100 | $60.63 | $158,370 | $105,140 |
| Portland-South Portland, ME | 410 | $117,370 | $56.43 | $135,030 | $102,030 |
* Salary information based on the May 2022 Occupational Employment Statistics (OES) Survey for Nurse Practitioners, OCC Code 29-1171, BLS.
* Employment conditions in your area may vary.
RN to MSN Programs by State
---