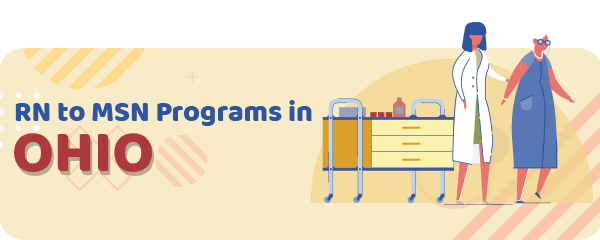 Registered nurses in Ohio can improve their knowledge and improve their career paths can finish a Master's of Science in Nursing (MSN) degree.
The MSN programs are available for nurses who hold an Associate's Degree or Bachelor's of Science in Nursing.
There are also options for full-time and part-time MSN programs, online, traditional on-campus programs, and plenty of different specialization tracks for nurses in Ohio.
RN to MSN Admissions Requirements in Ohio
To be admitted to MSN programs in Ohio, aspiring students need to meet several criteria related to their previous success and application process.
Aspiring MSN students need to hold a valid, unencumbered registered nurse license.
The GPA requirements include having a GPA of at least 3.0 on all undergraduate education.
Popular Programs
Upon application, students need to provide a resume, proof of clinical experience, and professional recommendation letter.
Some schools require the students to submit a personal goal statement and competition of undergraduate statistic course with a minimum grade C.
RN to MSN Courses
Nurses in Ohio have different pathways, and the choice depends on their previous education.
For example, nurses who hold an ADN degree can choose MSN programs which will allow them to earn BSN degrees simultaneously.
Additionally, ADN-prepared nurses can complete the MSN program that allows them to bypass the BSN degree and earn only the MSN program.
Nurses who already hold a BSN degree can complete only the MSN part of the program.
MSN students can choose the specialization track such as Clinical Nurse Leader, Nursing Education, Acute Care Nurse Practitioner, Family Nurse Practitioner, Nurse Anesthesia, Nurse/Midwife, etc.
The curriculum of the programs differ across the schools and depend on the specialization.
For example, nurses who start the MSN program at Case Western Reserve University in Cleveland will have to complete courses such as Pharmacology & Therapeutics, Advanced Pathophysiology, Evidence-Based Nursing Practice, etc.
The length of the MSN program is different across the state but also depends on the student.
For example, full-time and part-time students will complete the course at different times.
For example, the MSN program at Ohio State University lasts for two years for full-time students, and three years for part-time students.
Also, online programs can last a bit longer than on-campus programs.
Online RN to MSN Programs
Registered nurses often choose online programs because of their flexibility.
Being able to take the course at your own pace is important for working nurses.
Also, online programs often cost less.
There are mixed programs as well.
For example, Walsh University in North Canton has a convenient hybrid program, and students can take some of the courses online, and others on-campus.
Also, all online programs have clinical practice requirements, but the schools allow their students to complete the requirement in their local healthcare facility.
The Costs
Schools set their own price for MSN programs in Ohio.
Sometimes, tuition covers all expenses, while in other schools you have to pay additionally for books or other materials.
For example, if you choose the MSN program at Ohio University, expect to pay between $600 and $700 per credit hour if you are Ohio resident.
Ohio State University has a price of $750 per credit hour.
Also, these prices don't include course fees and learning materials.
Schools in Ohio
There are plenty of options for school in Ohio that has an appropriate MSN program.
For example, Capital University, Lourdes University, and Mount Saint Joseph University have excellent on-campus programs with advanced curriculum and several specialization tracks.
Nurses who prefer online education can apply for the Ohio State University, Urbana University, or Wash University.
These schools offer online and on-campus programs.
Additionally, Ursuline College in Pepper Pike offers an accelerated on-campus program that lasts 15 months.
| School Name | Address |
| --- | --- |
| Capital University | 1 Capital and Main Columbus, OH 43209-2394, (614) 236-6703 |
| Lourdes University | 6832 Convent Boulevard Sylvania, OH 43560, (419) 517-8905 |
| Mount Saint Joseph University | 5701 Delhi Ave Cincinnati, OH 45233-1670 |
| Ohio State University | 1585 Neil Avenue Columbus, OH 43210, (614) 292-8900 |
| Urbana University | 579 College Way Urbana, OH 43078, (937) 772-9259 |
| Ursuline College | 2550 Lander Road Pepper Pike, OH 44124-4398, (440) 684-6032 |
| Walsh University | 2020 East Maple Street, NW North Canton, OH 44720-3396, (330) 490-7250 |
Salary
The salary of a registered nurse, level 2 in the state of Ohio is $74,190.
The figure is the average annual salary, and factors such as city, education, experience affect the final number.
Annual Salary Range:
Annual Salary by Location:
| Location | Avg. Annual Salary |
| --- | --- |
| Columbus | $74,730 |
| Cleveland | $75,390 |
| Cincinnati | $74,300 |
| Toledo | $73,470 |
| Akron | $72,950 |
| Dayton | $73,860 |
| Findlay | $71,720 |
| Youngstown | $72,030 |
| Canton | $72,560 |
| Lorain | $73,980 |
RN to MSN Programs by State
---