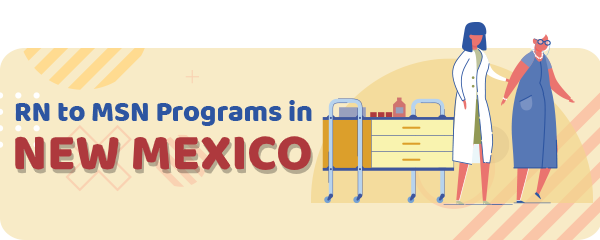 Higher degrees in nursing are getting more popular in New Mexico.
Registered nurses (RNs) in this state who are interested in improving their knowledge and skills can complete an RN to MSN program.
Obtaining a Master's of Science in Nursing (MSN) degree will increase their job opportunities and salary.
Most of the schools in New Mexico have programs suitable for nurses who hold a BSN degree, there are also appropriate educational MSN tracks for ADN-prepared nurses.
Keep reading to find out more about RN to MSN programs in New Mexico.
RN to MSN Admissions Requirements in New Mexico
Nigher degree programs are often competitive, and aspiring students need to meet several criteria to be admitted to the program of their choice.
In New Mexico, admission requirements include holding an ADN or BSN degree from an accredited program and holding a valid registered nurse license in New Mexico.
Aspiring students need to have a GPA of at least 3.0 on all undergraduate courses and at least one year of professional experience as a nurse.
Only nurses who meet all requirements can be admitted to the RN to MSN programs in New Mexico.
RN to MSN Courses
The curriculum of most of the RN to MSN programs includes core nursing courses and specialty courses.
After the student finishes general nursing courses, he or she can choose the nursing specialty track.
In New Mexico, the most common nursing specializations are Nurse Educator and Family Nurse Practitioner.
Therefore, before you apply for the MSN program, you should check the specialty the school offer.
Also, all students are required to complete some set of supervised clinical hours.
If you enroll in an MSN program, you can expect to attend courses such as Research in Nursing, Health Care Policy, Theoretical Foundations of Advanced Nursing, Advanced Health Assessment and Diagnostic Reasoning, etc.
The duration of the program depends on student and school.
Students who choose the part-time option will take more time to complete the program than those who choose full-time.
The average time it takes to complete an RN to MSN program is around two to three years.
Online programs
Working nurses often choose online education because of the flexibility and ability to study at their own pace.
Also, online programs are often less expensive than traditional on-campus programs.
However, students who choose the online MSN program have to complete clinical hours.
But, schools often allow students to finish the clinical requirements in their local area.
For example, New Mexico State University has a high-quality online program in Nursing Administration, suitable for nurses who hold a BSN degree.
The Costs
MSN programs can be quite pricey, but students can apply for grants and scholarships.
The costs include tuition, admission fees, and additional expenses for books and nursing materials.
For example, if you choose an MSN program at the University of New Mexico, expect to pay around $500 per credit hour and to pay extra for books and other expenses.
Schools in New Mexico
In New Mexico, there isn't any in-state program for RN to MSN education, but there are excellent online programs at officially accredited colleges.
The average duration is two years, and getting your degree online is quite convenient.
| School Name | Address |
| --- | --- |
| New Mexico State University | 2850 Weddell St. Las Cruces, NM 88003, (575) 646-0111 |
Salary
The average salary of registered nurse level 2 in New Mexico is $69.450 per year.
The salary depends on specialization, location, experience, employer, etc.
Annual Salary Range:
Annual Salary by Location:
| Location | Avg. Annual Salary |
| --- | --- |
| Albuquerque | $71,440 |
| Las Cruces | $64,590 |
| Santa Fe | $71,800 |
| Rio Rancho | $71,210 |
| Roswell | $66,640 |
| Farmington | $70,480 |
| Alamogordo | $67,780 |
| Clovis | $67,310 |
| Hobbs | $65,550 |
| Carlsbad | $66,623 |
RN to MSN Programs by State
---