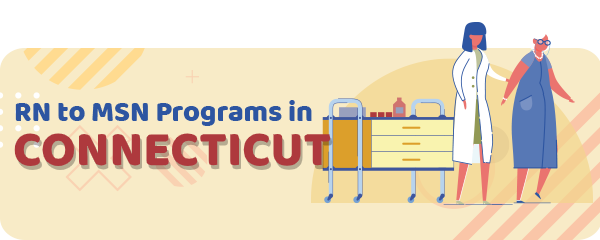 If you are a registered nurse (RN) and you want to upgrade your career in nursing, the next step is to complete a Master's degree in Nursing (MSN) program at some school in Connecticut.
Obtaining an MSN will improve your job role, opportunities, and salary.
Keep reading to find out more about RN to MSN programs in Connecticut.
RN to MSN Admissions Requirements in Connecticut
Students who want to take the RN to MSN program in the state of Connecticut must satisfy several criteria.
Those include having a minimum GPA of 3.0 on all undergraduate courses and holding an active unencumbered registered professional nurse license in Connecticut.
Also, only students who have graduated from ACEN or CCNE approved ADN or BSN programs can be admitted.
Students need to have at least two years of clinical experience and they have to submit a minimum of one recommendation letter.
Only if you meet all the requirements, you can be admitted to RN to MSN course in Connecticut.
RN to MSN Courses
There are several educational models that cover the RN to MSN education.
For example, nurses who have completed the BSN program in the past can finish only the MSN portion of the program.
Other nurses can choose programs that allow them to obtain both a BSN and MSN degree.
Each program consists of general nursing education and specialization track.
So, after you complete the general courses, you can pick the adult care clinical specialist specialization, become a family nurse practitioner or else.
Online RN to MSN Programs
There are also online nursing education programs in the state of Connecticut.
Online education is convenient for working nurses, and the costs are lower.
However, even if you choose online classes, you will still have to fulfill a certain number of clinical hours.
Fortunately, schools allow the students to complete the clinical course in their local communities.
The Costs
The cost of RN to MSN programs depends on several factors.
For example, if you choose to study at Yale School of Nursing, you will have to pay around $18966 for the fall and spring terms.
Make sure to find out whether the books and other necessary items are included in the tuition for the program of your choice.
Schools in Connecticut
There are several great schools in Connecticut that offer excellent RN to MSN programs.
Fairfield University nurtures the latest educational technics to address future demands in the nursing practice.
Sacred Heart University offers six start dates for its students.
Southern Connecticut State University features individualized mentorship to its students.
The University of Connecticut offers a CCNE accredited nursing program.
The University of Saint Joseph has advanced practice programs and is a certificate by the state Board of Nursing.
Yale University has a century-long tradition and is the first educational school for nurses with an exceptional nursing curriculum.
| School Name | Address |
| --- | --- |
| Fairfield University | 1073 North Benson Road, Fairfield, CT 06824 |
| Sacred Heart University | 5151 Park Avenue, Fairfield, CT 06825 |
| Southern Connecticut State University | 501 Crescent Street, New Haven, CT 06515 |
| University of Connecticut | 231 Glenbrook Road, Storrs, CT 06269-4026 |
| University of Saint Joseph | 1678 Asylum Avenue, West Hartford, CT 06117-2791 |
| Yale University | 400 West Campus Drive, Orange, CT 06477 |
Salary
Connecticut is one of the top-paying states for nurses, and an average yearly salary of RN, level 2 here is $82060.
The salary is based on location, experience, education, working facility, etc.
Annual Salary Range:
Annual Salary by Location:
| Location | Avg. Annual Salary |
| --- | --- |
| Bridgeport | $85,610 |
| New Haven | $83,230 |
| Hartford | $81,950 |
| Stamford | $87,430 |
| Waterbury | $81,760 |
| Norwalk | $87,430 |
| Danbury | $84,200 |
| New Britain | $81,910 |
| West Hartford | $81,950 |
| Greenwich | $87,430 |
RN to MSN Programs by State
---