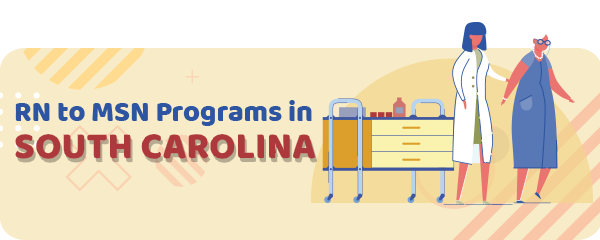 In South Carolina, there is a growing need for registered nurses with higher degrees such as MSN.
Earning a Master's of Science in Nursing (MSN) will increase my salary as well. 
If you are interested in getting your MSN degree in South Carolina, you can complete a traditional in-person program or an online program. 
Also, you can move to nearby states, such as Georgia or North Carolina to complete an MSN degree. 
RN to MSN Admissions Requirements in South Carolina
To be admitted to the MSN program in South Carolina, you will have to meet all requirements.
Those can vary, but the most common is having a minimum GPA of 3.0 on all undergraduate work. 
Popular Programs
Next, aspiring students need to hold a valid registered nurse license in South Carolina.
Upon application, students need to provide three letters of recommendation and personal goals statement.
Before you start the application process, you should check whether the requirements changed in the meantime.
RN to MSN Courses
More and more nurses in South Carolina decide to complete an online program. 
The reasons for the growing popularity of the online course are flexibility and lower costs.
Students who choose the online MSN program can study at their pace and work at the same time. 
For example, courses such as Research Methods, Research and Statistics, Advanced Nursing Theory, Evidence-Based Practice
Improving Patient Care and Nursing Practice through Information Systems and Technology, etc. are conducted online. 
How much time you will need to complete the programs depends on your commitment, and the number of credits and courses required. 
Most of the students are required to complete from eight to 18 credits per semester.
After completing general nursing education courses, students can choose a specialization track.
In South Carolina, students can specialize as a Clinical Nurse Specialist, Certified Nurse Midwife, and Nurse Practitioner.
Online RN to MSN Programs
South University in South Carolina has an accredited online RN to MSN program, which is suitable for nurses who don't hold a BSN degree.
As for online specialization tracks, you can choose the Family Nurse Practitioner program at South University or Columbia.
The students who complete this specialization track will complete on family health promotion and emphasizing the significance of healthy behaviors
The program curriculum consists of nursing theory and advanced practice.
A minimum commitment for this program is 217 credits.
The Costs
The tuition and fees can differ for different specialty tracks.
The average price of the MSN program in South Carolina per semester is $3.848.
Schools in South Carolina
South University in Columbia is a choice number for a majority of students in South Carolina. 
The program prepares and trains nurses for practicing with patients in all developments stage. 
| School Name | Address |
| --- | --- |
| South University | 9 Science Court Columbia, SC 29203, (803) 799-9082 |
Salary
A registered nurse, level 2 in South Carolina earns an average annual salary of $71,120.
Years of experience, employer, location, and other factors contribute to the salary. 
Annual Salary Range:
Annual Salary by Location:
| Location | Avg. Annual Salary |
| --- | --- |
| Columbia | $71,360 |
| Charleston | $72,160 |
| North Charleston | $72,160 |
| Greenville | $74,130 |
| Rock Hill | $74,790 |
| Mount Pleasant | $72,160 |
| Spartanburg | $70,480 |
| Sumter | $67,940 |
| Hilton Head Island | $70,570 |
| Florence | $68,320 |
RN to MSN Programs by State
---