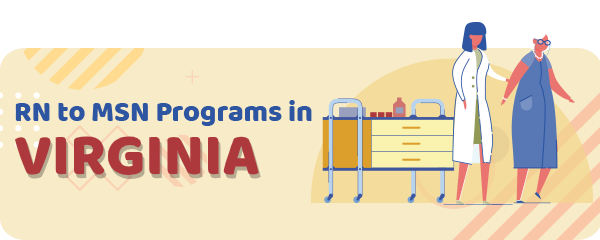 There are quite a few options for registered nurses in Virginia who are ready to improve their skills and earn a higher degree.
Obtaining a Master's of Science in Nursing (MSN) degree will improve career options and salary as well.
RNs in Virginia can choose an online or traditional on-campus program, as well as a part-time or full-time option.
Keep reading to learn more about RN to MSN programs in Virginia.
RN to MSN Admissions Requirements in Virginia
MSN programs are quite competitive, and there is a set of admission requirements that each student needs to fulfill.
Typical requirements for MSN programs in Virginia include having a minimum GPA of 3.0 on undergraduate work.
Aspiring students need to have a valid and unencumbered registered nurse license in Virginia and clinical experience.
They need to submit a resume, personal statement, and provide letters of recommendation.
Also, some school only accepts students who have completed the undergraduate-level statistics course in the last five years.
Students also need to submit GRE scores with a minimum score on verbal part 450, and 400 on writing assessment.
RN to MSN Courses
Nurses in Virginia have two RN to MSN program types.
The first type is appropriate for nurses who hold an Associate's degree, and the MSN program allows them to earn BSN and MSN degrees simultaneously.
The second model is for nurses who hold a BSN degree, and they can only complete advanced MSN courses as part of their program.
Also, nurses can choose specialization track after they complete general nursing education courses.
Available specialty tracks for nurses in Virginia are Clinical Nurse Leader, Nurse Educator, Family Nurse Practitioner, Nursing Administration, Nurse-Midwifery, etc.
The common curriculum of an MSN program includes courses such as Advanced Pharmacology and Therapeutics, Advanced Physiology and Pathophysiology, but also Applied Data Analysis, Primary Care of Families, etc.
The number of courses you have to complete on your MSN track and your commitment determines the length of studies.
Specialization, online or traditional program, full-time or part-time status also affect the time you need to complete the MSN program.
For example, the MSN program at the University of Virginia lasts for 16 months for full-time students and 24 months for part-time students.
Online Programs
Working nurses often have a busy schedule and it can be hard to attend all courses.
It is why online programs are more popular for a large number of nurses in Virginia.
Online education is flexible, convenient, and often costs less than traditional on-campus programs.
Even if you choose an online MSN program, bear in mind that you will have to complete a certain number of clinical hours.
You can do it on-campus or in your local healthcare facility.
The Costs
Tuition and mandatory fees are different across the state.
It also depends on program type – online or classroom, part-time or full-time status, and specialization.
For example, if you choose the MSN program at Eastern Mennonite University, you will have to pay around $600 per credit hour.
The tuition doesn't include expenses for books and fees, as well as additional out-of-pocket expenses.
Bear in mind that schools are authorized to change the tuition, so make sure you have the latest information before you apply for the program.
Schools in Virginia
Several schools in Virginia offer MSN programs for ambitious nurses.
For example, you can choose George Mason University in Fairfax and choose between online and on-campus MSN program.
Next, there is a highly appreciated Eleanor Wade Custer School of Nursing at Shenandoah University.
Also, you can apply for a comprehensive and high-quality MSN program at Virginia Commonwealth University in Richmond.
| School Name | Address |
| --- | --- |
| George Mason University | 4400 University Drive Fairfax, VA 22030, (703) 993-2991 |
| Shenandoah University | 1460 University Dr Winchester, VA 22601, (540) 678-4381 |
| Virginia Commonwealth University | 907 Floyd Ave Richmond, VA 23284, (804) 828-0724 |
Salary
Salary is a result of different factors such as education, experience, certificates.
The location and healthcare facility in which you are applying for the position also determines the salary.
The average salary of registered nurse level 2 in Virginia is $75.530 per year.
Annual Salary Range:
Annual Salary by Location:
| Location | Avg. Annual Salary |
| --- | --- |
| Virginia Beach | $72,640 |
| Norfolk | $71,540 |
| Chesapeake | $71,450 |
| Richmond | $76,150 |
| Newport News | $71,180 |
| Hampton | $71,180 |
| Alexandria | $84,090 |
| Portsmouth | $71,540 |
| Roanoke | $70,170 |
| Lynchburg | $69,990 |
RN to MSN Programs by State
---