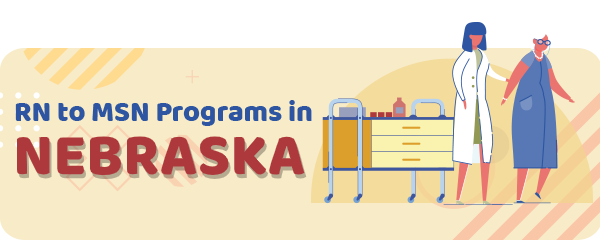 Healthcare facilities across Nebraska are looking for nurses with higher degrees, such as Master's of Science in Nursing (MSN). 
MSN-educated nurses are often associated with improved patient outcomes and comprehensive nursing practice. 
In Nebraska, several schools offer MSN programs for nurses who hold either ADN or BSN degree. 
Also, nurses can pick between online courses and classroom programs. 
MSN students can also pick specialization tracks, which will further improve their career options and salary.
RN to MSN Admissions Requirements in Nebraska
RN to MSN programs in Nebraska admit students who meet certain requirements.
Those include having a BSN or ADN degree obtained from officially accredited schools. 
Aspiring students need to have a cumulative GPA on all undergraduate work at least 3.0 and hold a valid, unencumbered registered nurse license in Nebraska.
Also, all students who want to start the MSN program need to have at least one year of clinical experience and pass the criminal and drug background check.
RN to MSN Courses
Curriculums of RN to MSN programs in Nebraska focus on core nursing courses and specialty courses for the chosen specialization.
The most common specializations in Nebraska are Nurse Educator and Family Nurse Practitioner. 
Each specialization track includes a requirement of a certain number of supervised clinical hours.
Common course on RN to MSN program in Nebraska includes Health Care Statistics, Critical Issues in Health Care, Research and Evidence-Based Practice in Nursing, Advanced Nursing Practice, etc.
The duration of the program depends on several factors including students' previous education (ADN or BSN degree), status (part-time or full-time), specialization, etc.
The average time for program completion is around two, and three years. 
Online programs
Online RN to MSN programs are getting more popular in all states, including Nebraska. 
Online programs are convenient and flexible and allow the students to complete the studies at their own pace.
Therefore, they are suitable for working nurses. 
Also, clinical hours requirements can be completed in a student's local healthcare facility, which is more convenient for those living in rural parts.
The Costs
Undergraduate courses can be expensive, but students can apply for grants, scholarships, and other financial aids.
For example, students who choose the Nurse Educator program at Nebraska Methodist College have to pay around $719 per credit hour.
The tuition doesn't cover expenses for books, and other nursing materials. 
Schools in Nebraska
Several colleges in Nebraska offer online programs.
Students can also choose whether to enroll in full-time or part-time programs. 
Also, upon deciding on which course to take, students should consider their previous degree. 
For example, Clarkson College and Nebraska Methodist College have excellent online courses.
On the other hand, ambitious nurses looking for on-campus programs can choose Nebraska Wesleyan University.
| School Name | Address |
| --- | --- |
| Clarkson College | 101 S 42nd St Omaha, NE 68131 |
| Nebraska Methodist College | 720 North 87th Street Omaha, NE 68114, (402) 354-7049 |
| Nebraska Wesleyan University | 5000 Saint Paul Avenue Lincoln, NE 68504-2794, (402) 465-2416 |
Salary
An average salary of a registered nurse, level 2 in Nebraska is $69,680.
However, bear in mind that salary depends on factors such as education level, experience, location, employer, certificates, etc.  
Annual Salary Range:
Annual Salary by Location:
| Location | Avg. Annual Salary |
| --- | --- |
| Omaha | $71,840 |
| Lincoln | $71,490 |
| Bellevue | $71,840 |
| Grand Island | $70,500 |
| Kearney | $70,500 |
| Fremont | $70,770 |
| Hastings | $70,500 |
| North Platte | $68,360 |
| Norfolk | $62,530 |
| Columbus | $70,491 |
Regional Salary in Nebraska
| Region | Employed | Avg. Annual Salary | Avg. Hourly Pay | Top 10% Annual Salary | Bottom 10% Annual Salary |
| --- | --- | --- | --- | --- | --- |
| Grand Island, NE | 50 | $112,960 | $54.31 | $133,990 | $82,440 |
| Lincoln, NE | 350 | $113,950 | $54.79 | $137,060 | $82,150 |
| Omaha-Council Bluffs, NE-IA | 770 | $122,650 | $58.97 | $150,930 | $101,020 |
* Salary information based on the May 2022 Occupational Employment Statistics (OES) Survey for Nurse Practitioners, OCC Code 29-1171, BLS.
* Employment conditions in your area may vary.
RN to MSN Programs by State
---