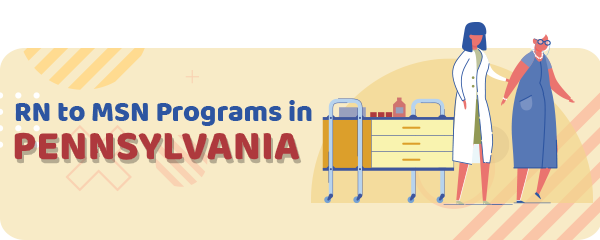 Registered nurses in the state of Pennsylvania can expand their knowledge and improve their career options if they complete a Master's of Science in Nursing (MSN) program.
Both ADN and BSN-prepared nurses can enroll in the program, and choose from a variety of specializations.
In Pennsylvania, there are both traditional on-campus and online programs available for RNs.
There are plenty of options for MSN programs in Pennsylvania, so keep reading to get more information about requirements, costs, schools, and salary. 
RN to MSN Admissions Requirements in Pennsylvania
Nurses who want to apply to an RN to MSN program at some of the Pennsylvania schools must meet several requirements.
Even though the requirements can vary across the schools, there is an essential set of conditions shared by the majority of schools. 
Popular Programs
First of all, students need to hold an unencumbered registered nurse license in Pennsylvania. 
Next, aspiring students need to have a minimum GPA of 3.0 in undergraduate courses.
Upon application, aspiring students need to provide proof of clinical experience and/or letters of recommendation, as well as a personal goal statement.
Some schools such as York College of Pennsylvania requires completion of specific courses such as statistics, including descriptive and inferential statistics, and courses such as physical assessment course and nursing research courses.
RN to MSN Courses
For RN nurses in Pennsylvania, there are several educational tracks.
ADN-prepared nurses can choose programs which will allow them to obtain BSN and MSN degree simultaneously.
Next, there are MSN programs for BSN-prepared nurses and nurses who hold a Bachelor's degree in disciplines other than nursing.
Each MSN program offers the specialization track for its students. 
The available specialization tracks are Clinical Nurse Specialist, Nursing Education, Nursing and Healthcare Administration, Acute Care Nurse Practitioner, Family Nurse Practitioner, Psychiatric / Mental Health Nurse Practitioner, Nurse Anesthesia, Nurse/Midwife, etc.
The curriculum of the MSN program can include courses such as Research for Evidence-Based Practice, Health Promotion and Disease Prevention in Culturally Diverse Populations, Ethics for Advanced Practice Nursing, Leadership & Healthcare Systems: Policy, Organization & Financing, etc.
The average length of the program is from two to four years. 
However, the length depends on students' status and commitment – full-time and part-time. 
Online RN to MSN Programs
Working nurses often choose online programs because they are flexible and they don't have to relocate or quit their jobs to complete the degree.
Also, online programs often cost less than traditional in-person programs. 
However, all online programs have a clinical hours requirement that students can complete in their local areas or on the campus.
The Costs
How much you will have to pay for an RN to MSN program in Pennsylvania depends on the school and the program you choose.
For example, the graduate program at the University of Pittsburgh costs around $1.039 per credit hour for in-state residents.
For comparison, graduate-level tuition at the University of Pennsylvania is $45.000 per year.
Before you decide on which program to choose, check whether the tuition covers expenses for books and other necessary supplies.
Schools in Pennsylvania
There are quite a few options available for nurses looking to upgrade their knowledge in Pennsylvania. 
For example, DeSales University in Center Valley has a convenient hybrid program where some courses are conducted online, while others are available as traditional courses.
Online programs are available at the University of Pittsburgh, Wilkes University, Robert Morris University, and Messiah College.
Nurses who prefer traditional in-person education can choose high-quality MSN programs at Bloomsburg University, Gannon University, Gwynedd Mercy University, or Moravian College.
Also, Thomas Jefferson University in Philadelphia is known for its comprehensive programs and great nursing training. 
Check the table for a complete list of all schools that have an MSN program in the state of Pennsylvania. 
| School Name | Address |
| --- | --- |
| Bloomsburg University | 400 East 2nd Street Bloomsburg, PA 17815-1301 |
| Gannon University | 109 University Square Erie, PA 16541, (814) 871-5547 |
| Gwynedd Mercy University | 1325 Sumneytown Pike Gwynedd Valley, PA 19437 |
| La Salle University | 1900 West Olney Avenue Philadelphia, PA 19141, (215) 951-1432 |
| Messiah College | One College Avenue Mechanicsburg, PA 17055, (717) 691-6029 |
| Moravian College | 1200 Main Street Bethlehem, PA 18018, (610) 861-1660 |
| Robert Morris University | 6001 University Boulevard Moon, PA 15108, (412) 397-6801 |
| Thomas Jefferson University | 901 Walnut Street, Suite 804 Philadelphia, PA 19107-5233, (215) 503-8057 |
| University of Pittsburgh | 3500 Victoria Street Pittsburgh, PA 15261, (412) 624-7838 |
| Wilkes University | 84 West South Street Wilkes Barre, PA 18766, (570) 408-4086 |
Salary
The median annual salary of registered nurse level 2 in Pennsylvania is $75,830.
Pennsylvania is one of the top paying states for registered nurses, but the salary depends on location, education level, experience, and employer. 
Annual Salary Range:
Annual Salary by Location:
| Location | Avg. Annual Salary |
| --- | --- |
| Philadelphia | $81,620 |
| Pittsburgh | $74,840 |
| Allentown | $75,750 |
| Erie | $70,180 |
| Upper Darby | $81,620 |
| Reading | $75,370 |
| Scranton | $70,130 |
| Bethlehem | $75,750 |
| Ardmore | $81,620 |
| Bensalem | $85,828 |
RN to MSN Programs by State
---