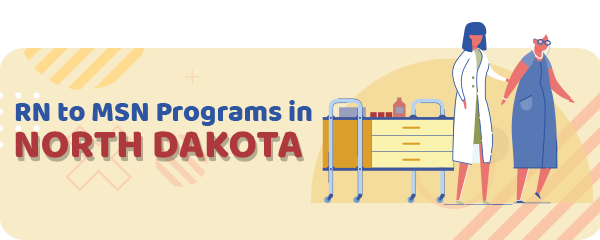 There is a growing demand for nurses with higher degrees because they are often connected with better patient outcomes and better patient care.
Therefore, registered nurses in North Dakota are encouraged to complete higher education programs in nursing, such as a Master's of Science in Nursing (MSN).
Both BSN and ADN-prepared nurses have appropriate programs.
Also, obtaining an MSN degree will result in higher salaries and better job opportunities.
RN to MSN Admissions Requirements in North Dakota
If you want to start an RN to MSN programs, you must meet several criteria.
Criteria can change, but usually, nurses in North Dakota have to hold ADN or BSN diploma obtained from an accredited university.
Which diploma is required depends on the program.
A minimum GPA required for admission to MSN programs in North Dakota is 2.75.
Also, students need to hold a valid, unencumbered registered nurse license in North Dakota.
Upon application, students need to submit two letters of recommendation, resume, and personal goal statement.
RN to MSN Courses
There are several educational pathways available for nurses in North Dakota.
The first one is appropriate for nurses who have an ADN degree.
They will have to complete bridge courses to upgrade to the baccalaureate level.
Next, they can continue their education with nurses who already have BSN, and complete MSN courses.
MSN programs include specialty tracks, such as Nurse Anesthetist or Nurse Educator.
Curriculums can be different but most of the programs include courses such as Nursing Research, Evidence-Based Practice, Health Care Decision Making, Nursing Leadership, Professional Roles, Finance, Budgeting, etc.
An average time students need to complete the MSN program is three years.
But, factors such as student status – full time or part-time, on-campus, or online program, etc. highly affect the program length.
Online programs
Online programs are getting more popular in all disciplines, including nursing.
The reasons behind it are flexibility and lower costs.
In North Dakota, you can apply for an online MSN program at the University of North Dakota in Grand Forks.
The program is suitable for nurses who hold a BSN degree.
It has several specialization tracks such as Adult/Gerontology Nurse Practitioner, Family Nurse Practitioner, Nurse Anesthesia, Nurse Educator, and Psychiatric and Mental Health Nurse Practitioner.
The Costs
The MSN programs aren't cheap, and the tuition differs across the state.
Tuition for some programs doesn't include expenses for books, fees, and other nursing materials.
Also, students can apply for grants and scholarships.
For example, if you choose the MSN program at the University of North Dakota, you will have to pay around $320.33 per credit, if you are North Dakota resident.
The figure doesn't include additional expenses for books and fees.
Schools in North Dakota
Aspiring nurses in North Dakota can choose e either online and on-campus programs.
For example, you can choose the MSN program at the University of Mary in Bismark, which offers both online and on-campus MSN education.
The nursing programs at the University of North Dakota are highly appreciated across the country and can be completed only on campus.
| School Name | Address |
| --- | --- |
| University of Mary | 7500 University Drive Bismarck, ND 58504, (701) 355-8173 |
| University of North Dakota | 430 Oxford St. Stop 9025 Grand Forks, ND 58202, (701) 777-4174 |
Salary
An average annual salary of registered nurse level 2 in North Dakota is $71,350.
Before you apply for any job and decide on salary, bear in mind that salary usually depends on location, employers, education, and experience.
Annual Salary Range:
Annual Salary by Location:
| Location | Avg. Annual Salary |
| --- | --- |
| Fargo | $71,290 |
| Bismarck | $70,820 |
| Grand Forks | $66,360 |
| Minot | $69,680 |
| Mandan | $70,820 |
| Dickinson | $69,680 |
| Jamestown | $69,910 |
| West Fargo | $71,290 |
| Williston | $69,680 |
| Wahpeton | $70,139 |
Regional Salary in North Dakota
| Region | Employed | Avg. Annual Salary | Avg. Hourly Pay | Top 10% Annual Salary | Bottom 10% Annual Salary |
| --- | --- | --- | --- | --- | --- |
| Bismarck, ND | 70 | $111,190 | $53.46 | $141,310 | $79,620 |
| Fargo, ND-MN | 210 | $114,330 | $54.96 | $133,680 | $85,900 |
| Grand Forks, ND-MN | 80 | $113,570 | $54.6 | $132,340 | $92,990 |
* Salary information based on the May 2022 Occupational Employment Statistics (OES) Survey for Nurse Practitioners, OCC Code 29-1171, BLS.
* Employment conditions in your area may vary.
RN to MSN Programs by State
---