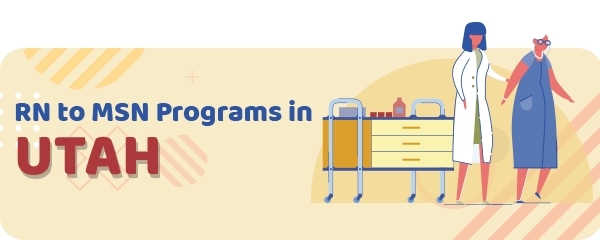 If you are a registered nurse in Utah and you want to take a step forward in your dream career, then you should consider completing a Master's of Science in Nursing (MSN) program.
Obtaining an MSN degree will ensure you better job opportunities, higher salary, and more space for personal and professional development.
Both ADN and BSN-prepared nurses can start an MSN program, but they will be slightly different.
Also, nurses in Utah have several options for MSN programs.
RN to MSN Admissions Requirements in Utah
There are more and more RNs who are interested in completing an MSN degree, so the school requirements in Utah are a bit strict.
Students need to hold an active unencumbered registered nurse license in Utah.
Also, only students who have a GPA of at least 3.0 on all undergraduate work, can be admitted to the MSN programs.
Students are required to have clinical experience as well.
The common application form consists of a personal statement, resume, and letters of recommendation.
The University of Utah requires the students with a GPA of 3.19 or lower to submit the GRE score.
RN to MSN Courses
Nurses in Utah have two types of RN to MSN programs.
The decision which one to take depends on their previous education.
One category is suitable for ADN nurses, and RN to MSN program allows them to gradually earn a BSN degree and MSN degree.
The second program type is for BSN-prepared nurses, and it is simpler.
These nurses can complete only the MSN courses in the program.
Also, Utah nurses can pick specialty education and continue their career as Nurse Practitioner, Nurse Educator, Nurse Executive, Nursing Informatics, Gerontology, and more.
Curriculums are slightly different from school to school, but the majority of RN to MSN programs include courses such as Research & Statistics, Advanced Pharmacology, Physical Assessment, Advanced Pathophysiology, etc.
How much time it will take to complete the program depends on the school and your commitment.
For example, part-time students need more time to finish the program, because they have fewer courses per semester.
The average time to complete the Nurse Educator program is more than three years as a part-time option.
Online Programs
Working nurses often enjoy the convenience of online courses such as flexibility, the ability to study at a personal pace, and lower costs.
In Utah, Weber State University has a CCNE-accredited MSN program suitable for BSN-prepared nurses.
The program has three specialization tracks – Nurse Educator, Nurse Executive, and Nurse Practitioner.
Some specializations have fully online courses, while some are conducted in hybrid form.
The Costs
The tuition and costs of studying are different across the state and depend on the school.
For example, if you choose Weber State University, you can expect to pay around $472 per credit hour.
For comparison, students at BYU pay $393 per credit hour.
However, bear in mind that tuition doesn't cover admission fees, books, or nursing instruments.
Tuition can change, so you should check for the latest information before you apply for any program.
Schools in Utah
There are a couple of education institutions in Utah that have appropriate-accredited nursing programs.
For example, the University of Utah in Salt Lake City is an excellent choice if you haven't still decided which specialization track to take.
The students are offered with plenty of tracks.
Western Governors University has an online MSN program excellent choice for working nurses.
| School Name | Address |
| --- | --- |
| University of Utah | 10 South 2000 East Salt Lake City, UT 84112, (801) 581-8262 |
| Western Governers University | 4001 S 700 E #700 Salt Lake City, UT 84107 |
Salary
A registered nurse level 2 earns an average annual salary of $71,990 in Utah.
Salary is based on factors such as education level, years of experience, employer, location, etc.
Annual Salary Range:
Annual Salary by Location:
| Location | Avg. Annual Salary |
| --- | --- |
| Salt Lake City | $72,210 |
| Provo | $69,560 |
| Sandy | $72,010 |
| Orem | $69,560 |
| Ogden | $70,390 |
| West Jordan | $71,940 |
| Layton | $70,130 |
| Saint George | $77,620 |
| Park City | $70,270 |
| Moab | $68,570 |
RN to MSN Programs by State
---