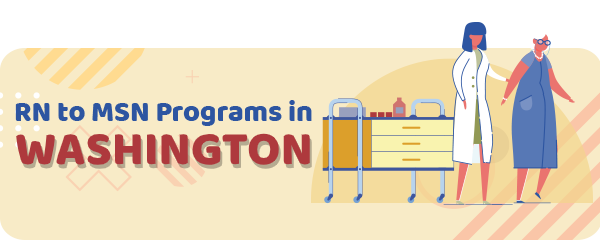 In the state of Washington, there are plenty of options for nurses who want to improve their skills and knowledge by earning a Master's of Science in Nursing (MSN) degree.
The programs are available for nurses with an Associate's degree (ADN) and nurses who hold a Bachelor's degree in Nursing (BSN).
Aspiring students can choose full-time, part-time options, and online or on-campus programs.
Keep reading to find more information about schools, requirements, costs, salaries in Washington State.
RN to MSN Admissions Requirements in Washington
All schools have certain admission requirements for aspiring students.
Even though schools can change requirements, there is a typical set of criteria than each student need to meet to be admitted to the MSN program.
Aspiring students need to hold valid and unencumbered RN licenses in Washington state and have a minimum GPA of 3.0 on all undergraduate studies.
Students need to have clinical experience and submit letters of recommendation, resume, and personal statement.
Some schools only admit students who have completed general undergraduate-level statistic course.
Also, to be admitted to certain schools in Washington, you need to submit GRE scores with at least 50% of success.
The GRE scores must be older than five years.
RN to MSN Courses
Nurses in Washington have two RN to MSN program models due to their previous education.
The first model is suitable for ADN-prepared nurses, and these programs allow nurses to obtain BSN and MSN degrees simultaneously.
The second model is for nurses who have a BSN degree and now want to advance their skills.
After completion of the general nursing education courses, MSN students can choose a specialization track.
Therefore, an MSN student may specialize as a Clinical Nurse Leader, Nurse Educator, Family Nurse Practitioner, etc.
The most common courses at BSN to MSN programs include Advanced Pathophysiology, Leadership in Nursing, Management, Roles of Advanced Practice Nurse, etc.
The duration of the program depends on your previous education, current commitment, and school.
The part-time and full-time options have different programs length, as well as online and traditional on-campus options.
For example, the majority of students at Gonzaga University can complete the RN to MSN programs in three years.
Online Programs
In Washington state, there are several online RN to MSN programs.
These are flexible and convenient, especially for nurses who are employed full-time.
Also, online programs cost less than traditional options but also require clinical hours that you can complete in your local area.
For example, you can choose a CCNE-accredited online MSN program at Gonzaga University.
The program is suitable for ADN nurses and requires 51 credits for ADN nurses, and 36 credits for BSN nurses.
The Costs
The costs are different across the state and depend on programs, specialization, and chosen options (full-time, part-time, online, on-campus).
For example, if you choose the MSN program at Gonzaga University, expect to pay around $965 per credit hour.
On the other hand, an online program at Western Governors University costs $3.225 per six-month semester.
However, tuition doesn't always cover expenses for books and admission and testing fees.
Also, tuition can change so make sure to have the latest information before you apply for the program of your choice.
Schools in Washington
There are plenty of options for RN to MSN programs in Washington state.
For example, Seattle Pacific University has excellent educational courses in nurse leadership.
Washington State University has a high-quality MSN program and its graduates are well-appreciated across the country.
Pacific Lutheran University offers an on-campus program for RNs and those who have a Bachelor's degree in disciplines other than nursing.
Check the table for more information.
| School Name | Address |
| --- | --- |
| Gonzaga University | 502 East Boone Avenue Spokane, WA 99258-0068, (509) 313-6484 |
| Pacific Lutheran University | 12180 Park Avenue South Tacoma, WA 98447, (253) 535-7672 |
| Seattle Pacific University School of Health Sciences | 3307 3rd Ave West Seattle, WA 98119-1997, (206) 281-2608 |
| Seattle Pacific University | 3307 3rd Ave. West Seattle, WA 98119, (206) 281-2000 |
| Washington State University | 412 E Spokane Falls Blvd Spokane, WA 99202, (509) 324-7332 |
Salary
Washington is one of the top-paying states for registered nurses.
An average yearly salary of registered nurse level 2 in Washington is $81.150.
Bear in mind that salary depends on education, experience, certificates, employer, and location.
Check the table for more information on salaries range across Washington.
Annual Salary Range:
Annual Salary by Location:
| Location | Avg. Annual Salary |
| --- | --- |
| Seattle | $83,120 |
| Spokane | $75,370 |
| Tacoma | $81,000 |
| Vancouver | $79,210 |
| Bellevue | $83,120 |
| Everett | $81,300 |
| Federal Way | $81,000 |
| Kent | $80,840 |
| Yakima | $75,200 |
| Bellingham | $77,580 |
RN to MSN Programs by State
---