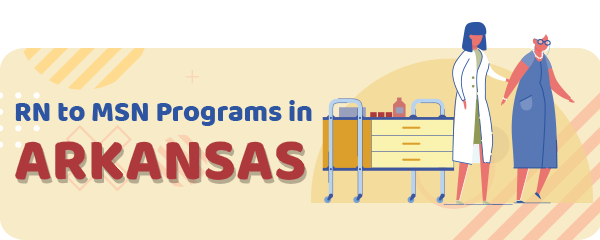 Registered nurses (RNs) who want to improve their knowledge and take a new track on their career path can complete a Master's degree in Nursing (MSN).
Obtaining an MSN will ensure a higher salary and more opportunities for further career development.
Keep reading to find out all about RN to MSN programs in Arkansas.
RN to MSN Admissions Requirements in Arkansas
To start an RN to MSN program in Arkansas, you have to meet several criteria.
Those are having a GPA of at least 3.0 on all undergraduate courses and holding an active and valid nursing license in Arkansas.
Only if you have graduated from an ADN or BSN officially accredited program, you can be admitted to the RN to MSN program in Arkansas.
You will have to submit a working resume and personal goal statement as well.
Students must fulfill all requirements to be admitted to the RN to MSN program in Arkansas.
RN to MSN Courses
There are several models of RN to MSN programs.
Your previous education determines your eligibility for each one.
For example, the simplest pathways are for nurses who hold a BSN, because they can complete only the MSN portion of the program.
Other nurses can find programs that allow them to earn BSN and MSN degrees.
After you finish general nursing education courses, you can choose a nursing specialization.
Therefore, you can continue your career as a family nurse practitioner, adult clinical nurse specialist, or else.
Online RN to MSN Programs
Lots of students choose online education nowadays.
Online classes are great for working nurses and usually cost less than traditional ones.
However, even if you choose an online RN to MSN program, you will have to complete clinical hours.
The majority of schools allow the students to complete it in their local area.
The Costs
Program fees are different across the state and depend on several factors.
For example, students who choose an online program at the University of Arkansas, have to pay around $410 per credit hour.
Bear in mind that you should check the list of things that fee covers, such as books, instruments, etc.
Schools in Arkansas
Several schools in Arkansas offer nursing educational programs.
For example, Arkansas Tech University has a multidisciplinary curriculum that covers the nursing administration as well.
You can complete the program online if you want to.
| School Name | Address |
| --- | --- |
| Arkansas Tech University | 215 West O Street, Russellville, AR 72801 |
Salary
Salary always depends on several factors such as city, years of professional experience, education, certificates, etc.
A median annual salary of a registered nurse, level 2 in Arkansas is $69950 per year.
Annual Salary Range:
Annual Salary by Location:
| Location | Avg. Annual Salary |
| --- | --- |
| Little Rock | $70,490 |
| Fort Smith | $65,960 |
| North Little Rock | $70,490 |
| Fayetteville | $68,360 |
| Jonesboro | $69,760 |
| Pine Bluff | $67,880 |
| Springdale | $68,360 |
| Conway | $69,810 |
| Rogers | $67,950 |
| Hot Springs | $69,810 |
RN to MSN Programs by State
---