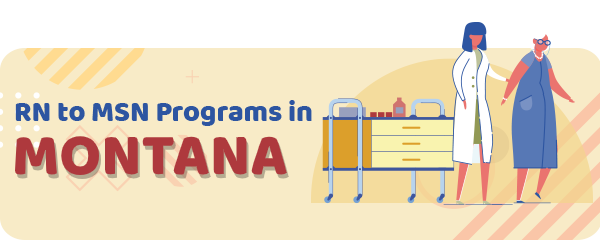 Registered nurses (RNs) who want to improve their knowledge and career opportunities can complete a Master's degree in Nursing (MSN).
If you are an RN and you live in Montana, you will be happy to hear that there are plenty of options for RN to MSN programs in this state.
Your previous degree – ADN or BSN will have an impact on the choice of the educational MSN program.
After you complete the MSN program, you can expect a better position and higher salary. 
Keep reading to find out more about RN to MSN programs in Montana. 
RN to MSN Admissions Requirements in Montana
To be admitted to any of the RN to MSN programs in Montana, students need to meet the program requirements.
The requirements can vary across the schools, but there is a standard set of requirements shared by the majority of schools in Montana.
Only students who completed the ADN or BSN program at the accredited university can be admitted to the MSN program.
Some schools accept only BSN-prepared nurses, while others admit both students from both educational track. 
Next, schools accept only students who hold a valid, unencumbered registered nurse license in the state of Montana.
The majority of the schools accept students with a cumulative undergraduate GPA of at least 2.75.
Additionally, students need to provide proof of at least two years of clinical experience working as an RN.
However, the requirements can change, and you should check whether there are additional requirements for the program of your choice. 
RN to MSN Courses
All RN to MSN programs focus on similar foundation courses. 
The common curriculum for the RN to MSN programs in Montant includes courses core nursing courses, advanced level, and additional specializing courses.
After you complete the general education courses, you can choose the specialization track and complete the appropriate courses. 
The most common specializations in Montana for RNs are Family Nurse Practitioner and Nurse Educator, but there are several other specializations available.
Each specialization track requires the students to complete a certain set of clinical hours to complete the MSN program.
For example, Montana State University is a common choice for many students. 
The curriculum includes courses such as Advanced Health Assessment, Advanced Pharmacology, Evidence-Based Practice.
Additionally, students at RN to MSN programs at this University must complete Statistical Applications course, Diagnostic Reasoning and
Health Care Informatics course. 
The program duration depends on several factors, mostly the student's previous education track. 
BSN-prepared nurses can complete the program sooner than ADN-prepared nurses because there are fewer courses to complete.
Completing the program as a part-time or full-time student will also have an impact on overall program length. 
Online RN to MSN Programs
Working nurses often choose online programs because they are convenient and flexible. 
If you are interested in completed an online MSN program, you should consider only online programs at officially-accredited universities.
The benefits of choosing online courses include self-paced learning, lower costs, flexibility. 
Also, students need to complete clinical hour requirements at online programs. 
Most of the schools allow their students to clinical hours in their local health care facilities. 
For example, you can find an online RN to MSN program at Montana State University in Bozeman. 
Even though the majority of courses is conducted through video conference, students still need to attend university at the beginning of the fall semester.
The Costs
Completing an MSN program can be pricey, but students can apply for scholarships or grants. 
Before you decide which program to take, check whether the program tuition covers the expenses for books and nursing instruments.
For example, if you choose an MSN program at Montana State University, you will have to pay a tuition of $15.100 per academic year. 
The books and all fees are included in the price, but you have to pay extra for nursing-related fees. 
Schools in Montana
Montana State University has a high-quality RN to MSN programs which cover general education and core nursing course.
It is located in Bozeman and the Forbes magazine named Montana State University as the best public university in this state. 
| School Name | Address |
| --- | --- |
| Montana State University | 211 Montana Hall Bozeman, MT 59717 (406) 994-3783 |
Salary
As mentioned before, an RN with MSN has a higher salary than BSN or ADN nurses at similar positions. 
An average annual salary of level 2 RN in Montana is $68,880. 
Annual Salary Range:
Annual Salary by Location:
| Location | Avg. Annual Salary |
| --- | --- |
| Billings | $72,770 |
| Missoula | $62,800 |
| Great Falls | $65,880 |
| Butte | $62,800 |
| Bozeman | $62,800 |
| Helena | $63,940 |
| Kalispell | $67,430 |
| Havre | $64,740 |
| Anaconda | $62,800 |
| Miles City | $71,630 |
Regional Salary in Montana
| Region | Employed | Avg. Annual Salary | Avg. Hourly Pay | Top 10% Annual Salary | Bottom 10% Annual Salary |
| --- | --- | --- | --- | --- | --- |
| Billings, MT | 120 | $122,990 | $59.13 | $137,940 | $100,730 |
| Great Falls, MT | 50 | $112,470 | $54.07 | $128,580 | $100,050 |
| Missoula, MT | 110 | $114,990 | $55.28 | $134,480 | $82,840 |
* Salary information based on the May 2022 Occupational Employment Statistics (OES) Survey for Nurse Practitioners, OCC Code 29-1171, BLS.
* Employment conditions in your area may vary.
RN to MSN Programs by State
---