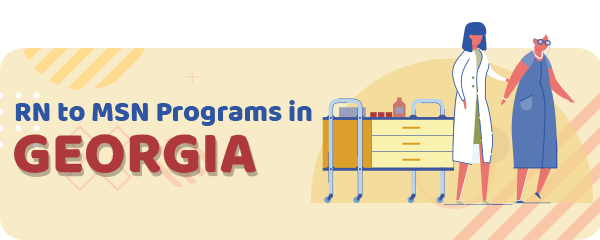 Registered nurses (RNs) in Georgia who want to improve their knowledge and job opportunities can start RN to MSN programs.
Obtaining an MSN degree will ensure a higher salary as well.
Keep reading for more information on RN to MSN programs in Georgia.
RN to MSN Admissions Requirements in Georgia
To be admitted to RN to MSN educational program in Georgia, you have to satisfy several criteria.
Only students who have graduated on BSN or ADN program accredited by ACEN or CCNE can be admitted.
Students are required to have a minimum GPA of 3.0 on the undergraduate course work.
All students must hold a valid unencumbered registered professional nurse license in Georgia.
Additionally, students must have at least one year of post-licensure experience, proof of satisfactory health status, valid AHA CPR certifications, malpractice, and health insurance and immunization.
Also, all students must submit three letters of recommendation.
Only those students who satisfy all requirements are eligible to start the program in Georgia.
RN to MSN Courses
There are several RN to MSN course models in Georgia.
Your previous education determines your eligibility to take the certain program.
For example, an RN who has BSN can finish the MSN portion of the program, while other nurses can complete an RN to MSN transition programs.
After general education courses, you can choose the specialization track.
Therefore, you can continue your career in the nursing field as an Adult Clinical Nurse Specialist, a Family Nurse Practitioner, etc.
Online RN to MSN Programs
Recently, online programs are getting more popular because of their convenience and costs.
Working nurses often choose online education because they don't have to quit their jobs and relocate.
Moreover, the tuition for online programs can be lower than for the traditional ones.
All online programs require students to meet the clinical hours' requirements as well.
Luckily, most schools allow their students to finish it in their local area.
The Costs
The tuition can be different across the state and depend on the program level, and the number of things included in the tuition.
The tuition for some programs includes the costs for books and nursing materials, while for others you have to pay additionally for that.
For example, if you choose Georgia Baptist College of Nursing, expect to pay around $10126 for 9-14 semester hours.
Schools in Georgia
Let's see what colleges and universities in Georgia have RN to MSN programs.
The Brenau University has both standard RN to MSN program and accelerated one, for those who prefer fast-paced education.
Clayton State University is known for its small class sizes.
Georgia State University has an excellent RN to MSN bridge program, and the South University offers great specialization in Family Nurse Practitioner.
Thomas University in Thomasville is a non-profit university with an exceptional curriculum and is regionally accredited.
| School Name | Address |
| --- | --- |
| Brenau University | 500 Washington Street, SE, Gainesville, GA 30501 |
| Clayton State University | 2000 Clayton State Boulevard, Morrow, GA 30260 |
| Georgia State University | 33 Gilmer Street SE, Atlanta, GA 30303 |
| South University | 709 Mall Blvd, Savannah, GA 31406-4805 |
| Thomas University | 1501 Millpond Rd, Thomasville, GA 31792 |
Salary
Several factors such as education, experience, city, employer, and so on, affect the salary.
An average annual salary of a registered nurse, level 2 in Georgia is $73380 per year.
Annual Salary Range:
Annual Salary by Location:
| Location | Avg. Annual Salary |
| --- | --- |
| Atlanta | $75,030 |
| Augusta | $70,520 |
| Columbus | $68,520 |
| Savannah | $70,900 |
| Athens | $74,490 |
| Macon | $70,450 |
| Roswell | $74,740 |
| Albany | $69,720 |
| Marietta | $74,810 |
| Warner Robins | $70,240 |
RN to MSN Programs by State
---