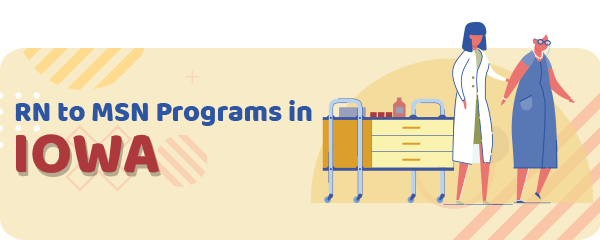 Registered nurses (RNs) who are ready to take the next step in their education can start some of the RN to MSN programs in Iowa.
Obtaining an MSN degree will improve your job opportunities and salary.
So, keep reading for more information on RN to MSN programs in Iowa.
RN to MSN Admissions Requirements in Iowa
Registered nurses in Iowa who want to start Master studies have to fulfill some requirements to be admitted to the program.
Those are completing the ADN or BSN program on some of the state-approved universities.
To be admitted students need to have an active, unencumbered registered professional nurse license in Iowa.
Only working nurses can be admitted, but schools accept part-time nurses as well.
All students have to meet administrative requirements that include a criminal background check, having health insurance coverage and valid CPR certificate, etc.
Only registered nurses who meet all requirements can apply to RN to MSN programs in Iowa.
RN to MSN Courses
There are various RN to MSN course types in the state of Iowa.
Some are more challenging than others, but it depends on your previous education.
For example, nurses who hold a BSN can continue their MSN pathway by finishing only the MSN portion of the program.
But, don't worry if you don't have a BSN.
There are also programs for both BSN and MSN education in Iowa.
The concept is similar, and it includes completing the general education courses, clinical programs, and choosing a specialization track.
Because of it, you can specialize in adult care or be a Family Nurse Practitioner.
Online RN to MSN Programs
There are also RN to MSN online educational programs.
Many students prefer online education because it is more convenient and affordable than traditional classes.
It is also more practical for working nurses because there is no need for relocation and quitting the job.
However, you will have to finish the clinical classes as well, even if you choose the online program.
Luckily, you can often do that in some of the local facilities and submit proof to the school.
The Costs
The program tuition varies across the country and depends on several factors.
Before you apply to any RN to MSN program in Iowa, check what additional costs you will have for the learning materials or nursing instruments.
For example, students at Mount Mercy University, have to pay around $583 per semester hour.
Schools in Iowa
There are several colleges and universities in Iowa that has some kind of RN to MSN programs.
For example, Allen College is the first pick for lots of nurses because it has numerous specialization tracks.
Those include Family Nurse Practitioner, Psychiatric Mental Health Nurse Practitioner, Leadership in Healthcare Delivery, and others.
| School Name | Address |
| --- | --- |
| Allen College | 1825 Logan Avenue, Gerard Hall, Waterloo, IA 50703 |
Salary
How much you will earn depends on your educational pathway, the city, employer, certificates, etc.
The average yearly salary of a registered nurse, level 2 in Iowa is $72580.
Annual Salary Range:
Annual Salary by Location:
| Location | Avg. Annual Salary |
| --- | --- |
| Des Moines | $73,370 |
| Cedar Rapids | $71,960 |
| Davenport | $71,640 |
| Sioux City | $63,100 |
| Waterloo | $68,570 |
| Iowa City | $71,370 |
| Council Bluffs | $71,710 |
| Dubuque | $71,120 |
| Ames | $72,690 |
| West Des Moines | $73,370 |
RN to MSN Programs by State
---