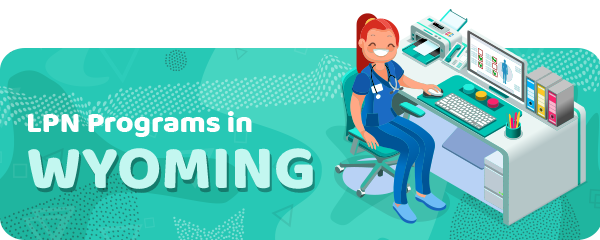 The better services a place offers to us, the more likely we will visit it, and vice versa.
Similarly, if you visit Wyoming to pursue an LPN career, you will not be disappointed.
There you will find the best service to its community as well as professional growth and education.
In Wyoming, just like in most of the US states, LPN careers are in high demand.
Specifically, the need for nurses has risen everywhere.
But mostly in rural areas.
As far as the Bureau Labor of Statistics has foreseen, a 12% increase in LPN employment will happen as we approach 2026.
However, in order to become an LPN, some kind of education needs to be done.
Hence, LPN programs in Wyoming are mainly held at community colleges and private institutions.
In total, there are five from these LPN schools.
Along with the school, there is also an important issue when it comes to nursing.
And that is the salary.
As a graduate LPN, you would be interested to know that soon.
The hourly wage for an LPN in this state is $21.19.
The annual salary of $44,080.
The two of them in total make up for $50 more than the national average in the US yearly.
Details on Wyoming LPN Schools & Classes
In Wyoming, there are five LPN schools that offer LPN programs to students.
They can be attended in one to two years' time.
But the length usually depends on attendance.
Whether it is part-time or full-time.
In these schools, lessons are taught through a curriculum.
This curriculum is made up of classroom and clinical learning experiences.
However, the courses may include also the following basics:
Professional Nursing Care in Chronic Illness
Practical Nursing Roles
Nursing Theory
General Psychology
Human Anatomy & Physiology
Nutrition for Healthcare
Pharmacology for Practical Nursing
Maternal Child Nursing
Accreditation
Once you decide to pursue an LPN education, graduation in the field should be a priority.
As a student, you should aim to graduate from a program by means of an endorsement.
The endorsement will be made from the Wyoming State Board of Nursing.
Before reaching that point, however, finding an accredited program is the key.
And that's for two reasons.
First, accreditation ensures high academic standards.
Second, it will reflect in your resume and affect your future employment.
In Wyoming, LPN programs are mainly accredited from certain accrediting organizations.
One of them is the Accreditation Commission for Education in Nursing.
Admission Requirements
Applying for a certain LPN program in Wyoming is not as simple.
But it is not that hard either.
You just have to meet the right standards by fulfilling the requirements set from it.
Though these requirements may vary from the schools, they mainly include these:
Completion of high school or GED program (transcripts required)
Cumulative GPA of 2.5 including prerequisite college courses
Completion of all prerequisite courses, such as college-level Math, English I and Basic Physiology & Human Anatomy
Standardized Test Scores, such as the ACT or TEAS V exam
Personal interview
Background check, drug screen and proof of required immunizations
Submission of the completed application and associated fees
Tuition and Costs
Before we make our mind to buy something, we usually ask for the price.
The price most of the time determines the quality of the product we're looking for.
Similarly, if we're looking for high-quality LPN education programs, we should know that they don't come for free.
The student should be prepared to pay for tuition, mandatory school and the program fees, which most of the time include books and other necessary materials.
In this budget, housing and commuting should also be covered.
However, when there are students who cannot afford any of these, the schools offer financial help, loans, and scholarships to help them pay their studies.
To illustrate this issue better, the Sheridan College in Gillette has set a tuition number for those who reside in Wyoming.
The rate is $3,396 yearly.
Here are included tuition and fees.
While room and board are not included.
Wyoming LPN Licensing Requirements
Becoming an LPN in this state, students must attend a nursing program that is state-approved.
After that, NCLEX-PN is a must for them.
This exam is taken to show how proficient students are at work.
Receiving the Licensure however, the candidate needs to send an application to the state of Wyoming, along with these documents:
Official transcript from the state-approved nursing program, showing the date of graduation and type of degree
Copy of social security card and driver's license (showing lawful presence)
Proof of registration for the NCLEX
The fingerprint card and criminal background check
Gaining a license is not a finished thing, because LPN licenses expire every two years.
So, you need to make a renewal continually.
To do so, you need to have 1,600 work hours in the profession.
The hours need to be done from the last five years.
Or else, it can be 500 hours in the last two previous years.
NCLEX Exam Information
Exams are always a challenge for us, no matter the field.
The NCLEX-PN exam is a must to be LPN licensed.
Before taking the exam, students should be continually prepared for it by the courses followed in the program.
Otherwise, students can also take the NCLEX-PN practice test to prepare for the final one, eventually.
LPN Reciprocity and eNLC
Wyoming is part of the Enhanced Nurse Licensure Compact.
This compact makes possible for the LPNs to make their practice in the states within the compact, without a necessary additional license.
However, states that are not part of the Compact can get their license in Wyoming through application and by means of an endorsement.
The applicants must attach the application to the Wyoming State Board of Nursing with the following documents:
Verification of current licensure (in good standing)
Copy of social security card and driver's license (lawful presence)
The fingerprint card and criminal background check
Meet one continued competency requirement (500 professional hours as an LPN in the last 2 years, 20 hours of continued education in the last 2 years, a refresher course in the last 5 years, certification in a specialty area within the last 5 years, or passed the NCLEX-PN exam within the last 5 years)
Despite reciprocity, there is a solution for Individuals who have finished their studies abroad as well.
If they hold licensing in other countries, in order to apply for a Wyoming license, they must send the application along with the following documents:
Official transcript with English translation
Proof of English proficiency
Verification of current LPN license
Sit for and pass the NCLEX exam
The Best LPN Schools in Wyoming
There are five LPN programs in Wyoming.
You have to just find the right school and the program you look for.
And then just commit to studying.
| School Name | Address |
| --- | --- |
| Casper College | 125 College Dr, Casper, WY 82601 |
| Laramie County Community College | 1400 E College Dr, Cheyenne, WY 82007 |
| Northwest College | 231 West 6th St, Powell, WY 82435 |
| Sheridan College | 300 West Sinclair, Gillette, WY 82718 |
| Western Wyoming Community College | 2500 College Drive, Rock Springs, WY 82901 |
LPN Salaries in Wyoming
LPN Salaries in Wyoming shift from a minimum to a maximum.
But the average is always there.
So, you need not get disturbed by that.
You have to only make sure you're qualified enough for the best pay!
Annual Salary Range: Annual Salary by Location:
| Location | Avg. Annual Salary |
| --- | --- |
| Cheyenne | $44,313 |
| Casper | $45,504 |
| Laramie | $44,840 |
| Gillette | $43,216 |
| Rock Springs | $44,827 |
| Sheridan | $46,046 |
| Green River | $44,827 |
| Evanston | $45,199 |
| Riverton | $44,772 |
| Cody | $46,046 |
LPN Programs by State
---