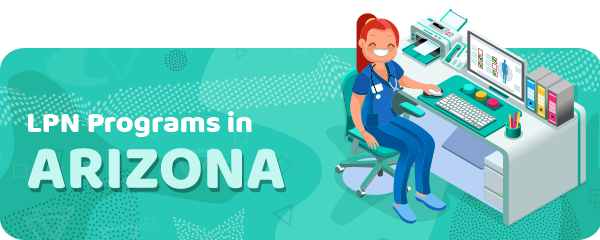 Every path we go through in life has a motif.
Thus, choosing our profession we want to work for the rest of our life isn't always easy.
But some paths are hard to walk in, while some are made easy.
Pursuing an LPN career in Arizona has become easy for many.
The absence of LPNs there has caused many to take an interest in the field and decide to study there.
According to the Bureau Labor of Statistics, a 12% increase in employment will take place in the following years. Precisely in 2026.
To give you a clearer view of the incomes of an LPN, let's take a look at the sums that have been given.
The hourly salary per LPN is $24.03. The annual one $49,970.
While the two in total make up around $5,940 more yearly, compared to the national US average.
So, I introduced you to the general view of an LPN career in Arizona.
But that's just the beginning.
To become a proper, successful LPN in the state you need to take a few steps.
The first step is choosing the right school.
The right school is usually the one that offers approved programs.
These programs can be found in various institutions, such as community colleges, technical centers, and private career schools.
There are 13 LPN schools in total in Arizona. But in this article only the top-five programs have been selected.
The selection was made in regard to the NCLEX-PN exam.
On purpose, the first-time pass rates of the previous years were chosen as an object of this analysis.
Details on Arizona LPN Schools & Classes
The LPN program you attend and the NCLEX-PN exam is a must to LPN licensing. In Arizona, you can attend and finish an LPN program in less than a year.
The programs will mainly teach classes on science and nursing topics. One school where you can attend these is Pima Community College in Tucson.
The following courses are the ones you can find there:
Anatomy, Physiology, and Microbiology
Nursing Care Fundamentals
Pediatric Nursing for the Practical Nurse
Accreditation
Accreditation is the top requirement in an LPN school.
In Arizona, two organizations will help you find accredited programs.
The first one is the Accreditation Commission for Education in Nursing.
While the second is the Arizona Board of Nursing. Admission Requirements Being admitted to an LPN school is a matter of meeting a few requirements. From them, you have to meet the following ones:
High school graduate or equivalent
Certified Nursing Assistant documentation may be necessary
Results from TEAS standardized exam
Math and biology proficiency
Tuition and Costs
Another factor to consider when choosing an LPN school in Arizona is the program cost.
The cost is different from school and the length of the program. However, the student should be ready to pay for tuition, mandatory fees, and other necessary materials for the course.
In Pima Community College, for instance, in Tucson, you will have to pay $15,500 per LPN program. In this cost, textbooks, application fees, and uniforms are not included.
Arizona LPN Licensing Requirements
Some of the licensing requirements in Arizona LPN schools are to complete an approved program, a practical program, and the NCLEX-PN exam.
Other requirements for an LPN license may be physical strength, endurance challenges.
For this reason, the applicant's physical condition will be checked prior to starting a job in the state. LPN licenses have their expiration date. That happens every four years. A renewal is not required instead.
NCLEX Exam Information
Passing the NCLE-PN exam is highly important to LPN licensing. Before that, the candidate should have graduated from an LPN program. However, in the exam, the candidate will be asked to answer questions on promotion, maintenance, physiological integrity, and so on.
The NCLEX-PN exam must be taken and passed by students once they graduate from an LPN program. The exam covers topics such as health promotion and maintenance, physiological integrity, and more. A practical NCLEX-PN exam is available for students who are not ready to sit for the real one.
LPN Reciprocity and eNLC
Arizona is a member of the NCL compact. Being such, nurses who come from the states that have the same membership are not asked to have another license in the state. Arizona is expected to be turned into the ENLC compact soon. This was decided in January 2018. This move changes the application for the nurses who come from other states.
Basically Nurses who are part of NLC will turn into the ENLC.
While foreign nurses will be able to apply for an LPN license through endorsement.
From the requirements they need to meet are:
Practiced nursing for more than 960 hours within the last 5 years.
Graduate from a nursing program and obtained a degree within the last 5 years.
Obtained an advanced nursing degree within the last 5 years.
These nurses must make sure they have the necessary LPN requirements of practice and education, as well as English skills. The NCLEX-PN exam is also a must.
LPN Salaries in Arizona
LPN salaries in Arizona also differ from place to place, as well as from other factors.
These factors usually are education, skills, working experience as well as the qualification.
So, the more of these qualifications you have, chances are you will get a higher salary as LPN at work.
Annual Salary Range:
Annual Salary by Location:
| Location | Avg. Annual Salary |
| --- | --- |
| Phoenix | $48,312 |
| Tucson | $45,811 |
| Mesa | $47,391 |
| Glendale | $48,312 |
| Scottsdale | $47,739 |
| Chandler | $47,391 |
| Tempe | $47,391 |
| Gilbert | $47,391 |
| Peoria | $48,215 |
| Yuma | $49,977 |
The Best LPN Schools in Arizona
There are five LPN Schools located throughout Arizona.
Below is the name of the schools and address given for each of them.
You can check them and see which one fits you better.
| School Name | Address |
| --- | --- |
| Eastern Arizona College | 615 N Stadium Ave, Thatcher, AZ Thatcher |
| Arizona Western College | 2020 S Ave 8 E, Yuma, AZ 85365 |
| GateWay Community College (Maricopa CC) | 108 N 40th St, Phoenix, AZ 85034 |
| Northland Pioneer College | 108 N 40th St, Phoenix, AZ 85034 |
| Northland Pioneer College | 1001 W Deuce of Clubs, Show Low, AZ 85901 |
| Cochise College | 901 Colombo Ave, Sierra Vista, AZ 85635 |
LPN Programs by State
---