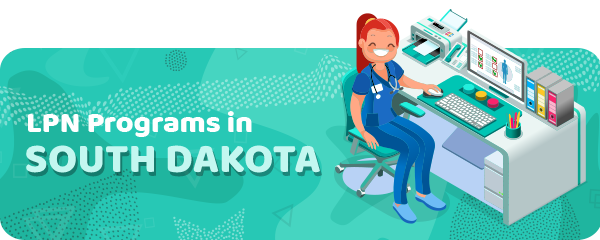 If you're looking for a collaborative, educational and informative Nursing Career anywhere in the US, you're right there already.
South Dakota is the best example of this field.
With high-quality patient care that they offer and the capable employers, they cannot be anything but a Leader.
The health industry there is getting better each day.
With the report from the Bureau Labor of Statistics, 12% growth in nurse employment will take place as we reach 2026.
The direct way to become an LPN there is by attending an approved program and filling in an application.
Along with jobs, the programs are also flourishing.
But when we're speaking about the jobs, let's spend some time with the salary.
To begin with, an hour's work as a nurse is paid $17.44.
In a year, you can earn $36,270.
The two sums together make up $7,760, which is less than the national US average per year.
Now let's see the school and where can you find them.
The school you choose to study nursing is important because it determines the quality of your studies and of your license.
However, when in school "hunting", try to find the one that offers state-approved programs.
These programs can be found at community colleges, technical centers, and any other private career schools.
While seeing the number of schools in South Dakota, I made a categorization.
This way, I found the 3 top-ranked programs there and listed here.
I did the listing on behalf of the NCLEX-PN exam.
Precisely, those who were the first schools to pass the exam these previous years were chosen.
Though there are in total 6 LPN schools to study at.
But I want to make sure you see everything and choose the best one!
Details on South Dakota LPN Schools & Classes
There are six LPN schools in South Dakota, but only five of them are functioning so far.
As you can see, the places you can find them are known.
You are only left to choose the schedule.
Whether you want to attend them part-time or full-time.
Sometimes you can also choose to either attend them by day or night.
However, the average length of an LPN program is one year long.
But that's mostly a matter of attendance.
The more intensively you frequent the schools, the faster you finish it.
The schools, of course, teach through a certain curriculum.
This curriculum is mainly made of nursing courses, labs and hands-on clinical hours.
From the courses you may find:
Fundamentals of Nursing Practice
Nutrition
Medical Terminology
Maternity Nursing
Nursing Care of Children
Professional Concepts in Nursing
Accreditation
Rumi says: ''When you do things right, you feel a river flowing inside of you, a joy''.
This happens when we're correct at our life's choices, at work, and in our studies too.
Similarly, when we find the right school that is accredited, we feel safe and likely to succeed.
Because Accreditation always ensures high-quality studies.
In South Dakota, accreditation is ensured by The Accreditation Commission for Education in Nursing as well as from the South Dakota Board of Nursing.
Both these organizations will help the students in this aspect.
Admission Requirements
Every LPN school has its own criteria for admission.
It is a matter of diversity and the way a school works.
However, you have to make sure you can meet them when you've made your mind to apply in any of them.
In South Dakota schools, however, you will be asked to send the following documents as part of your application:
Submit high school transcript or proof of GED
Submit immunization records
Submit transcripts from all high schools/colleges previously attended
Complete the ACCUPLACER test
Satisfactory score on TEAS
Provide proof of current CPR certification
Tuition and Costs
The cost of anything should be worth your time and money spent with.
An LPN program cost will certainly make you think twice how you spend your money, but it will not lead you astray.
Because you will ripe the fruits of your education long after you have planted them.
In general, an LPN student in South Dakota will pay for tuition, mandatory fees and other materials related to course.
The student will also have to make secondary payments, such as for gas, room, and similar.
However, if some students cannot manage this payment, it's okay.
They can surely benefit from the school's loans, financial aid as well as other scholarships that are available there.
If you want to have an idea of the LPN cost in any school, I have one example.
The Southeast Technical Institute in Sioux Falls education costs $15,651.
This pay includes tuition, fees, supplies, and similar expenses.
South Dakota LPN Licensing Requirements
The beauty of enrolling an LPN program that is state-approved in South-Dakota is that it directly leads you to employment.
As soon as you graduate from one, you have to take the NCLEX-PN exam.
This is the last step to license.
To get it, you need to apply for it first.
To do so, you need to attach the following documents to the school:
Official transcript from a state-approved nursing program.
Proof of registration (ATT) for the NCLEX.
Criminal background check.
Getting the license does not mean everything has ended.
It actually expires every two years.
To regain it, you need to verify your employment.
You can do so by showing 149 hours of work in a year.
Or else, you can send verification of 480 work hours done the previous 6 years.
NCLEX Exam Information
The ending of something is sometimes the greatest challenge.
Because we feel a lot like giving up.
But an exam should not make you be afraid.
It should only raise your motivation to finally excel in your studies.
The NCLEX-PN exam is the final step to licensure.
If you feel insecure about siting for it, you can take the practical one first and get prepared.
LPN Reciprocity and eNLC
Reciprocity and ENLC are the most releasing features of enrolling an LPN exam in South Dakota.
The state is currently part of the Enhanced Nurse Licensure Compact.
This explains why it does not require another license from nurses coming from states who belong to the same compact.
No need to make such trouble.
On the other hand, foreign nurses who want to work in SD need to send a few documents to apply through endorsement.
These documents include:
Official transcript from state-approved nursing school.
Verification of licensure of another state.
Verification of having worked at least 140 hours in any 12-month period over the last 6 years.
Criminal background check.
Valid social security number.
A course-by-course evaluation of official transcripts if licensed in another country.
LPN Salaries in South Dakota
LPN salaries in South Dakota shift continually.
They shift from the minimum to a maximum, while an average is always constant.
You're probably interested to know about each of these in particular.
For this reason, I suggest you check the sums above.
Annual Salary Range: Annual Salary by Location:
| Location | Avg. Annual Salary |
| --- | --- |
| Sioux Falls | $42,808 |
| Rapid City | $42,393 |
| Aberdeen | $39,809 |
| Watertown | $42,075 |
| Brookings | $42,075 |
| Mitchell | $42,075 |
| Pierre | $40,542 |
| Yankton | $41,138 |
| Huron | $40,942 |
| Vermillion | $40,200 |
The Best LPN Schools in South Dakota
South Dakota offers Nursing Programs to the students.
In this article, I have put only the three top-ranked programs for you to consider.
So, take the time to see them below.
| School Name | Address |
| --- | --- |
| Southeast Technical Institute | 2320 N Career Ave, Sioux Falls, SD 57107 |
| Lake Area Technical Institute | 1201 Arrow Ave., Watertown, SD 57201 |
| Western Dakota Tech | 800 Mickelson Dr, Rapid City, SD 57703 |
LPN Programs by State
---