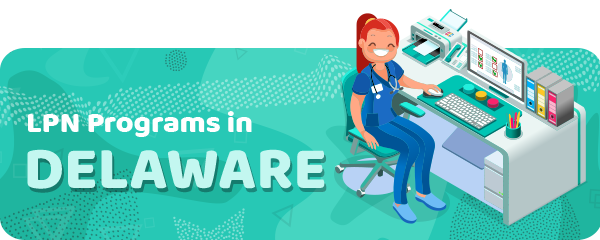 Life sometimes teaches us through the opposites.
Large and small,Good and bad.
When we see the differences, we are more likely to appreciate the good.
US's Delaware might be a small country, but its healthcare system is vast and progressive.
One of the means it makes progress in this field is through training.
As the Bureau Labor of Statistics suggests, a 12% employment increase will occur by 2026.
This as far as LPN careers are concerned.
So, for those who are eager to find a Nursing career in Delaware, job security is an added value.
The state offers many LPN approved programs for its aspiring students.
To make their aspirations even greater, the salary numbers will be shown here.
Thus, the hourly salary for an LPN is estimated to be $23,75.
The annual salary of $49,410.
While the two, in general, make $5,380 more compared to the national average for a year.
Details on Delaware LPN Schools & Classes
Delaware will make sure you enroll your LPN studies through the programs that it offers.
The LPN programs can be specifically found in Wilmington and Dover.
As in all US states, attending and graduating from an LPN program is mandatory to get the license.
Along with that, comes also the NCLEX-PN exam as the last determinant step to qualification.
The length of an LPN program in the state is nearly 1 to 2 years.
Of course, the length is mostly a matter of attendance.
Whether it is part-time or full-time.
LPN programs in Delaware are taught through a variety of nursing courses.
From them, are to be noted:
Fundamentals of Nursing
Human Development
Medical-Surgical Nursing
Essentials-Maternal/Child Nursing
Essentials-Mental Health Nursing
Accreditation
The sign of qualitative education is its relationship with the state and what it offers in terms of the program.
For a nursing school in Delaware, Accreditation is the key to excellence.
It ensures high-quality education.
In the state, two organizations will help you find accredited programs.
The first one is the Accreditation Commission for Education in Nursing.
While the second is the Delaware Board of Nursing.
In all cases, students can also check regional accreditations as well.
Admission Requirements
In order to be admitted to an LPN program in Delaware, a few conditions have to be met.
From them, consider the following ones:
High school diploma or GED (official transcripts requested)
College Placement Test (CPT) or SAT/ACT scores may be required
CPR certification
Submission of a completed application and any applicable fees
Tuition and Costs
The cost of an LPN program in Delaware is not as high as you may think.
Because of their short duration, it is normally an affordable price.
Especially considering RN programs that are more expensive.
However, a normal LPN program in Delaware will ask the student to pay tuition, mandatory fees, and other course materials.
To make it more illustrative, give some time to the Delaware Institute of Health Sciences.
Its total LPN program cost is $15,371. Fees, books, and tuition is included in the cost.
Delaware LPN Licensing Requirements
Licensing Requirements for LPNs in Delaware are of two kinds.
First, the applicants must complete a nursing program that is certified by the Board.
And secondly, they have to take the NCLEX-PN exam prior to making the practice in the state.
However, the act of receiving the license requires a second set of requirements:
An official transcript, showing date and degree received sent directly to the Board office from the nursing school.
Fingerprinting and criminal background check.
Driver's license copy or official identification card.
Completed Nursing Reference Form.
Proof of registration (ATT) for the NCLEX.
If you make the effort throughout your studies, you will get the license for sure.
But good things should be kept.
So, I have to tell you that LPN licenses in Delaware expire every year on February 28.
To make a renewal for it the nurse must have 1000 worked hours in the past years.
400 in the past two years.
And finally, meet the continuing education requirements.
NCLEX Exam Information
NCLEX-PN exam is a must to finish your LPN education and become certified.
It has to be taken after graduation from the LPN program.
The test in essence tests student's knowledge in different aspects of nursing.
Delaware LPN students must pass the NCLEX-PN exam in order to officially gain licensure once an accredited program has been completed.
This exam tests students' knowledge on a variety of nursing-related topics.
A possible test is also a practical NCLEX-PN test.
This is available for students who don't feel ready for the real final exam.
LPN Reciprocity and eNLC
Reciprocity and ENLC are two of the easy paths the state of Delaware allows for nurses to gain an LPN license.
Being part of the NLC, Delaware makes possibilities for nurses to work in all states of the compact, without a second license.
The only condition they have to meet is being registered in a primary state they live in.
The NLC will turn into ENLC by January 2018.
This change will grow public protections as well as access to care.
So Nurses who already are equipped with an NLC multistate license will turn into the ENLC.
For nurses who come from out of compact states, there's a chance for applying for a license in Delaware through endorsement.
In the short run, the applicants should also submit a few documents, such as:
Proof of active license in another state.
Official transcript from a state-approved nursing program.
Proof of passing the NCLEX.
Driver's license copy or official identification card.
Criminal background check.
Foreign applicants must also submit an evaluation of their official transcripts—a full course-by-course review by the Commission on Graduates of Foreign Nursing Schools (CGFNS)
LPN Salaries in Delaware
LPN Salaries in Delaware are quite satisfactory.
However, as in all USA places, they vary from location, work experience, education, and so on.
So, if you're ambitious at these, you will have the salary accordingly.
Annual Salary Range:
Annual Salary by Location:
| Location | Avg. Annual Salary |
| --- | --- |
| Wilmington | $51,974 |
| Dover | $51,895 |
| Newark | $51,935 |
| Milford | $52,023 |
| Seaford | $50,950 |
| Middletown | $51,815 |
| Elsmere | $50,320 |
| Smyrna | $51,838 |
| New Castle | $51,974 |
| Georgetown | $52,030 |
The Best LPN Schools in Delaware
There are six top LPN schools in Delaware.
Considering this, you're probably going in the right direction.
Because the best seek the best from you as a student too!
And, honestly, you're not going to do less than that once you've started, right?
Good luck!
| School Name | Address |
| --- | --- |
| Delaware Institute of Health Sciences | 4708 Kirkwood Hwy, Wilmington, DE 19808 |
| Delaware Skills Center | 1300 Clifford Brown Walk, Wilmington, DE 19801 |
| Delaware Technical Community College (DTCC) – Owens | 21179 College Drive, Georgetown, DE 19947 |
| Delaware Technical Community College (DTCC) – Terry | 100 Campus Drive, Dover, DE 19904 |
| Delcastle Technical High School | 1417 Newport Rd, Wilmington, DE 19804 |
| Polytech Adult Education | 823 Walnut Shade Rd, Dover, DE 19901 |
LPN Programs by State
---