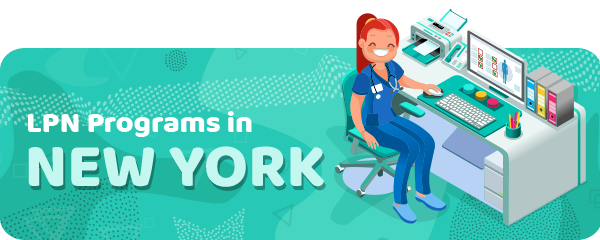 New York has long been known as the ''City of Dreams''.
This time, you can make your Nursing dream come true in the same city.
The state offers high-quality healthcare services along with a professional team and a safe environment.
Nursing is, in general, experiencing high development there.
But Licensed Practical Nurses especially.
The Bureau Labor of Statistics is also functional in New York too.
According to its prediction, a 12% employment growth will take place by 2026.
With such glad tidings, it is not a surprise if we see many turning into the field and secure a license in its plenty of school areas.
Especially, when considering the wages.
Hence the LPN's hour in New York is paid $22.36.
The year goes around $46,500.
While together they make up $2,470, which is more money yearly than the national US average.
So, considering all these advantages, are you still eager to seek an LPN career in this country?
If yes, let me help you with education.
A great scholar once said ''Education is the greatest tool which you can use to change the world', and I agree.
But this time, it is you who needs to change first, to be able to do the latter.
So, choosing the right LPN school is crucial.
The right school means the right program as well.
And the right program is always the one that is state-approved.
These types of programs can be found in community colleges, technical schools, and private career schools.
The school list in New York is indeed long.
There are in total 67 LPN schools spread in its areas.
But only the top-twenty programs have been selected for this end of the article.
The selection as always is made in regards to the NCLEX-PN exam.
And as always, the first-time pass rates of the previous years are the main source of analysis.
Details on New York LPN Schools & Classes
With the huge number of LPN schools, I would expect the best of educational results in this state.
Apart from that, the schedules of the programs are flexible too.
LPN students can choose from part-time and full-time courses.
As well as night and weekend ones.
Of course, the length of the program depends on how often or less you attend the classes.
But to sum it up, the program length is one to two years.
The LPN programs are taught through a curriculum.
The curriculum is a mixture of nursing courses, labs, and practical experiences.
However, the most common course titles are:
Mental Health Concepts
Human Anatomy and Physiology
Practical Nursing Arts
Medical-Surgical Nursing
Pediatric Nursing
Pharmacology
Accreditation
We must teach students to aim high and always try to reach the best.
When it comes to school choice, they should accept nothing but that.
The best thing to choose in an LPN school is its accreditation.
It is this feature that makes it stand to high standards and be worth the time spent in it.
Accrediting organizations in New York are two.
The first is the Accreditation Commission for Education in Nursing.
While the second is the New York Board of Nursing.
Last but not least, students can also check for regional accreditations if these two fail to make any help.
Admission Requirements
Admission requirements in New York are different from school to school.
The most commonly asked ones in LPN schools are the following:
High school transcript or GED certificate
Completion of prerequisite courses with a minimum C+ average
Minimum GPA of 2.75
Proficient score on ATI TEAS exam
Pass drug screen and background check
Tuition and Costs
Students are used to saving money.
But when they register their studies, savings are hardly found in their pockets.
But that's not something to be worried about when studying nursing in New York.
The student is only responsible for a share of payments.
Thus he has to pay for tuition, mandatory fees, and course materials.
Because the schools will take care of helping those in need too.
Thus, loans, scholarships, and financial aid are some of the help options they offer to these students.
On the other hand, indirect expenses, such as room and board are not the responsibility of the college.
The students should be able to make these payments as well.
But as said, the total price of an LPN program is affordable.
In Monroe College in the Bronx, for instance, the study cost is $641 per credit.
But additional fees are not included here.
New York LPN Licensing Requirements
LPN licensing requirements in New York schools are different from other states.
The applicant must be 17 years old and have a high-school diploma or an equivalent GED.
In addition, graduation from an LPN program with 9 months of coursework is also necessary.
The coursework should be state-approved from New York State Education Department.
Or else, from the US Armed Forces.
Soon after, the coursework for infection control and barrier precautions must be completed as well.
Of course, in this list NCLEX-PN exam will not be excluded either.
Those who have graduated from an LPN program can find work as LPN for the upcoming 90 while the license period is commencing.
To do so, they need approval from the state prior.
NCLEX Exam Information
The NCLEX-PN exam comes last, but it is crucial to LPN licensing.
The student is asked to answer several nursing related questions.
The test initially tests his knowledge and nursing skills gained during the studies.
LPN Reciprocity and eNLC
New York has not yet become part of the Enhanced Nurse Licensure Compact.
As such, nurses from other compact states will be allowed to finish their practice inside their areas.
However, until the compact enters the legislation, LPNs who come from other states can get the License in New York by endorsement.
For this action to take place, verification of licensure from their first state must be sent.
The case is different for foreign applicants.
To get an LPN license, they need to send an equivalent Education through the Board.
The document needs to be based on the Commission of Graduates of Foreign Nursing Schools evaluation.
This action should take place before the license exam is taken.
The Best LPN Schools in New York
The number of LPN schools in New York is huge.
For some, it may be an advantage.
For some a limitation.
Anyway, if you know what you want, you will make a good choice every time.
| School Name | Address |
| --- | --- |
| CA BOCES CTE at Belmont | 5536 County Route 48, Belmont, NY 14813 |
| AMG School of Licensed Practical Nursing | 147 Prince St, Brooklyn, NY 11201 |
| Niagara County Community College | 3111 Saunders Settlement Rd, Sanborn, NY 14132 |
| CA BOCES CTE at Olean | 1825 Windfall Road, Olean, NY 14760 |
| Monroe College | 2501 Jerome Avenue, Bronx, NY 10468 |
| Orleans-Niagara BOCES | 4232 Shelby Basin Road, Medina, NY 14103 |
| Samaritan Hospital | 315 S. Manning Boulevard, Albany, NY 12208 |
| Cayuga Onondaga BOCES | 1879 West Genesee St. Rd., Auburn, NY 13021 |
| Maria College | 700 New Scotland Avenue, Albany, NY 12208 |
| Bronx Community College | 2155 University Avenue, Bronx, NY 10453 |
| North Country Community College - Saranac Lake | 23 Santanoni Ave., PO Box 89, Saranac Lake, NY 12983 |
| Erie 1 BOCES- Potter Road Center | 705 Potter Road, West Seneca, NY 14224 |
| Erie 1 BOCES- Kenton Center | 151 Two Mile Creek Road, Tonawanda, NY 14150 |
| La Guardia Community College | 31-10 Thomson Ave, Long Island City, NY 11101 |
| 31-10 Thomson Ave, Long Island City, NY 11101 | 100 Kings Highway South, Rochester, NY 14617 |
| Champlain Valley Educational Services | 1585 Military Turnpike, Plattsburgh, NY 12901 |
| Marion S. Whelan School of Practical Nursing | 196 North St, Geneva, NY 14456 |
| Broome Tioga BOCES | 435 Glenwood Road, Binghamton, NY 13905 |
| 435 Glenwood Road, Binghamton, NY 13905 | 4540 Southwestern Blvd., Hamburg, NY 14075 |
| North Country Community College - Malone | 75 William Street, Malone, NY 12953 |
LPN Salaries in New York
Salaries are usually the result of work and qualification.
The more qualified and productive you are, the salary normally will increase.
However, in New York, LPN salaries depend on many factors.
The place you work in is one of them.
Then, there come other factors such as skills, education, and experience at work.
So, the better qualified you are, the better the salary you will get.
As simple as that!
Annual Salary Range: Annual Salary by Location:
| Location | Avg. Annual Salary |
| --- | --- |
| New York | $59,208 |
| Buffalo | $46,795 |
| Rochester | $48,237 |
| Yonkers | $56,403 |
| Syracuse | $48,230 |
| Albany | $49,370 |
| New Rochelle | $56,054 |
| Mount Vernon | $56,378 |
| Schenectady | $49,536 |
| Utica | $46,857 |
LPN Programs by State
---