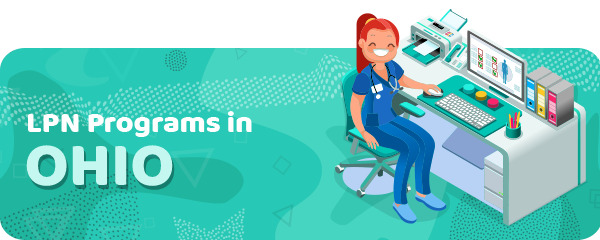 One of the many US states that offer high-quality healthcare in Ohio.
The state, in general, supports the working force through its educational and professional growth.
To be more correct, the Bureau Labor of Statistics as a confident institution in the state has come up with a prediction in regards to Nursing.
According to it, a 12% employment growth will take place in Ohio in the future.
Precisely in 2026.
This growth has stimulated many aspiring LPN to finally consider entering the field.
They can do so in two ways.
Either by entering the exam or by endorsement, depending on their national status.
However, what encourages many to become LPNs is suitable salaries.
Hence, an hour's work for LPN is estimated to be $19.74.
An annual one is $41,060.
While the two together make up $2,970 more in a year, compared to the national average.
That was a general view of the LPNs in the state.
Now let's focus on how to become one.
First and foremost, it's the school choice.
You have to make sure you attend a school that offers an approved program by the state.
These programs can be found at community colleges, technical centers, and private career schools.
Throughout the state 65 LPN schools can be found.
While only the top-twenty programs have been listed below.
The listing came as a result of the review of the NCLEX-PN exam.
From it, the first-time pass rates were the main focus of the analysis.
Details on Ohio LPN Schools & Classes
Being home to 6o LPN schools, there is no way to complain about nursing education in Ohio.
Apart from that, the schools offer flexible schedules to their students in regards to the programs.
Initially, there can be part-time and full-time classes.
While the total average length for a program is mainly one to two years.
The programs offer a variety of nursing courses, labs, and practical work
From the most frequent ones, the following have been listed:
Allied Health Mathematics
Pathophysiology
Anatomy & Physiology
Practical Nursing Concepts
Pharmacology
Accreditation
Despite choosing the right LPN school, you have to also choose an accredited one.
Accreditation ensures a high-quality education.
To make this choice easier, you can ask help from three accrediting organizations.
The first one to consider is the Accreditation Commission in Nursing.
While the other is the Collegiate Nursing Education.
To end it with the Ohio Board of Nursing.
The latter has the list of the approved programs already available.
Admission Requirements
Admission requirements in LPN schools in Ohio are:
Official high school transcripts or GED certificate
Completion of all prerequisite courses with a minimum grade
GPA of at least 2.0
Satisfactory score on ATI TEAS exam
Must submit a fully completed program application and pay any associated fees
Tuition and Costs
The cost of education is to be considered in Ohio.
LPN programs have a considerable cost as well.
However, students should expect to pay for tuition, fees and other materials for studies.
On the other hand, students who cannot afford to pay their LPN education can benefit from financial aid and others.
One example of the LPN cost is the Northern Career Institute in Eastlake.
The total price of LPN studies there is $6,550 to $7,400 per semester.
In this price, tuition, fees, and other expenses are included.
The price covers the two-semester program.
Ohio LPN Licensing Requirements
LPN licensing requirements in Ohio are three.
An approval from the Ohio Board of Nursing, a jurisdiction of the national council of state boards of nursing, or acceptance from the board for a foreign-educated nursing graduate is necessary.
Additionally, the NXLEC-PN exam and the criminal background check are necessary for licensure.
Though you may get the license, it will not last forever.
You will have to renew it every year from September 1st until August 31.
For renewal, 24 hours of continued education must be finished in two years and prepare for the next licensure.
The case is different for an LPN who is transferred from another state in Ohio.
He or she can apply for a new license by endorsement.
12 hours of additional education must be kept before the following license period.
NCLEX Exam Information
LPN program and NCLEX-PN exam are two main requirements for LPN licensure.
The exam's purpose is to evaluate the student's knowledge and ability in the nursing field.
LPN Reciprocity and eNLC
Ohio is not part of the ENLC. Consequently, out of state nurses need another license to perform their nursing practice inside the state.
Basically, LPNs will have to apply through the means of an endorsement.
Apart from that, they will have to apply for a temporary, non-renewable permit for 180 days.
For the application, they have to send the following documents:
$75 application fee
Proof of completion of a medications administration/IV therapy course
License verification
Criminal background check
Official transcripts – foreign graduates should submit a transcript in English or submit a Credentialing Evaluation Service report from CGFNS
English proficiency evidence
The Best LPN Schools in Ohio
There are over 60 LPN schools throughout this state.
But for this article, only 20 of them have been listed.
They are the top-ranked programs in Ohio so far.
So, if you want to find a good LPN school for you, check one of them.
| School Name | Address |
| --- | --- |
| Owens Community College | 3200 Bright Rd, Findlay, OH 45840 |
| Southern State Community College | 100 Hobart Drive, Hillsboro, OH 45133 |
| North Central State College | 2441 Kenwood Circle, Mansfield, OH 44906 |
| Washington State Community College | 710 Colegate Drive, Marietta, OH 45750 |
| Northwest State Community College | 22600 State Route 34, Archbold, OH 43502 |
| Knox Technical Center | 308 Martinsburg Road, Mount Vernon, OH 43050 |
| ETI Technical College | 2076 Youngstown, Niles, OH 44446 |
| Lorain County Community College | 1005 N Abbe Rd, Elyria, OH 44035 |
| Collins Career Technical Center | 11627 State Route 243, Chesapeake, OH 45619 |
| Columbus State Community College | 550 East Spring St, Columbus, OH 43215 |
| Columbus City Schools | 270 East State Street, Columbus, OH 43215 |
| Fortis College - Cuyahoga Falls | 2545 Bailey Road, Cuyahoga Falls, OH 44221 |
| EHOVE Career Center | 316 West Manson Rd, Milan, OH 44846 |
| Ohio Institute of Allied Health | 6245 Old Troy Pike, Huber Heights, OH 45424 |
| Ashtabula County Technical and Career Campus | 1565 State Route 167, Jefferson, OH 44047 |
| Stark State College | 6200 Frank Ave. NW, North Canton, OH 44720 |
| Cuyahoga Community College | 200 E Wood St, Youngstown, OH 44503 |
| Buckeye Hills Career Center | 351 Buckeye Hills Road, Rio Grande, OH 45674 |
| 351 Buckeye Hills Road, Rio Grande, OH 45674 | 518 West Prospect Street, Smithville, OH 44677 |
| Fortis College - Columbus | 4151 Executive Pkwy #120, Westerville, OH 43081 |
LPN Salaries in Ohio
LPN Salaries in Ohio vary from place to place.
But other factors such as education, work experience, and other skills in the field are important too.
The salaries change from a minimum to a maximum.
However, the average is always constant.
Annual Salary Range: Annual Salary by Location:
| Location | Avg. Annual Salary |
| --- | --- |
| Columbus | $48,125 |
| Cleveland | $48,549 |
| Cincinnati | $47,851 |
| Toledo | $47,317 |
| Akron | $46,980 |
| Dayton | $47,567 |
| Youngstown | $46,388 |
| Canton | $46,731 |
| Lorain | $47,645 |
| Elyria | $47,171 |
LPN Programs by State
---