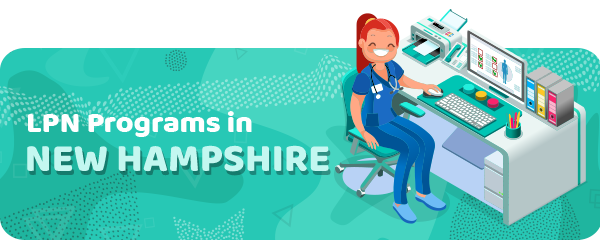 The beginning of an industry is always hard.
But in order for it to move forward, those who direct it need to constantly improve it.
The state of New Hampshire so far has gone through thick and thin to offer professional nursing services.
But it has made it!
Since health standards have improved for every citizen in the state.
According to the Bureau Labor of Statistics recently, a 12% increase in LPN employment will happen as soon as 2026 approaches.
With this huge demand for nurses in the state, LPNs are highly stimulated to attend a nursing program there, get the license and work in the field right away!
Additionally, the salaries will be an added value for them.
Hence, the hourly LPN wage in New Hampshire is $22.98.
The annual salary is $47,800.
Which means $3770 more yearly, compared to the US national average.
Details on New Hampshire LPN Schools & Classes
Last but not least, when you come across the LPN field in New Hampshire.
Yes, there are many LPN educational options even here.
The nursing programs in this state take nearly 2 years to complete.
Though they can be completed even within a shorter timeframe.
Of course, the length depends on whether the program is attended full-time or part-time.
And this is also a key factor for the program length as well.
In New Hampshire, LPN programs are taught by a curriculum.
This curriculum includes courses and experiences which help the students restore their human values in their profession.
These include responsibility and compassion during their practical work.
From the course titles, there will mainly be offered these:
Maternal and Child Health Nursing
Nutrition and Diet Therapy
Practical Nursing Fundamentals
Pharmacology
Out of the educational options, there are also internships and clinical labs given too.
Accreditation
For a reputable LPN school in New Hampshire, accreditation is a must.
It means that the program is held by high academic standards.
Accrediting organizations across the state can be considered when looking for these programs.
These organizations are Commission on Collegiate Nursing Education (CCNE) as well as other regional agencies.
While students can also secure program endorsement by means of the New Hampshire Board of Nursing.
Admission Requirements
Admission requirements in LPN schools vary.
However, the most common requirements include the following ones:
Must be at least 18 years of age
Must have a high school diploma or GED
Must pass any entrance exams
Must provide multiple references
Must submit a personal essay/goal statement
Must submit a current resume or CV
Tuition and Costs
They say ''The cost of anything you want in life, is the amount of time you exchange for it''-and they're right.
But money also is a big issue when it comes to attaining things.
Generally, students' responsibility in their journey to become an LPN is to cover tuition, mandatory fees, uniforms and other materials needed in the classroom.
Whereas additional expenses such as room, board and transportation should be considered too.
For students who can't afford any of these however, the state offers scholarships, financial aid, and loans.
An example of how much it will cost to become an LPN, Harmony Health Care Institute in Merrimack costs $22,995.
Fees such as tuition, supplies and similar are considered.
New Hampshire LPN Licensing Requirements
The road to becoming an LPN in New Hampshire is round.
The applicant needs to attend an LPN program approved by the state.
The program needs to have 600 classroom and clinical hours.
Despite that, he or she needs to complete coursework and hands-on-training, and then take the NCLEX-PN exam.
In order to get the license however the candidate must send an application to the state, containing these documents:
Official transcript from state-approved nursing program sent directly from the school Registrar.
Application for the temporary license.
Proof of registration (ATT) for the NCLEX.
Fingerprinting and criminal background check.
It has to be known also that LPN licenses expiration time is every 2 years.
30 hours of education are then needed during the time of the license for another renewal.
NCLEX Exam Information
You may think that finishing an LPN program is all you need to become and work as a nurse, but that's not all.
Students must also take the NCLEX-PN exam as the graduation time comes and then be officially licensed.
The mentioned exam includes testing student's skills and knowledge in various nursing topics.
To their own advantage, students are also allowed to take the practical test of NCLEX-PN.
This way, they will have an idea of the exam before they sit for the final one.
 LPN Reciprocity and eNLC
New Hampshire is part of the Enhanced Licensure Compact.
As such, the state does not ask for additional licenses from the out-of-state nurses.
Therefore, nurses who come from other states can apply for the license in New Hampshire through endorsement.
To do so, they need to submit these following documents:
Verification of original licensure.
Proof of working at least 400 hours in the past 4 years.
Completed 30 hours of continuing education credits in the past 2 years.
(Foreign educated and licensed nurses) Submit a course-by-course evaluation of original transcript to by the Commission on Graduates of Foreign Nursing Schools
The Best LPN Schools in New Hampshire
There are two LPN programs you can head to when looking for an LPN education in New Hampshire.
In them, you will find both accreditation and licensing.
While the right program will be on you to choose.
| School Name | Address |
| --- | --- |
| Harmony Health Care Institute | 10 Al Paul Ln, Merrimack, NH 03054 |
| Salter School of Nursing & Allied Health | 60 Rogers St, Manchester, NH 03103 |
LPN Salaries in New Hampshire
LPN salaries vary from place to place.
But they also vary from other additional factors.
These factors mainly include skills educational level, work experience and so on.
Annual Salary Range: Annual Salary by Location:
| Location | Avg. Annual Salary |
| --- | --- |
| Manchester | $51,581 |
| Nashua | $52,948 |
| Concord | $50,409 |
| Derry | $52,207 |
| Rochester | $49,813 |
| Salem | $51,776 |
| Dover | $50,018 |
| Merrimack | $52,948 |
| Londonderry | $52,948 |
| Hudson | $52,948 |
LPN Programs by State
---