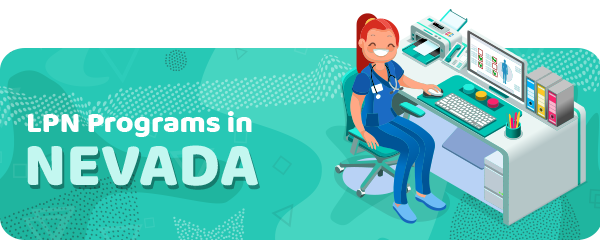 Whenever something is hard, I usually want it more.
I think it's challenging.
That's human nature.
But also it happens when something is essentially good and of high quality.
Taking that into consideration, wouldn't you like to spend one to two years in Nevada while studying Nursing?
Well, the state offers high-quality education, professional healthcare and has a promising future of employment in the field.
To assure you better, the Bureau Labor of Statistics has predicted a 12% increase in jobs as we enter 2026.
That's not little.
Especially, when seeing the hourly wage per Licensed Nurse of $25.30.
$52,630 per year.
And $8,600 more per year per LPN compared to the national average.
Details on Nevada LPN Schools & Classes
LPN programs are not many in Nevada.
They might be three of them in total.
But if you're looking for them, you can find them in community colleges, technical and vocational schools.
The programs are taught through a specific curriculum.
The curriculum contains classroom lectures and practical experiences.
From the most commonly found are:
Anatomy & Physiology
Concepts of Nursing
Normal Growth & Development
Clinical Pharmacology
Geriatric Nursing
Mental Health Nursing
Pediatric Nursing
Medical-Surgical Nursing
Accreditation
Choosing an accredited LPN school might show how smart and attentive a student is.
You may wonder why?
Well, the consequences of not choosing an accredited program are many.
But the advantages can be included in two words: Quality Education.
Accrediting agencies in Nevada are two.
The first one is the Accreditation Commission for Education in Nursing.
While the second is the Nevada State Board of Nursing.
Admission Requirements
Admission requirements to enter an LPN school in any state are different.
However, in Nevada, you will have to meet these:
Hold a high school diploma or GED
Completion of any prerequisite courses
Satisfactory completion of the HESI A2 Exam
Background check/drug test
Documentation of required health examinations
Tuition and Costs
The financial cost of an LPN program isn't a big deal, but it is to be considered.
The student initially, has to pay for tuition, mandatory fees, and supplies.
Whereas some students can benefit from the school's additional help such as scholarships, loans, and aids.
Anyway, to give you a mirror view of the expected cost of an LPN program, Brightwood College in Las Vegas.
Its total LPN cost is from $23,670 to $29,966.
In this cost tuition and fees are covered.
While transportation, room and board expenses are not.
Nevada LPN Licensing Requirements
With all the steps I took you through to the LPN journey, two are crucial.
The first is attending an approved LPN program in Nevada.
While the second is passing the NCLEX-PN exam.
The two of these steps make one qualified for a nursing license.
However, when you get closer to it, you need to send a few documents in the application.
These documents are:
Official transcript from a state-approved nursing program.
Fingerprint card.
Proof of a valid social security number.
Nevada LPN licenses expire every 2 years.
The renewal requires 30 hours of continued education (including a one-time 4-hour bioterrorism education course).
NCLEX Exam Information
NCLEX-PN exam is a must to LPN licensing.
The previous studies the student follows should prepare him exactly for this one exam.
The exam will mainly be made of nursing-related questions.
So no need to panic and stress.
Just prepare.
You can prepare through the practical NCLEX-PN exam, which is available in the schools for students who don't feel ready for the real one.
LPN Reciprocity and eNLC
Membership of the Enhanced Nurse Licensure Compact is given to many US states.
Nevada is not one of them.
So nurses who come from other states and are previously licensed in their state can apply for practice in Nevada by endorsement.
The documents needed for the application are as follows:
Official transcript from state-approved nursing program (directly from the school registrar) showing diploma or certificate award date.
Verification of state licensure.
Having passed the NCLEX or SBTPE licensing exam.
Proof of valid social security number.
Foreign applicants, on the other hand, can also apply for practice or license in the state.
They can do that by submitting a few documents in the state of Nevada first.
These documents include proof of their LPN education in their country.
Evaluation of their official transcripts from the Commission on Graduates of Foreign Nursing Schools.
Proof of English skills, or better said TOEFL.
The Best LPN Schools in Nevada
There is only one LPN school available in Nevada.
However, its standards are of high-quality.
If it's not enough you can check neighboring states.
The US is large enough to explore nursing opportunities in them.
| School Name | Address |
| --- | --- |
| College of Southern Nevada | 700 College Dr, Henderson, NV 89002 |
LPN Salaries in Nevada
LPN Salaries in Nevada are quite promising.
Though with just one school, the job market is always in need of employees.
All you need to do as a graduate student is applying.
Annual Salary Range: Annual Salary by Location:
| Location | Avg. Annual Salary |
| --- | --- |
| Las Vegas | $50,718 |
| Reno | $49,218 |
| Henderson | $50,822 |
| North Las Vegas | $50,718 |
| Sparks | $49,218 |
| Carson City | $49,324 |
| Elko | $41,641 |
| Boulder City | $50,033 |
| Mesquite | $49,984 |
| Fallon | $48,492 |
LPN Programs by State
---