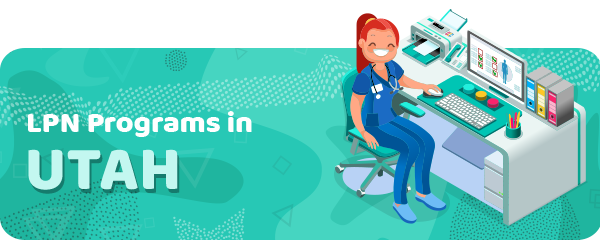 Promotion is a significant factor to spread the good.
And when the good is spread, it is usually multiplied.
In Utah, nursing is promoted through professional serviced and high-quality education.
The chain of good is also linked to the professional growth of its workers.
This progress is demonstrated by the Bureau Labor of Statistics.
The institution has foreseen a 12% growth of employment in the field by 2026.
Due to this prediction, many people are turning to this profession and aspiring for education in their state.
The salary in the field in stimulating.
An hour of work per employee is paid $20.73.
In a year, an LPN will earn $43,110.
While the two together make up $920 less for a year, compared to the national US average.
In this journey of becoming an LPN, however, there are certain steps you need to take as a student to get a license.
The first is to find a proper school.
Usually, a good school is the one that offers approved programs by the state.
These programs can be found in community colleges, technical centers, and private career schools.
There are 8 LPN schools located in Utah, but in this article, I have chosen to mention only the top-three programs there.
The best comes always first.
The selection was made on behalf of the NCLEX-PN exam.
Precisely, the first-time pass rates of the past years were the focus of attention.
Details on Utah LPN Schools & Classes
If you look for LPN programs in Utah, you will not be disappointed.
The lessons are taught both shifts, part-time and full-time.
In some cases, they are also given in the evening or in the daytime.
So, they will fit everyone's schedule.
However, the traditional LPN program there can be finished within a year.
That is for full-time students.
Part-time students will have to attend the classes longer, two years.
In addition, the program can be held online also.
This is called a ''hybrid'' model.
LPN programs in Utah contain a list of nursing courses.
These courses include clinical and lab hours.
However, the usual ones are given in the following topics:
Fundamentals of Nursing
Pharmacology
Caring for the Adult
Pediatric-Maternity Nursing
General Psychology
Professional Transition for the Practical Nurse
Accreditation
Choosing an accredited school is the key to a calm mind and safe education.
Accreditation means that a school offers high-quality services, as well as is accepted by the state's regulations.
LPN programs in Utah are receiving accreditation through one organization.
That is the Accreditation Commission for Education in Nursing.
While the second-place students can ensure registered and approved LPN programs is the Utah State Board of Nursing.
Admission Requirements
Admission requirements are essential to apply for an LPN program in Utah.
Among them you will have to meet and send the following documents:
High school diploma or GED
Must be at least 18 years of age
Completion of all prerequisite courses
Certification or academic-related experience (such as CNA certification) is helpful
Faculty interview and personal essay
Submission of background check/drug screen
Tuition and Costs
After being admitted to an LPN program, the next thing to consider is the cost of education.
Though the cost may differ from school, location and other factors.
The student should be responsible for paying fees, tuition and other necessary materials needed in the long run.
Gas, room, and board are also additional expenses the student has to cover.
Whereas, when there are cases that students cannot afford to pay any of them, the schools offer loans, financial aids, and scholarships.
To give you an idea of the price, Uintah Basin Technical College's total tuition is $1,800.
The fees are $410.
While books and supplies include $2,000.
Utah LPN Licensing Requirements
Step by step we got to the license part.
Getting any kind of license is a matter of meeting a few criteria.
Obtaining an LPN license in Utah requires the same.
Attending an approved program that is certified from the Board is mandatory.
But other requirements need to be included.
Getting the license in your hand is however an application away.
The application needs to be attached to these documents:
Fingerprint cards
Official transcript from a state-approved school
NCLEX registration
Utah LPN licenses do not last forever.
The nurse has to renew it every year.
January 31st is the specific date for this renewal.
NCLEX Exam Information
Upon licensing, taking the NCLEX-PN exam is mandatory too.
The exam will usually test different aspects of nursing in 100 questions frame.
The topics will be the same as those the school's curriculum taught for a year.
However, if students want to spend more time getting ready, they can postpone the final exam and take a practical NCLEX-PN exam first.
LPN Reciprocity and eNLC
ENLC compact is the one compact that makes easy for other state's nurses to work in Utah without another state license.
While those who are not in the compact can apply for an LPN license in Utah by the means of an endorsement.
To do so, they need to provide these documents:
Fingerprint cards
Official transcript from state-approved nursing school
Verification of licensure
Despite that, there is a solution for applicants who have finished their LPN studies abroad.
They can send the same documents to the state as the ones provided above.
But they also need to send the official transcripts that have been looked over from the Commission on Graduates of Foreign Nursing Schools.
After that, passing the NCLEX-PN exam is also a must.
The Best LPN Schools in Utah
LPN schools in Utah are not many-5 in total number.
You can find them below in the list.
| School Name | Address |
| --- | --- |
| Davis Technical College | 550 E 300 S, Kaysville, UT 84037 |
| Ogden-Weber Technical College | 200 North St, Ogden, UT 84404 |
| Weber State University | 3848 Harrison Blvd, Ogden, UT 84403 |
LPN Salaries in Utah
LPN Salaries in Utah vary from place to place.
This is the main variable.
But they also differ from work experience, skills and education.
Annual Salary Range: Annual Salary by Location:
| Location | Avg. Annual Salary |
| --- | --- |
| Salt Lake City | $46,418 |
| West Valley City | $45,340 |
| Provo | $44,718 |
| Sandy | $46,291 |
| Orem | $44,718 |
| Ogden | $45,250 |
| West Jordan | $46,249 |
| Layton | $45,018 |
| Taylorsville | $44,871 |
| St. George | $45,007 |
LPN Programs by State
---