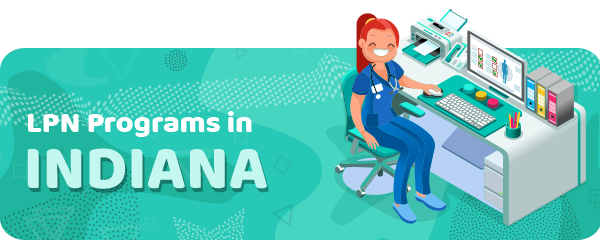 When there is a need, we tend to fill it.
When we make our career choice, we must choose the one that is more in demand for in the community.
In Indiana, the need for LPNs has grown immensely.
The Bureau Labor of Statistics so far has predicted a 12% growth in LPN employment by 2026.
Thus to become an LPN in Indiana, you need to make sure you attend a state-approved program first.
An LPN is expected to earn $19.58 per hour of work there.
$40,730 per year.
While $3,300 more per year than the national US average.
So being interested in a thing, means you have the will to try to achieve it.
This way, if you're interested to become an LPN in Indiana, why not make the effort to do so.
This effort includes choosing the right school that offers the right programs.
The right programs to pursue LPN studies are the approved ones.
You can find them in community colleges, technical centers, and private career schools.
Throughout Indiana, you will find access to 20 LPN schools in total.
However, only five top-ranked programs have been included in this article.
The inclusion was done on behalf of the NXLEC-PN exam.
Especially, the first-time pass rates of the past years were the object of analysis.
Details on Indiana LPN Schools & Classes
Indiana offers various LPN programs to its prospective students.
They can be attended part-time or full-time.
While the length of any of them is one to two years maximum.
The programs are taught by a variety of entry-level nursing courses.
From them you can have access on:
Medical Terminology
Human Anatomy & Physiology
Clinical Pharmacology
Fundamentals of Nursing
Medical-Surgical Nursing
Accreditation
Accreditation is the core of an LPN program.
It ensures quality and high academic standards.
When looking for accrediting bodies in Indiana, you may run into two organizations.
The one is The Accreditation Commission for Education in Nursing.
While the second is The Indiana Board of Nursing.
In other cases, students can also check for regional accreditation as well, which is available for them.
Admission Requirements
The variety of nursing requirements to be admitted to an LPN program is considerable.
However, you must make sure you fulfill the following ones:
High school diploma or GED
Minimum cumulative GPA of 2.0
Must have completed any/all prerequisite courses
Proficient level or higher on TEAS exam
Must submit a completed application and pay any fees
Tuition and Costs
Usually, we don't like much the payments.
We can give many things, but money will always be harder to give unless it's some kind of charity.
But frankly speaking, the best charity is the one you invest in your education and in general in yourself.
Because only when you're really okay with who you are, only then you can be a help to others.
In Indiana, LPN students are asked to pay the cost of tuition, mandatory fees, textbooks, and other course materials.
An example of a cost is Ivy Tech Community College of Indiana.
The total cost of education there is $6,587.
While the additional sum for books and supplies goes to $1,794.
However, the schools offer benefits for those who fail to make any payments due to their lack of material gains.
Hence, scholarships, loans, and financial aids are some of the forms of help students will benefit from.
Indiana LPN Licensing Requirements
The steps to becoming an LPN in Indiana are many.
Attending an approved LPN program is one of them.
The next is the NCLEX-PN exam.
However, receiving the license requires submitting an application as well as attach the certificate of an approved nursing program.
Additionally, LPN students may be asked to take some physical activities such as lifting patients, machinery, long periods of walking and standing and similar.
LPN licenses have their own end as well.
They expire every year on October 31.
The renewal asks a continued education.
NCLEX Exam Information
The NCLEX-PN exam is a must to pass for licensure.
The test may be taken by the end of the graduation from an LPN program.
If some students do not feel ready to take it, they can sit for the practical NCLEX-PN exam and prepare for the final one.
LPN Reciprocity and eNLC
Indiana is not a member of the ENLC compact.
This means the rules of the compact are not applicable in it.
However, LPN students from other states can get an LPN license in Indiana through endorsement.
The endorsement should be attached a few documents, which include:
A professional headshot (passport-style photo) approximately 2 x 3 inches.
$50 application fee payable to the Indiana Professional Licensing Agency.
Proof (verification) of license from another state.
Documentation from a completed state-approved nursing program.
Criminal background check.
On the other hand, interested applicants for an LPN license in Indiana must send a few documents to the state as well.
In general, they are asked to send the official transcripts of high school and any other equivalent nursing program they have attended in the past.
The credentials of these documents will be done by the Commission on Graduates of Foreign Nursing Schools.
The evaluation will be done as a full course-by-course review.
LPN Salaries in Indiana
LPN Salaries in Indiana differ from the location, and from other factors.
These factors include work experience, education, skills and similar.
Check below for more salary information there based on the location.
Annual Salary Range: Annual Salary by Location:
| Location | Avg. Annual Salary |
| --- | --- |
| Indianapolis | $47,715 |
| Fort Wayne | $45,568 |
| Evansville | $46,167 |
| South Bend | $45,661 |
| Gary | $48,650 |
| Hammond | $48,650 |
| Bloomington | $44,994 |
| Muncie | $45,055 |
| Anderson | $45,231 |
| Terre Haute | $44,845 |
The Best LPN Schools in Indiana
There are 5 LPN programs offered in Indiana.
You can check them in the list below and choose your favorite.
| School Name | Address |
| --- | --- |
| Ivy Tech - Bloomington | 200 Daniels Way, Bloomington, IN 47404 |
| Ivy Tech - Evansville | 3501 N. First Avenue, Evansville, IN 47710 |
| Ivy Tech - Richmond | 2357 Chester Blvd., Richmond, IN 47374 |
| Ivy Tech - Anderson | 104 West 53rd Street, Anderson, IN 46013 |
| Ivy Tech - Indianapolis | 50 W Fall Creek Pkwy. N. Dr., Indianapolis, IN 46208 |
LPN Programs by State
---