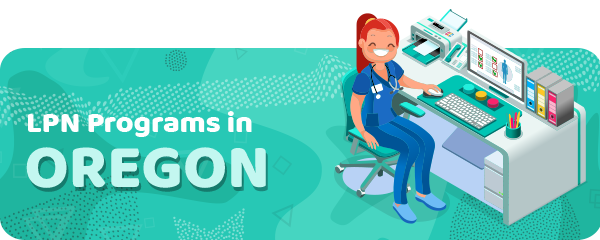 Empowerment is something we all need to go further with our dreams.
It makes us willing to do more and prosper.
The state of Oregon works a lot in this direction with nurses.
According to it, the action helps nurses morally and pushes them to improve their work and setting as well.
But of course, this doesn't happen without a previous plan.
The state plan is to have quality services for all kinds of people and ages.
They have done that through continuous education and support, from which both nurses and patients have benefitted from.
Surely, from all this work and dedication LPNs in Oregon are paid well.
Hence, an hour's work for an LPN is $23.63.
The year of an LPN is paid $49,160.
While in total it means the LPN earns $5,130 more in a year than the national US average.
So, this is the general condition of nurses in Oregon.
However, becoming one is a matter of steps that you need to take.
The first step is surely attending an approved LPN program by the state and sitting for the test.
When talking about education, school is crucial to receive a quality one.
Precisely, the aspiring LPN student needs to find an approved program by the state.
These programs are located in specific places in Oregon.
You can find them in community colleges, technical schools, and private career schools.
There are 7 LPN schools in total in the state.
However, only the top-three programs were included in this article.
The inclusion came as a result of reviewing the NCLEX-PN exam.
On purpose, the first-time pass rates of the past years were chosen.
Details on Oregon LPN Schools & Classes
There are enough LPN programs available in Oregon.
Most of them will take nearly two years of your life to complete.
The length usually depends on attendance.
Part-time classes take always longer.
While full-time ones less.
LPN classes are planned by a curriculum.
This curriculum is made of subjects such as nursing theory, labs and clinical experiences.
From the most frequent ones, the following are to be mentioned:
Care Across the Lifespan
Psychiatric and Complex Acute Care
Anatomy and Physiology
Microbiology
Human Development
Emergent Healthcare
Accreditation
The first thing to consider when choosing an LPN program is making sure it is accredited.
Accredited programs work to high-quality and standards that fit those of the state.
For this reason, they are highly required.
In Oregon, you can seek help from three accreditation bodies to help you find accredited programs.
The first one is The Accreditation Commission for Education in Nursing.
The second is the Commission on Collegiate Nursing Education.
While the third is the State Board of Nursing.
Admission Requirements
The Oregon LPN admission requirements vary from school to school.
But they mainly include the following documents:
High school graduate (or GED equivalency)
Completion of prerequisite courses with a grade of "C" or better
Current CNA certification may be required
Copy of transcripts from all high schools and colleges attended
Satisfactory scores on placement tests
Tuition and Costs
LPN program cost in Oregon is a matter of school.
Students can choose the school that fits best for their financial standards.
However, they will be responsible to pay for tuition, fees and course materials such as uniforms and books.
An example of the average expense is the Mt. Hood Community College in Gresham.
Its total LPN cost is $11,046.
In this cost tuition, fees, insurance, supplies, and similar expenses are included.
On the other hand, schools also offer additional help to students who cannot afford to pay for their LPN program.
This help includes financial aid, loans, and scholarships.
Oregon LPN Licensing Requirements
LPN licensing requirements in Oregon are many, but two are essential.
They are attending an approved LPN program and passing the NCLEX-PN exam.
From the rest of the requirements, check below:
Headshot (passport-style) photo taken within the last 6 months
Official transcript from a state-approved nursing program
Submit to a fingerprint criminal background check
Oregon LPN licenses expire every 2 years on the day before the licensee's birthday.
NCLEX Exam Information
You can graduate from your LPN program easily, but the NCLEX-PN exam is the most important step you will take to licensing.
The test is meant to measure nursing skills by means of the nursing-related questions.
Apart from the final exam, students can also take the practical NCLEX-PN one beforehand.
LPN Reciprocity and eNLC
Oregon is soon going to be part of the ENLC.
As such, the state will make ease for multistate nurses within the compact.
They can work or practice in Oregon without another license.
While out-of compact states can apply for an LPN license in Oregon by means of an endorsement.
To do the, they need to submit these documents to the state:
Proof of licensure in another state or completed an OSBN-approved re-entry LPN program in the last 2 years
License verification from the state licensing exam was taken and the state where a current license is held
Proof of practicing at LPN level for at least 960 hours over the past 5 years
Out of state applicants, on the other hand, can also have an LPN license in Oregon.
To achieve that, they need to submit a few documents.
These documents include submitting the Commission on Graduates of Foreign Nursing Schools evaluation of their official transcripts.
Also, a full course by course review needs to be sent to the state.
While English Proficiency results are also a must.
The Best LPN Schools in Oregon
There are many schools options to consider for Nursing Education in Oregon.
However, quality is always over quantity.
For this reason, I made sure you get the top-three programs first.
Check them below.
| School Name | Address |
| --- | --- |
| Rogue Community College | 117 S Central Ave, Medford, OR 97501 |
| Lane Community College | 4000 E 30th Ave, Eugene, OR 97405 |
| Mt. Hood Community College | 26000 SE Stark St, Gresham, OR 97030 |
LPN Salaries in Oregon
The state of Oregon boasts with both great Nursing Education and work opportunities.
However, to be a winner of both, you need to invest in the first.
A good salary always comes after a great qualification.
Annual Salary Range: Annual Salary by Location:
| Location | Avg. Annual Salary |
| --- | --- |
| Portland | $51,144 |
| Eugene | $47,963 |
| Salem | $49,368 |
| Gresham | $51,079 |
| Beaverton | $51,144 |
| Hillsboro | $50,981 |
| Medford | $45,844 |
| Springfield | $47,611 |
| Bend | $47,298 |
| Corvallis | $48,217 |
LPN Programs by State
---