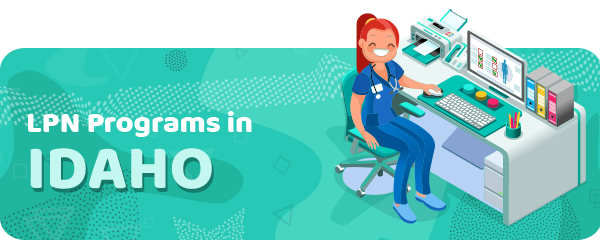 Being in a Nurse in America is definitely worth it.
You can see it in every state.
The number of schools and job perspectives is rising each day.
In the range of states that offer a promising LPN career, Idaho is, as well.
Similar to other states, the Bureau Labor of Statistics made research in this aspect.
From the research, it has foreseen a 12% growth in employment by 2026.
To its advantage, the salaries aren't bad either.
An hour worked as an LPN in Idaho is paid $19.17.
Yearly, it is paid $39,870.
While the two together make up $4,160 less in a year, compared to the US national average.
Details on Idaho LPN Schools & Classes
LPN programs can be found everywhere in Idaho.
But to make your life easier, check the community colleges, technical and vocational schools, and similar places.
LPN programs here take less time than other educational degrees, such as the Bachelor of Science in Nursing.
They usually take 1 to 2 years to complete, though it is all a matter of how you attend the classes, part-time or full-time.
LPN programs in this state offer a variety of nursing courses.
From them you can find:
Medication Administration for Practical Nursing
Basic Foundations of Nursing Lab
Clinical Foundations of Nursing
Family Nursing for the Practical Nurse
Medical-Surgical Nursing
Accreditation
A quality LPN school in Idaho is determined from an important issue: Accreditation.
There are two accrediting bodies to look after in the state.
For instance, you can contact The Accreditation Commission for Education in Nursing.
This is a popular accrediting agency in the country.
The second is the Idaho Board of Nursing.
Both of them will help get in touch with accredited schools.
Despite them, you can also consider regional accreditation that will help you find a school by endorsement.
Admission Requirements
Before entering an LPN school, admission is mandatory.
A list of requirements is set for you to meet them in order to be admitted.
These requirements vary from school to school, but the essential ones include:
High school diploma or GED
CNA certification may be required
Minimum GPA of 2.5
Completion of any prerequisite courses
TEAS results
Must pass a background check/drug test
Tuition and Costs
When students register a school, they get enthusiastic about it.
But as soon as you mention them the price they need to pay, they become concerned.
However, an LPN program will not cost you a fortune.
Initially, students need to pay for tuition, course materials, and other mandatory fees.
Additionally, if students move from an area, they will have to pay for room and board as well.
To illustrate it better, I will give you a hint.
Check for instance the North Idaho College in Coeur d'Alene.
Its program cost is $6,247 for the students inside the state.
While $14,047 for those out of it.
In this payment textbooks and supplies are excluded.
Idaho LPN Licensing Requirements
License is the last step of the LPN education.
But to get there, you need to make an effort along the way.
The applicant has to be aware of the job functions that will be required from him.
Therefore, he has to be prepared physically to endure the activities.
Another requirement to license is following an approved LPN program and taking the NCLEX-PN exam.
While attaching the following documents:
Headshot (passport-style) photograph—indicating the date the photo was taken.
Affidavit of graduation submitted by applicant's nursing program.
The fingerprint card and criminal background check.
NCLEX Acknowledgement.
Idaho LPN licenses expire every year.
They usually do on August 31st every even-numbered year.
NCLEX Exam Information
The NCLEX-PN exam is the last step to the LPN license.
This test is designed with 100 questions related to different aspects of nursing.
Students are asked to take the test as soon as they graduate from the program.
However, if they hesitate to take it immediately, they can exercise on the practical one first, till they are ready.
LPN Reciprocity and eNLC
As the majority of the US states, Idaho is also a member of the Nurse Licensure Compact.
As such, it means that nurses who belong to other states within the compact can apply for a program anywhere without another license.
To do so, they need to register a primary state they live in, then apply on the other.
The ENLC will be implemented soon.
That was noted in January 2018.
So nurses who have been part of the NLC will turn into the ENLC.
Foreign LPNs who don't belong to NLC can apply through endorsement.
To do so, they need to send the following documents:
Proof of licensure in another state for a minimum of 2 years.
Original transcripts from a state-approved nursing program equivalent to the state of Idaho
Pass the NCLEX or SBTPE.
The fingerprint card and criminal background check.
Employment reference from the 3-year period preceding the application.
Foreign applicants must also submit a course-by-course review and English proficiency.
The Best LPN Schools in Idaho
The top LPN programs in Idaho are six.
Before you decide anything, you have to find the right school.
After that, you select the program you have an interest in.
And then, you've just started your LPN journey.
| School Name | Address |
| --- | --- |
| Carrington College - Boise | 1122 North Liberty St, Boise, ID 83704 |
| College of Southern Idaho | 315 Falls Ave, Twin Falls, ID 83301 |
| Eastern Idaho Technical College | 1600 S 25th E, Idaho Falls, ID 83404 |
| Idaho State University - College of Technology | 921 South 8th Ave, Pocatello, ID 83209 |
| Lewis - Clark State College | 500 8th Ave, Lewiston, ID 83501 |
| North Idaho College | 1000 W Garden Ave, Coeur d'Alene, ID 83814 |
LPN Salaries in Idaho
The best way to get something great is to give effort into it first.
The same goes for the LPN salaries in every US state.
They vary from place to place.
But they depend on other factors such as work experience, education, skills and so on.
Annual Salary Range: Annual Salary by Location:
| Location | Avg. Annual Salary |
| --- | --- |
| Boise | $46,345 |
| Nampa | $45,856 |
| Pocatello | $42,447 |
| Idaho Falls | $44,403 |
| Meridian | $46,296 |
| Coeur d'Alene | $46,327 |
| Twin Falls | $42,300 |
| Lewiston | $48,225 |
| Caldwell | $48,507 |
| Moscow | $48,064 |
LPN Programs by State
---