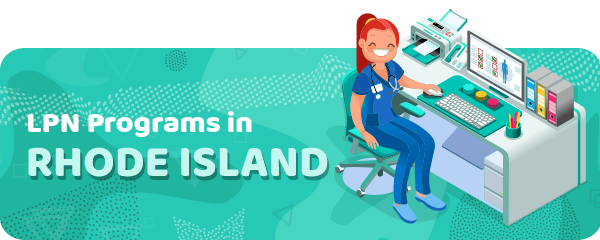 Work is an inseparable part of life.
But people want to do the thing they want and be safe at the same time.
In Rhode Island, you can find both.
The state offers healthcare services of high standards.
By doing so, it ensures a solid education as well as professional licensing at the end.
At this point, Nursing is one of the most common professions where you can grow as a healthcare professional.
To become an LPN in Rhode Island you need to first attend an approved program as well as pass the NCLEX test.
And congrats, you're officially qualified in the profession.
To keep you inspired enough, the Bureau Labor of Statistics in the state has foreseen a 12% employment growth for LPNs as we approach 2026.
Despite that, salary numbers have been made public as well.
Just so you know, the hourly wage in Rhode Island is $26.55.
The annual one $55,230.
To sum it up with the beyond national average of $11,200 per year.
Details on Rhode Island LPN Schools & Classes
Sometimes we ''Judge a book by its cover''.
The same way as we think Rhode Island is small, and presume it has not much to offer us.
However, the state has many Nursing program opportunities to offer.
These programs are mainly offered at educational institutions such as community colleges and technical schools.
They take 3 semesters to complete within a single year.
However, students who choose to attend classes part-time may take longer.
The LPN programs are taught through a curriculum that encompasses different nursing topics of entry-level.
The lessons are kept in a classroom along with labs and clinical practice.
From the course titles you may consider:
Gerontological Nursing
Pharmacology
Anatomy & Physiology
General Psychology
Mental Health Nursing
Nursing Across the Lifespan
 Accreditation
When it comes to pursuing an LPN career, school choice is essential.
In other words, you have to look for an accredited school.
In Rhode Island are two accrediting organizations that will help you make a good choice.
These organizations are The Accreditation Commission for Education in Nursing (ACEN), and The Commission on Collegiate Nursing Education (CCNE).
These two are to be trusted and work at high standards, thus making students feel safe at school.
Despite that, students can also rely on the Rhode Island Board of Nurse Registration and Nurse Education, to find accredited LPN schools.
Admission Requirements
Before applying to an LPN program in Rhode Island, students must meet the minimum requirements of admission, which may include:
Official copies of transcripts from high school (or GED) and any colleges attended
If applicable, proof of current CNA licensure
Satisfactory Accuplacer test scores
Satisfactory HESI A2 test scores
Completion of prerequisite courses
Minimum GPA of 2.0
Submit background check and proof of health requirements
Tuition and Costs
Education costs are a huge concern for every student, no matter what they are studying.
Now in LPN programs in Rhode Island, students are in charge of paying tuition, mandatory fees as well as other materials such as books.
Also, transportation fees and sideway costs are to be aware of.
Whereas for students who struggle with payment, financial aid, grants, loans, and scholarships will be obtained from the school as a source of help.
For instance, in Lincoln Technical Institute which is located in Rhode Island, the total cost of the LPN program is $27,149. Both tuition and fees are included.
Rhode Island LPN Licensing Requirements
One of the licensing requirements is that LPN candidates must undergo training in an approved program that can be found everywhere in the state.
Precisely, it can be found in vocational schools and private nursing schools.
After completing the program, the graduate candidate must enter the NCLEX exam as a pre-application step for licensure.
The applicant also must submit an application to the state, which includes these documents:
Official transcripts from the state-approved nursing program with graduation date and degree confirmation in a sealed envelope from the school.
Recent headshot (passport-style) photograph.
Criminal background check.
Proof of registration (ATT) for the NCLEX.
It should be noted that Rhode Island LPN licenses expire every 2 years.
NCLEX Exam Information
Every student who completes the LPN program in any school in the state, must take the NCLEX-PN exam and pass it successfully.
The test's purpose is to test students within the Nursing curriculum comprehension.
But it is also a requirement for the final licensure of the candidate to become an LPN.
The exam is also useful in helping the students prepare for the exam.
LPN Reciprocity and eNLC
Reciprocity and eNLC are two of the many benefits Rhode Island offers in regard to an LPN education.
The state was initially part of the original Nurse Licensure Compact and will soon be also part of the Enhanced Nursing Licensure Compact (eNLC).
Through the latter, nurses can finish their LPN practice in any state which is part of the compact, without necessarily having a second license.
Whereas nurses who come from non-compact states need to apply for a Rhode Island license by means of endorsement and provide:
Recent headshot (passport-style) photograph.
Official transcript from the school of nursing.
Graduation from a nursing program.
Photocopy of active license from another state.
Criminal background check.
Last, by not least, there's an opportunity for applicants from other countries who have studied abroad and had a license in their own country.
They must submit an evaluation of their official transcripts of the Commission on Graduates of Foreign Nursing Schools.
They also need to have completed a full course-by-course review.
LPN Salaries in Rhode Island
LPN salaries in Rhode Island depend mostly on the location.
Above I have mentioned the hourly&annual salary in the state.
Though the salary may shift from the minimum to a maximum.
While an average will be constant.
Annual Salary Range: Annual Salary by Location:
| Location | Avg. Annual Salary |
| --- | --- |
| Providence | $51,727 |
| Warwick | $51,727 |
| Cranston | $51,727 |
| Pawtucket | $51,727 |
| East Providence | $51,727 |
| Woonsocket | $51,678 |
| Coventry | $51,630 |
| North Providence | $51,727 |
| Cumberland | $51,727 |
| West Warwick | $51,727 |
The Best LPN Schools in Rhode Island
There are two LPN schools in Rhode Island.
Below you can find the address and the number for each.
If you are interested to study in this place, the schools will welcome you!
| School Name | Address |
| --- | --- |
| Community College of Rhode Island | 400 East Ave, Warwick, RI 02886 |
| Lincoln Technical Institute | 622 George Washington Highway, Lincoln, RI 02865 |
LPN Programs by State
---