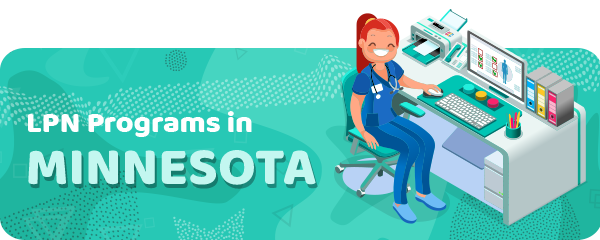 Often times we think of luck as the arrival of all good things.
But sometimes, luck means an opportunity.
Or else, a chance to take when you have the need to do so.
Finding a job in Minessota can be the same.
But if you're interested in Nursing, you're two times luckier.
To begin with, the main healthcare Institution in the country The Bureau Labor Statistics is foreseeing a 12% increase in employment for LPNs as we approach 2026.
Additionally, with the lack of nursing, LPNs have the privilege to work in hospitals and healthcare centers.
Anyway, to reach the culmination of this career path, as a prospective LPN, you need to attend the right program.
As for the salaries, they are quite thrilling.
The hourly salary per LPN in Minessota is $20.40, the annual one $42,440.
If we merge these two sums, we see that the national average salary there is $1,590 less per year.
After the salary, the second thing to note is the school choice.
The school needs to have approved programs by the state so that the license you get is correct as well.
You can find these programs across the country in community colleges, technical centers, and private career schools.
The state has 26 LPN schools throughout the state.
However, the top ten programs have been listed in this article, due to a close review of the NCLEX-PN program of the first-time pass rates from the past several years.
Details on Minnesota LPN Schools & Classes
Attending an LPN program in Minnesota is simple.
You can do so either in community colleges or at vocational schools.
Though you can consider other options present throughout the state.
The programs you can attend usually take 40 credits, while they can be finished 1 to 2 years' time.
But that depends mostly on whether the program is full-time or part-time.
Some amount of curiosity is always present in students' minds.
And that related to the kind of classes they will attend.
Thus, the programs are conducted by a curriculum.
The curriculum contains essential nursing courses, electives or labs. From the most frequent course titles are these:
Anatomy & Physiology
Dosage Calculations for Health Care Professionals
Foundations of Nursing
Health Promotion Across the Lifespan
Psychosocial Nursing
Maternal-Child Nursing
 Accreditation
Accreditation is essential when it comes to establishing a successful education.
Therefore, students must keep in mind this element and find a school that is accredited.
Accreditation means that the school works under high academic standards which is an important requirement to fulfill.
Organizations in Minnesota that offer accreditation are The Accreditation Commission for Education in Nursing as well as the Minnesota Board of Nursing.
However, students are encouraged to look for regional accreditations at the same time.
Admission Requirements
As an aspiring LPN, the schools you apply in usually have a set of requirements before admission.
So far, in Minnesota schools you will most likely find these requirements:
Must be a high school graduate or equivalent
Must have completed all prerequisite courses
Nurse Assistant/Medical Assistant certification may be required
Accuplacer and TEAS test scores
Must provide proof of up-to-date immunizations
CPR certification
Tuition and Costs
LPN programs' costs are influenced by many factors.
Mostly, they depend on location, type of school and similar.
However, students should be aware they have to pay for tuition, mandatory fees, and other materials.
In Dakota County Technical College, for instance, the LPN program costs $11,611.
Additionally, if some students do not afford to pay for their education, there's a solution for that. Most Minnesota LPN schools offer financial aid opportunities and would help without restriction.
Minnesota LPN Licensing Requirements
In order to become an LPN in Minnesota, you need to complete an approved program by the state and also pass the NCLEX-PN exam with high scores.
As it is known, LPN licenses' expiration time is every two years.
The licensing requirements include submission of the application for each license renewal fee, and prove that you have completed the following education requirements.
These include 12 contact hours done in the period of registration.
If the candidate makes nursing practice less than the full 2 years, the continued education ratio is 1 contact hour for every 2 months of registration.
NCLEX Exam Information
As prospective nurses, the NCLEX-PN exam is a must to pass in order to gain the license.
The exam contains 100 questions nurse-related, including different topics in the field.
The NCLEX-PN is the exam that all prospective LPNs must take and pass to officially gain licensure.
It is comprised of roughly 100 nursing-based questions from a variety of categories.
Additionally, students can enhance their skills by practicing the NCLEX-PN test first.
This way they will prepare for the real final exam beforehand.
LPN Reciprocity and eNLC
The state of Minnesota has ceased being part of The Enhanced Nurse Licensure Compact, which means that the rules of the compact do not stand here.
So, candidates with out-of-state nursing licenses need to apply for an LPN license in Minnesota by means of an endorsement.
To do so, the applicant must submit a finished application, along with the following documents:
Evidence of passing state-approved nursing program and NCLEX.
Credentials evaluation report.
Evidence of state licensure (home state).
Proof of employment as an LPN—if not employed in the last 24 months, proof of continued education must also be submitted.
Nuse candidates who come from other states, interested to gain LPN license in Minnesota, can do so by taking the NCLEX exam and by submitting the English Proficiency exam and transcripts.
The Commission on Graduates of Foreign Nursing Schools (CGFNS) must offer a full course-by-course review.
While the applicant must pass the Test of English as a Foreign Language (TOEFL) exam.
The Best LPN Schools in Minnesota
There are 10 top-ranked programs in Minnesota listed in this article.
Along with them, you have also the addresses.
If you make your mind up for any of them, I would suggest you look for the program first.
LPN Salaries in Minnesota
LPN Salaries in Minnesota, just like other US states vary.
They mostly vary from place, work experience, education, and the skills you may additionally have.
Therefore, the salary will be in accordance with these qualifications.
As simple as that!
LPN Programs by State
---