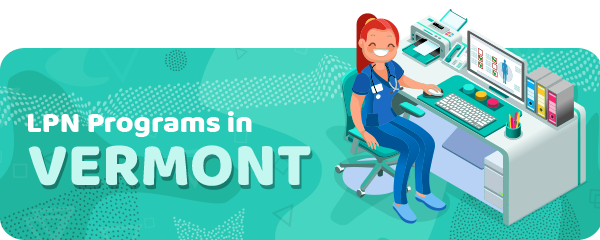 The state of Vermont offers only one LPN program.
But the program offers its campuses in a variety of areas in the state.
For nearby places, you can check campuses in Bennington, Brattleboro, Randolph Center, and Williston.
While Lyndonville, Middlebury, New Port, Saint Albans, Springfield and White River Junction are more distant.
However, LPNs are needed in Vermont because there is a lack of nurses in the state due to the aging population.
Apart from that, nursing salaries in the state are quite promising.
An hour's work for LPN is paid $22.03.
A year's work is paid $45,830.
While the two in total make up $1,800 more per year compared to the national US average.
Details on Vermont LPN Schools & Classes
In Vermont, LPN students can find both nearby and long-distance nursing programs.
The program length is one year for full-time attendance.
The programs are usually offered through coursework.
From the most common courses in Vermont Technical College you can find the practical ones:
Nutrition
Human Anatomy & Physiology
Principles and Practices of Nursing
The Nurse-Client Relationship
Pharmacology for Nursing
Human Growth & Development
Principles & Practices of Nursing LAB
Accreditation
The Vermont Technical College, as the only practical LPN program in Vermont, is accredited.
The agency that has secured its accreditation is the Accreditation Commission for Education in Nursing.
This is a process made by peer-review and volunteering.
At this point, the program undergoes an evaluation in regard to specific standards.
Consequently, accreditation ensures that the program will offer the student a proper education as well as make him ready to enter the final NCLEX-PN exam.
Admission Requirements
They say, ''you should think twice before doing something''- and that's correct.
Similarly, you need to consider a few requirements when applying for an LPN program in Vermont.
Since there's only one program in the state, the requirements are also the only ones to consider.
The following ones are actually listed below:
Completion of Vermont Tech application or Common Application
Official high school transcript or official GED scores
Official transcripts from all colleges previously attended
Vermont Tech placement test scores
Two letters of recommendation
Personal essay or writing sample
Besides them, accepted applicants also need to complete a fingerprint-based background check as well as drug testing for some nursing sites.
Tuition and Costs
Again Vermont Technical College is the only LPN school you will have to pay for your nursing education in Vermont.
In general, just like in other US states, the student will have to consider making payment for tuition, mandatory fees, courses, and supplies.
Apart from that, housing, commuting to classes are also part of the LPN cost.
Whereas other additional help will be offered to students who cannot make their payment in normal conditions.
This help includes financial aid, scholarships, and loans.
However, the expected LPN cost in a practical nursing program at Vermont Technical College is considered to be $20,064.
This stands for those who live in the state.
While for non-residents the cost is $42,339.
In this cost mandatory fees, necessary school material, room and board are not included.
Vermont LPN Licensing Requirements
To be LPN licensed in Vermont, attending an approved program in the Vermont Technical College is a must.
The NCLEX-PN exam follows soon after.
But there are other additional requirements to license, and they are:
Official transcript from the nursing education program
Proof of passing score of the NCLEX exam
Application fee of $60
CPR Certification Card
NCLEX Exam Information
The NCLEX-PN exam is crucial to LPN licensing and a challenge as well.
But the program students attend beforehand, should serve as a preparation step to it.
However, some students still hesitate to take it.
For them, the practical NCLEX-PN exam is available.
LPN Reciprocity and eNLC
Vermont will soon be a member of the ENLC compact.
When that happens, nurses who are also possessing the compact membership will be allowed to practice in the state they want without having to obtain another LPN license.
On the other hand, this opportunity is not the same for non-eNLC states.
They can get the LPN license in Vermont only if they fulfill some conditions.
These conditions include having an equivalent LPN license and certificate to Vermont.
Also, they should have 400 hours (50days) work in the profession within the last two years.
Or else, 960 hours work (120days) of the last five years of their first license.
The applicants, however, can apply for an LPN license in Vermont by endorsement.
They can do so by sending their present license and NCLEX-PN exam passing score.
In the application, they also need to send a fee of $150.
The Best LPN Schools in Vermont
LPN schools in Vermont are two ways.
Distant and Nearby.
In general, there is only one LPN school.
But it has campuses over the state which you can attend.
| School Name | Address |
| --- | --- |
| Vermont Technical College - Bennington | 210 South Street, 4th Floor, Bennington, VT 05201 |
| Vermont Technical College - Randolph Center | 124 Admin Dr, Randolph Center, VT 05061 |
| Vermont Technical College - Williston | 201 Lawrence Place, Williston, VT 05495 |
LPN Salaries in Vermont
LPN Salaries are indeed promising.
But surely, they depend on many factors.
So, we can't say more than we did in the article.
However, with the numbers and benefits given, I believe it's enough for you to choose Vermont as the place of acquiring an LPN education and work.
Annual Salary Range: Annual Salary by Location:
| Location | Avg. Annual Salary |
| --- | --- |
| Burlington | $48,183 |
| Essex | $48,183 |
| Rutland | $48,616 |
| Colchester | $48,183 |
| South Burlington | $48,183 |
| Bennington | $49,503 |
| Brattleboro | $49,603 |
| Hartford | $50,155 |
| Milton | $48,154 |
| Barre | $47,743 |
LPN Programs by State
---