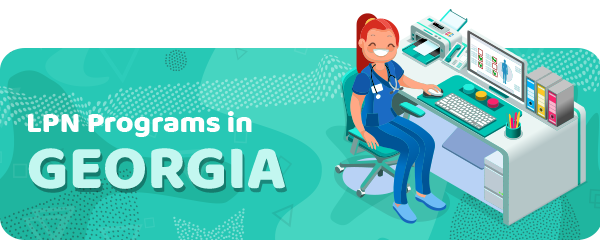 Most of the time, we want to achieve things.
And as with all matters of life, when we want something, we want it to be as complete and as close to the ideal picture as possible.
At this point, when it comes to pursuing an LPN career in Georgia, we do not think differently.
Strictly speaking, we want the right program, the best school and a nice salary of course!
In Georgia, you will not only find a proper LPN education, but also a constant improvement of healthcare.
This improvement is noticed at the rise of the number of schools with LPN programs in the state.
Another advantage of becoming a nurse there is a lack of nurses.
Furthermore, a 12% job increase is foreseen in Georgia in 2026, as the Bureau Labor of Statistics suggests from its calculations.
So, if you're interested to pursue an LPN career in this state, don't waste more time.
The hourly wage per LPN there is $18.66.
The annual one $38,820.
While the two in total make up $5,210 less per year than the US national average.
The road to becoming an LPN in Georgia is through a school.
But not just a school, you have to choose the one that offers approved programs and is accredited too.
These programs are not hard to find.
They can be attended at the community, technical centers, and private career schools.
In total, there are 21 LPN schools around Georgia.
But for this article, only top-ten programs have been chosen to offer you the best options.
The listing has been made after carefully reviewing the NCLEX-PN exam results.
The results belonged to the first-time pass rates of the past years.
Details on Georgia LPN Schools & Classes
The road to becoming an LPN is linear.
You simply need to attend an approved program and graduate from it, as well as pass the NCLEX-PN exam.
After the exam, you're super close to becoming officially licensed as a nurse.
LPN programs can be found in certain places.
They are usually taught by a curriculum and include courses on various aspects of nursing.
From them, you can check:
Structures and Functions of the Human Body
Nursing Fundamentals
Medical-Surgical Nursing
Maternity Nursing
Nursing Leadership
Accreditation
The right program for you is the one you're interested in.
But also, the one that is okay with the state's approval and accreditation.
Obviously, accredited programs are known as high-quality programs that will also raise your educational background.
Accrediting bodies you can rely on in Georgia are the national associations.
The first is the Accreditation Commission for Education in Nursing.
This association will surely help you get a program by endorsement.
The second is The Georgia Board of Nursing.
While in the meantime, you can also seek regional accreditations too.
Admission Requirements
Whether we want to enter a competition or a school, there are a variety of requirements we have to fulfill.
Being admitted to an LPN program requires the same.
Just different sets of requirements, such as:
Applicants must be at least 17 years old
Submit official high school transcript or GED certificate
Take any applicable placement tests
Submit an application and pay any associated fees
Tuition and Costs
We spend money on different things.
But when we spend them in our education, it pays long-term.
However, don't be afraid of the costs of education.
In Georgia, you will not have to pay that much.
The program cost is affordable for today's students.
Also, almost all LPN programs take 1 to 2 years to complete, which is different from other educational degrees.
However, it is upon the student to pay for tuition, mandatory fees, and course materials.
An example of the affordable LPN cost is Lanier Technical College in Gainesville.
There, you have to pay $89 per credit hour, along with the program fees.
However, from this packet background checks, uniforms, test fees, and other expenses are excluded.
Georgia LPN Licensing Requirements
We came across a few steps to become an LPN in Georgia, and now we're at the licensing.
For this step, following an approved program from the state is a must.
As a consequence, the student has to also submit a criminal check and pass the NCLEX-PN exam.
This is the procedure of the graduates of the approved programs.
Whereas for those who have attended unapproved programs in the state the procedure is a bit different.
Usually the later do not meet the educational and practice requirements, so they have to complete an approved preceptorship to the Board.
This preceptorship allows them to more experienced at clinical issues as well as make possible for them to finish practice in a healthcare center in Georgia.
Another thing to consider is the physical activities the prospective nurses need to be used to.
These activities include lifting patients, pulling and pushing machinery as well as long periods of standing, squats, walking and running.
Despite them, other strenuous activities can be asked from them as well as future LPNs.
NCLEX Exam Information
NCLEX-PN exam is a challenge for every LPN student since it is a kind of evaluation of their entire program.
But they should take it easy.
The exam is made of 100 questions related to nursing, so they have probably been taught them long.
If some students do not feel ready for this exam right away, they can finish a practical exam first before they feel okay for the final one.
LPN Reciprocity and eNLC
Georgia is a part of the Enhanced Nurse Licensure Compact.
LPNs are allowed to make their practice in their state, and in the states that are members of the same compact.
However, they have to send an application for the license by means of an endorsement.
To send it to the state of Georgia, these LPNs from other states need to meet the following requirements:
A high school diploma or GED Equivalent.
Be at least 18 years of age.
Completion of a board-approved LPN program or Army 68WM6.
Passing required testing—the NCLEX
Submitting proof of license from the current state and state of origin.
Submitting proof of working as an LPN for at least 5 years preceding the application.
The Best LPN Schools in Georgia
There are 10 programs that are offered in LPN schools across Georgia.
However, the total number of schools is 21.
So, you need to check for both the right school& program that you want to attend.
And I encourage you to do so because the opportunities are waiting.
| School Name | Address |
| --- | --- |
| Chattahoochee Technical College | 980 South Cobb Drive, Marietta, GA 30060 |
| Georgia Piedmont Technical College | 495 North Indian Creek Drive, Clarkston, GA 30021 |
| Southeastern Technical College | 3001 E. First Street, Vidalia, GA 30474 |
| Albany Technical College | 1704 S Slappey Blvd, Albany, GA 31701 |
| Savannah Technical College | 1866 Southern Lane, Decatur, GA 30033 |
| Augusta Technical College | 3200 Augusta Tech Dr., Augusta, GA 30906 |
| Oconee Fall Line Technical College | 1189 Deepstep Rd, Sandersville, GA 31082 |
| Lanier Technical College | 2990 Landrum Education Drive, Oakwood, GA 30566 |
| Dalton State College | 650 College Drive, Dalton, GA 30720 |
| Coastal Pines Technical College | 1701 Carswell Ave, Waycross, GA 31503 |
LPN Salaries in Georgia
As usual with US countries as far as LPN salaries are concerned, they vary from place to place.
But also from other factors.
Among them are to be mentioned: education, work experience, skills and so on.
Annual Salary Range: Annual Salary by Location:
| Location | Avg. Annual Salary |
| --- | --- |
| Atlanta | $48,317 |
| Augusta - Richmond County | $45,415 |
| Columbus | $44,130 |
| Savannah | $45,671 |
| Athens - Clarke County | $46,923 |
| Macon | $45,372 |
| Roswell | $48,135 |
| Albany | $44,899 |
| Marietta | $48,180 |
| Warner Robins | $45,235 |
LPN Programs by State
---