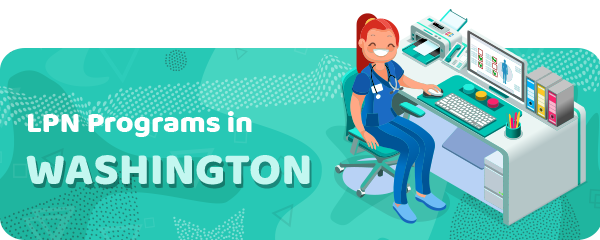 They say "Everyone is replaceable" – and there's nothing wrong with that.
Life goes on and new people come into our lives all the time.
In Wisconsin, the previous working population has aged.
Therefore, the need for young and aspiring LPNs is huge.
But Washington is home to many Nursing programs, too.
More than a dozen of them can be found in different areas of the state.
LPN programs can be found in community colleges, vocational schools as well as private colleges throughout the state.
In these schools, the salary is quite satisfactory.
If you happen to work in any of these institutions, your hourly salary will go to $24.03.
The annual salary to $49,980.
All this in total makes $5,950 more money yearly compared to the US national average.
With this huge number of LPN schools in the state, you are probably thinking: How will I ever find the right school for me?
And I empathize with you.
But when it comes to this step, you should look for a school that has approved programs from the state, because from there you will get the license too.
Below I have tried to help you solve this issue, by listing the top-ranked programs in Washington.
I have done this selection based on the NCLEX-PN exam and the first-time pass rates observed during these past years in the state.
So, check the 3 programs by the end of this article.
Details on Washington LPN Schools & Classes
LPNs in Washington have plenty of educational options to look for.
LPN programs there usually take one to years to finish.
But the length of the program mainly depends on how the student wishes to attend it.
Whether he commits a full-time or part-time schedule.
So generally speaking, education shows much of your habits.
But eventually, it shapes you into the best version of yourself!
The typical program content is made of the classroom and clinical learning practices.
However, there are other courses included in it, such as:
Nursing Fundamentals
Nursing Math / Pharmacology
Maternal/Newborn/Reproductive Nursing
Pediatrics Nursing
General Anatomy & Physiology
Lifespan Psychology
Medical-Surgical Nursing
Accreditation
An important element to consider when looking for the right LPN school in Washington is accreditation.
Accreditation ensures that a program works at high academic standards.
These standards are regulated from the accrediting body such as the Accreditation Commission for Education in Nursing.
The organization also ensures that the student will prepare for the final NCLEX-PN exam during the classes.
However, there is another organization LPN future students can check-in.
That is the Washington Board of Nursing's Nursing Care Quality Assurance Commission.
You can consult it for more accredited LPN programs in Washington.
Admission Requirements
Applying to a particular LPN program means fulfilling a few conditions in the first place.
Though these conditions differ from the school, the key ones include:
Completion of high school or GED program (including transcripts)
Cumulative GPA of 2.5 in all relevant coursework including prerequisite courses
Completion of all prerequisite courses, such as college-level Math, English I and Basic Physiology & Human Anatomy
Standardized test scores, if necessary, such as the ACT or TEAS V exam
Personal interview
Background check, drug screen and proof of required immunizations
Submission of a completed application and associated fees
Tuition and Costs
Sometimes financial factors determine our future.
Whether we have enough of them or not, it does not always depend on us.
But studying will surely cost us a bit of money.
In Washington, every school has its own particular costs, so you need to check them all to see which one you can afford.
Generally, the student has to pay for tuition, mandatory college, course and other necessary materials.
While housing and commuting to classes are also part of the cost.
However, if there are students who cannot afford these payments, schools offer other additional help.
This help includes financial aid, loans, and scholarships.
An example of a school is Edmonds Community College, wherein tuition cost for the LPN program is $7,572.
In this cost fees, books and other expenses are excluded.
Washington LPN Licensing Requirements
Attending an approved program from the state is the first step to become an LPN in Washington.
As soon as you're done with that, you have to take the NXLEC-PN exam.
This is a test that shows how proficient you are at work.
Soon enough you will get the license.
But to do so, you need to submit a few documents to the Washington Department of Health first.
These documents include:
Official transcript from a state-approved nursing program
Proof of passing score of the NCLEX exam
Submit fingerprints for an FBI background check
Complete a personal information statement that includes information about physical and mental health status, lack of impairment due to chemical dependency/substance abuse, felony convictions, disciplinary actions, and other areas
Completion of 7 hours of required HIV/AIDS training
LPN license in Washington, just like many things, has an expiration date.
For this reason, a renewal is needed every year.
To make the renewal complete, the LPN needs to include a continuing competency program of 531 practice hours along with 45 continuing education.
They have to be done every three years.
NCLEX Exam Information
For an LPN to get the license in their profession they need to pass the NCLEX-PN exam first.
Previously, the courses taken in the program should have already paved the way for this exam.
However, if the candidates do not feel ready for the exam, they may take a practical NCLEX-PN exam to prepare for it first.
LPN Reciprocity and eNLC
Washington so far is not part of the Enhanced Nurse Licensure Compact, which means that the rules of the compact do not stand here.
So LPNs who are licensed from another state can apply to get the license here through endorsement.
They can do so by sending proof of their present license.
But they must also ensure they have passed the NCLEX exam as well.
Among the documents, they can also attach:
Fingerprints submitted digitally to the state
Authorization for release of FBI information for criminal background check
In Washington, not only their population but other foreign applicants can apply for the license inside the state.
In this process, the applicants are asked to send their transcripts for a course by course evaluation.
Along with that, they need to send an evaluation service that is approved from the state, as well as the English proficiency results.
To end with, they need to complete the Personal Vocational Relationship Course online and send fingerprints for the background check if it's okay as well as the NCLEX exam.
The Best LPN Schools in Washington
In the beginning, I told you that the number of schools is not a problem.
With a dozen LPN schools there, of course, you believe that.
But now you need to find the right one.
So, the only way to help you here is to tell you to look for the top-ranked programs.
After that, you may consider others.
At this point, you need to look for accreditation and program.
That depends on what you look for and how ambitious you are.
If you're are apt for a bit of advice, I would suggest looking for the best quality program.
| School Name | Address |
| --- | --- |
| Olympic College | 1600 Chester Ave, Bremerton, WA 98337 |
| Edmonds Community College | 20000 68th Ave. W, Lynnwood, WA 98036 |
| Bates Technical College | 1101 S Yakima Ave, Tacoma, WA 98405 |
LPN Salaries in Washington
LPN Salaries, just like schools are various.
But the salaries in Washington depend on the place you work in.
Then come other factors, such as work experience, skills, and education.
Basically, the more you have, the more get!
Annual Salary Range: Annual Salary by Location:
| Location | Avg. Annual Salary |
| --- | --- |
| Seattle | $53,437 |
| Spokane | $48,455 |
| Tacoma | $52,074 |
| Vancouver | $50,923 |
| Bellevue | $53,437 |
| Everett | $52,265 |
| Federal Way | $52,074 |
| Kent | $51,970 |
| Yakima | $48,346 |
| Bellingham | $49,871 |
LPN Programs by State
---