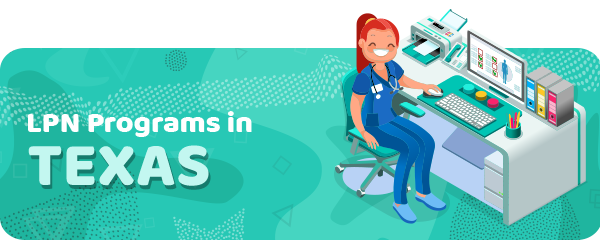 Nothing in this life ever comes easy.
To achieve great things, hard work is an obligation.
In Texas, Nursing has achieved great success.
The state has done that through collaborating, leading and adding innovation measures to the institution.
Basically, the way to become an LPN in Texas is simple.
The student needs to attend an approved program by the state or do so by endorsement.
Simply speaking, education is the only way to ever do something correctly.
However, after education, there comes the necessity to work.
LPN jobs are increasing in Texas every day.
According to the Bureau Labor of Statistics, job increase will occur by 2026.
This increase will be 12%, thus making progress in the workforce.
To give a view of the work, we need a bit of motivation, right.
So let's see the salary numbers first.
The hourly wage in Texas is $21.70.
The annual one $45,130.
While the two together make up $1,100 more per year compared to the national average.
We've had enough with the salary, now let's focus on the school.
The school you choose as an aspiring LPN student is highly important to a successful career.
To begin with, you need to find an approved program that is state-approved.
These programs can be found in community colleges, technical schools, and private career schools.
The number of LPN schools goes to 77 in Texas.
While 30 of them as the ones with top-ranked programs have been listed here.
The listing has come as a result of a review of the NCLEX-PN exam.
In fact, the first-time pass rates of the previous years were considered as worthy of being put in this article.
Details on Texas LVN Schools & Classes
It's hard not to find a suitable LPN school in Texas when there are over 7o schools available.
With this optimal number, students can choose their best fit and start their LPN education right away.
The majority of the schools can be finished in one year.
However, the length is determined from attendance.
Part-time attendance takes 2 years to finish.
While full-time programs take approximately one year.
But there is also the possibility to take daytime, night or weekend classes as well.
This is the flexibility the schools offer–Yay!
The programs can be found in junior colleges and technical schools.
They are taught by a certain curriculum.
The curriculum is made of nursing courses, general education, labs, and clinical experiences.
The most common courses taught in schools are the following:
Vocational Nursing Concepts
Essentials of Medication Administration
Pharmacology
Medical-Surgical Nursing
Maternal Neonatal Nursing
Pediatrics
Accreditation
Accreditation is crucial to a successful LPN education.
In Texas, you can get accreditation from two organizations that work in this direction.
The first is the Accreditation Commission for Education in Nursing.
While the second is the Texas Board of Nursing.
The latter verifies whether an LPN program is approved by the state or not.
Admission Requirements
Though there are many LPN programs in Texas, sometimes being admitted to any of them is a challenge due to the rising competition.
For admission in any of them, students should generally meet these requirements:
Attend a program information session
Be a high school graduate or GED certificate, holder
Submit TEAS test scores (minimum scores may apply)
Submit proof of TSI status
Submit criminal background check and pass a drug test
Tuition and Costs
Seeing all the US states LPN education costs, many students are aware of what it takes to meet these needs.
However, I will not hesitate to inform again in this article.
In Texas LPN programs students are in charge of tuition, school fees, and course materials.
These expenses vary from school to school.
But an example of the Lonestar College is to be noted.
The total LPN price for an LPN program in this college is $4,179 in total.
In this cost tuition and mandatory fees are included.
Apart from that, a student can also benefit from the additional help the schools offer.
This help is given to those who cannot afford their education.
Texas LVN Licensing Requirements
Being an LVN in Texas is a matter of meeting a few requirements.
The first one is enrolling an approved program by the state.
The student's grade in his or her nursing courses should be ''C'' or higher than that.
Soon after, the student should move on with the NCLEX-PN exam.
In this exam are welcomed only those who have graduated from an LVN program.
However, the application should be filled as well and submitted to the school.
In the application, Livescan Fingerprinting should be sent.
Whereas out of state candidates need to submit a criminal background check.
The licenses, however, don't last forever.
They need renewal every 2 years.
For renewal, the student must complete 20 hours of continued education.
It's a bit tricky, but as they save "the one who loves the rose, should not crave its thorns".
NCLEX Exam Information
The NCLEX-PN exam is a must to become an LVN in Texas.
Though it is the last step of education, it is crucial to licensing.
The exam basically tests the student's understanding of nursing topics.
If some students don't feel ready to enter the final exam, they can sit for the practical one first.
LVN Reciprocity and eNLC
Texas is in the wide range of US states that are a member of the compact.
This assures nurses from compact states to work in the compact states without having to obtain another license.
On the other hand, states out of the compact are allowed to apply for an LPN license by endorsement.
To do so, they need to have the equivalent requirements of their original license as those needed for a license in Texas.
From other additional requirements are to be mentioned:
Pass the State Board Test Pool Examination (SBTPE) or NCLEX-PN
Currently employed as an LPN/LVN
Submit a criminal background check
The foreign nurses also can apply for an LPN license in Texas.
They can do so by verifying their nursing education through a Credential Evaluation Services, send a Full Education course-by-course report, pass the English skills exam.
Additionally, they have to submit their criminal background check, verification of license and pass the NCLEX-PN exam.
The Best LPN Schools in Texas
Earlier, you saw there are 70 LPN schools in Texas.
That's undeniable.
But your choice will have to be really determined.
Otherwise, you have so many options to consider.
| School Name | Address |
| --- | --- |
| Alvin Community College | 3110 Mustang Rd, Alvin, TX 77511 |
| St. Philip's College - New Braunfels | 2189 FM 758, New Braunfels, TX 78130 |
| Angelina College - Lufkin | 3500 South First Street, Lufkin, TX 75904 |
| South Plains College - Reese Center | 819 Gilbert Drive, Lubbock, TX 79416 |
| Laredo Community College | West End Washington St, Laredo, TX 78040 |
| Texarkana College | 2500 N. Robison Road, Texarkana, TX 75599 |
| Howard College - San Angelo | 3501 N. US Highway 67, San Angelo, TX 76905 |
| Navarro College - Waxahachie | 1900 John Arden Drive, Waxahachie, TX 75165 |
| Baptist Health System School of Health Professions | 3703 Fredericksburg Rd, San Antonio, TX 78201 |
| South Plains College - Plainview | 1920 W. 24th Street, Plainview, TX 79072 |
| Del Mar College | 101 Baldwin Blvd, Corpus Christi, TX 78404 |
| Odessa College - Andrews | 201 NW Ave. D , Andrews, TX 79714 |
| Paris Junior College | 2400 Clarksville St, Paris, TX 75460 |
| Navarro College - Mexia | 901 N. MLK Jr. Hwy, Mexia, TX 76667 |
| Brazosport College | 500 College Dr, Lake Jackson, TX 77566 |
| Temple College - Temple | 2600 South 1st Street, Temple, TX 76504 |
| Victoria College - Victoria | 2200 E. Red River, Victoria, TX 77901 |
| Amarillo College | 1314 S Polk St, Amarillo, TX 79101 |
| Trinity Valley Community College - Kaufman | 800 Ed Hall Dr, Kaufman, TX 75142 |
| Blinn College - Brenham | 902 College Ave, Brenham, TX 77833 |
| Navarro College - Corsicana | 3200 W. 7th Ave, Corsicana, TX 75110 |
| 3200 W. 7th Ave, Corsicana, TX 75110 | 1001 Birdwell Ln, Big Spring, TX 79720 |
| Temple College - Taylor | 516 N Main St, Taylor, TX 76574 |
| Hill College - Hillsboro | 112 Lamar Dr, Hillsboro, TX 76645 - |
| Lone Star College - CyFair | 9191 Barker Cypress Rd, Cypress, TX 77433 |
| Trinity Valley Community College - Palestine | 2970 Texas 19, Palestine, TX 75801 |
| 2970 Texas 19, Palestine, TX 75801 | 1401 S. College Ave, Levelland, TX 79336 |
| El Paso Community College | 100 W. Rio Grande Rm. D202, El Paso, TX 79925 |
| Texas Health School | 11211 Katy Fwy. Suite 170, Houston, TX 77079 |
| 11211 Katy Fwy. Suite 170, Houston, TX 77079 | 104 S Everts St, Fort Stockton, TX 79735 |
LPN Salaries in Texas
LPN Salaries in Texas depend on various factors.
Factors such as location, work experience, skills, and educational level are crucial.
The more of these qualities you have, the better the salary you will get.
Annual Salary Range: Annual Salary by Location:
| Location | Avg. Annual Salary |
| --- | --- |
| Houston | $50,155 |
| Dallas | $48,460 |
| San Antonio | $47,582 |
| Austin | $48,125 |
| El Paso | $42,799 |
| Fort Worth | $47,680 |
| Arlington | $47,602 |
| Corpus Christi | $45,380 |
| Plano | $48,251 |
| Garland | $48,356 |
LPN Programs by State
---