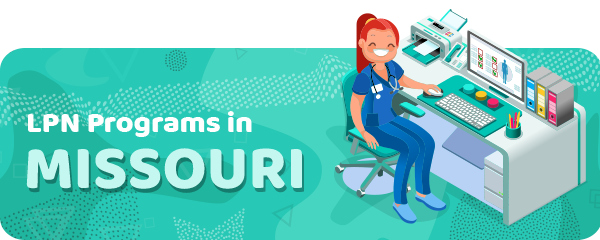 The more we know about something, the more eager we are to go toward it.
If it's something good, we have even more reasons to do so.
Hence, things that promise high-quality services to us, we cling to them because we want to profit from these services as much as we can.
The same high-quality services are offered in Missouri with regard to Nursing education and employment.
As the Bureau labor of Statistics suggests a 12% increase in LPN employment will happen as we reach 2026.
This demand for nurses is a sure sign for those interested in a Nursing career to come to Missouri and apply for an LPN license.
The salaries for LPNs are shown as well.
An hour's work for an LPN is considered to be paid $18.45.
A year work $38,380.
While in total, it means $5,650 less per year compared to the national US average.
So, the beginning of something is always tricky.
Because you don't know where to head at.
But being an LPN in Missouri demands a solid education first.
Hence, the school you choose to study is quite important.
For this reason, you need to find a school that offers approved programs.
These programs can be found in community colleges, technical centers, and private career schools.
In this state 41 LPN schools are available.
But in this article, only 20 top-ranked ones have been attached.
The inclusion was made in regard to the NCLEX-PN exam.
Specifically, the first-time pass rates of the past years were chosen as an object of research.
Details on Missouri LPN Schools & Classes
If you want to know more about the LPN programs in Missouri, this article will help you a lot in this direction.
The first thing to note is the length.
These programs will mainly take 1 to 2 years' time.
The length, of the course, depends on attendance.
Full-time classes usually take longer.
While part-time ones are shorter.
However, other schedules are possible as well.
Such as fall and spring dates as well as online programs.
LPN programs in Missouri are taught through a well-constructed curriculum.
This curriculum may offer a mixture of nursing courses, specialized ones, and electives.
Though the courses differ from school to school, the following ones are the most commonly found:
Anatomy & Physiology
Introductory Chemistry for Health Sciences
Fundamentals of Practical Nursing
Pharmacology
Mental Health Nursing
Nursing of the Adult
Venous Access and Intravenous Infusion
Accreditation
Accreditation is the cherry upon the cake.
After all the issues with the program and admission requirements that a student needs to consider, accreditation is why all are worth it.
Accreditation ensures high-quality programs.
In Missouri, you can find accredited programs through the help of the organizations that operate there.
One of them in the Accreditation Commission for Education in Nursing.
While the second is the Missouri State Board of Nursing.
The latter will help you by the endorsement of an LPN program.
Admission Requirements
Being admitted to an LPN program in Missouri is a matter of fulfilling the requirements.
From the requirements, consider these:
High school diploma or GED
Must have completed all general education/prerequisite courses
Submit three professional references
Nursing entrance exam may be required
Interview with nursing faculty/staff
Tuition and Costs
Everyone has their own share of struggles.
A student's current struggle is to manage to pay for his education.
Paying for an LPN program in Missouri is not such a big deal as it may seem.
In general, the student is expected to pay tuition, books, mandatory fees, and other necessary materials.
For students who can't manage the payment, the schools may offer financial aids.
However, to give you an idea of a cost, check Ozarks Technical Community College.
The total LPN cost there is $6,315.
Room, board, textbooks, and other supplies are not part of this cost.
Missouri LPN Licensing Requirements
Attending an approved LPN program and passing the NCLEX-PN exam are the two main steps of getting an LPN license.
However, some documents have to be attached to the application.
From them you will have to send:
Completed and notarized application for licensure
2×2 inch headshot (passport-style) photo
$41 fee—money order, cashier's check, or check
Official state-approved nursing program transcript
Criminal background check
A a matter of fact, Missouri LPN licenses expire May 31st every even year.
So, you should be ready for renewal in the meantime.
NCLEX Exam Information
The end of the graduation is always followed by a test.
In the same way, after LPN graduation, an LPN student must go through the NCLEX-PN exam and test his knowledge taken through the studies.
If the student does not feel ready for it, however, he or she can take the practical exam first.
LPN Reciprocity and eNLC
ENCL makes things easy for LPN students.
Since Missouri is a member of it, nurses from other states who have the same membership, do not have to take another license in Missouri to make their practice in it.
But the same thing does not stand for other non-compact states.
They can apply for an LPN license in this state by means of an endorsement.
To apply, the form has to be notarized as well as signed in black ink.
In it, the nurse must attach a few documents such as:
Copy of LPN license from issuing state
Official transcript from any/all state-approved nursing programs that include current name, date of completion, degree awarded, and school's stamp or seal
Verified license from the original state of licensure
Criminal background check
In addition, foreign country applicants are allowed to also apply for an LPN license in Missouri.
They can do so by submitting an approval from the Commission on Graduates of Foreign Nursing Schools.
They can do that after going through an evaluation of their official transcripts and a completed course-by-course review by the same institution.
LPN Salaries in Missouri
LPN Salaries in Missouri are really nice.
Though they do shift from the minimum to the maximum, there is for sure a constant average.
So, without wasting much time, take a look at them below.
Annual Salary Range:
Annual Salary by Location:
| Location | Avg. Annual Salary |
| --- | --- |
| Kansas City | $47,864 |
| St. Louis | $48,005 |
| Springfield | $47,006 |
| Independence | $47,812 |
| Columbia | $47,489 |
| St. Joseph | $47,409 |
| Lee's Summit | $47,682 |
| St. Charles | $47,746 |
| St. Peters | $47,641 |
| Florissant | $47,927 |
The Best LPN Schools in Missouri
With 20 LPN schools to consider, you should be overflowing from the opportunities.
However, take a look at them and choose what you've been looking for.
| School Name | Address |
| --- | --- |
| State Fair Community College - Sedalia and Eldon | 3201 W 16th St, Sedalia, MO 65301 |
| Ozarks Technical Community College - Table Rock | 10698 MO-165, Hollister, MO 65672 |
| Bolivar Technical College | 1135 N. Oakland, Bolivar, MO 65613 |
| Ozarks Technical Community College - Springfield | 1001 East Chestnut Expressway Suite IC205, Springfield, MO 65802 |
| State Technical College of Missouri | One Technology Drive, Linn, MO 65051 |
| North Central Missouri College -Trenton | 1301 Main St, Trenton, MO 64683 |
| Cass Career Center | 1600 E. Elm Street, Harrisonville, MO 64701 |
| North Central Missouri College - Bethany | 3400 Bulldog Ave, Bethany, MO 64424 |
| Mineral Area College | 5270 Flat River Rd, Park Hills, MO 63601 |
| Moberly Area Community College - Moberly | 101 College Ave., Moberly, MO 65270 |
| Lex La-Ray Technical Center | 2323 High School Dr, Lexington, MO 64067 |
| North Central Missouri College - Maryville Outreach | 1515 S. Munn, Maryville, MO 64468 |
| Nevada Regional Technical Center | 900 W Ashland St, Nevada, MO 64772 |
| Jefferson College | 1000 Viking Dr, Hillsboro, MO 63050 |
| Franklin Technology Center | 3950 Newman Rd, Joplin, MO 64801 |
| Carthage Technical Center | 609 S River St, Carthage, MO 64836 |
| Texas County Technical College | 6915 South Highway 63, Houston, MO 65483 |
| Clinton Technical School | 602 S 5th St, Clinton, MO 64735 |
| Hannibal-LaGrange University | 4650 McMasters Ave., Hannibal, MO 63401 |
| Moberly Area Community College - Mexico | 2900 Doreli Lane, Mexico, MO 65265 |
LPN Programs by State
---